Comparison of Physicochemical Properties of Starches from Flesh and Peel of Green Banana Fruit
1
Key Laboratory of Crop Genetics and Physiology of Jiangsu Province/Key Laboratory of Plant Functional Genomics of the Ministry of Education, Yangzhou University, Yangzhou 225009, China
2
Co-Innovation Center for Modern Production Technology of Grain Crops of Jiangsu Province/Joint International Research Laboratory of Agriculture & Agri-Product Safety of the Ministry of Education, Yangzhou University, Yangzhou 225009, China
*
Author to whom correspondence should be addressed.
Received: 26 August 2018 / Revised: 4 September 2018 / Accepted: 10 September 2018 / Published: 11 September 2018
Abstract
Green banana fruit is an important starch resource that consists of flesh and peel. The physicochemical properties of flesh starch have been widely studied; however, those of peel starch have hardly been studied, leading to the waste of peel. In this study, the physicochemical properties of the starches from the flesh and peel of green banana fruit were investigated and compared. The dry flesh and peel had 69.5% and 22.6% starch content, respectively. The starch had oval and irregular granules with eccentric hila. Their starches had similar bimodal size distribution; the volume-weighted mean diameter was approximate 17 μm, and the peel starch had a slightly smaller granule size than the flesh starch. The maximum absorption wavelength was higher in peel starch than in flesh starch. The apparent amylose content of flesh and peel starch was 21.3% and 25.7%, respectively. The flesh and peel starches both exhibited B-type crystalline structures and had similar relative crystallinity, short-range ordered degrees, and lamellar structures. The swelling power was similar between flesh and peel starches, but the water solubility was higher in peel starch than in flesh starch at 95 °C. The peel starch had a higher gelatinization temperature than flesh starch, but their gelatinization temperature range and enthalpy were similar. Both flesh and peel starches showed a diphasic hydrolysis dynamic, but peel starch had higher resistance to porcine pancreatic α-amylase hydrolysis than flesh starch. The contents of rapidly digestible starch, slowly digestible starch, and the resistant starch of flesh and peel were 1.7%, 4.3%, 94.1% and 1.4%, 3.4%, 95.2%, respectively, for native starch, and 73.0%, 5.1%, 21.9%, and 72.3%, 4.5%, 23.2%, respectively, for gelatinized starch.
View Full-Text
►

▼

Figures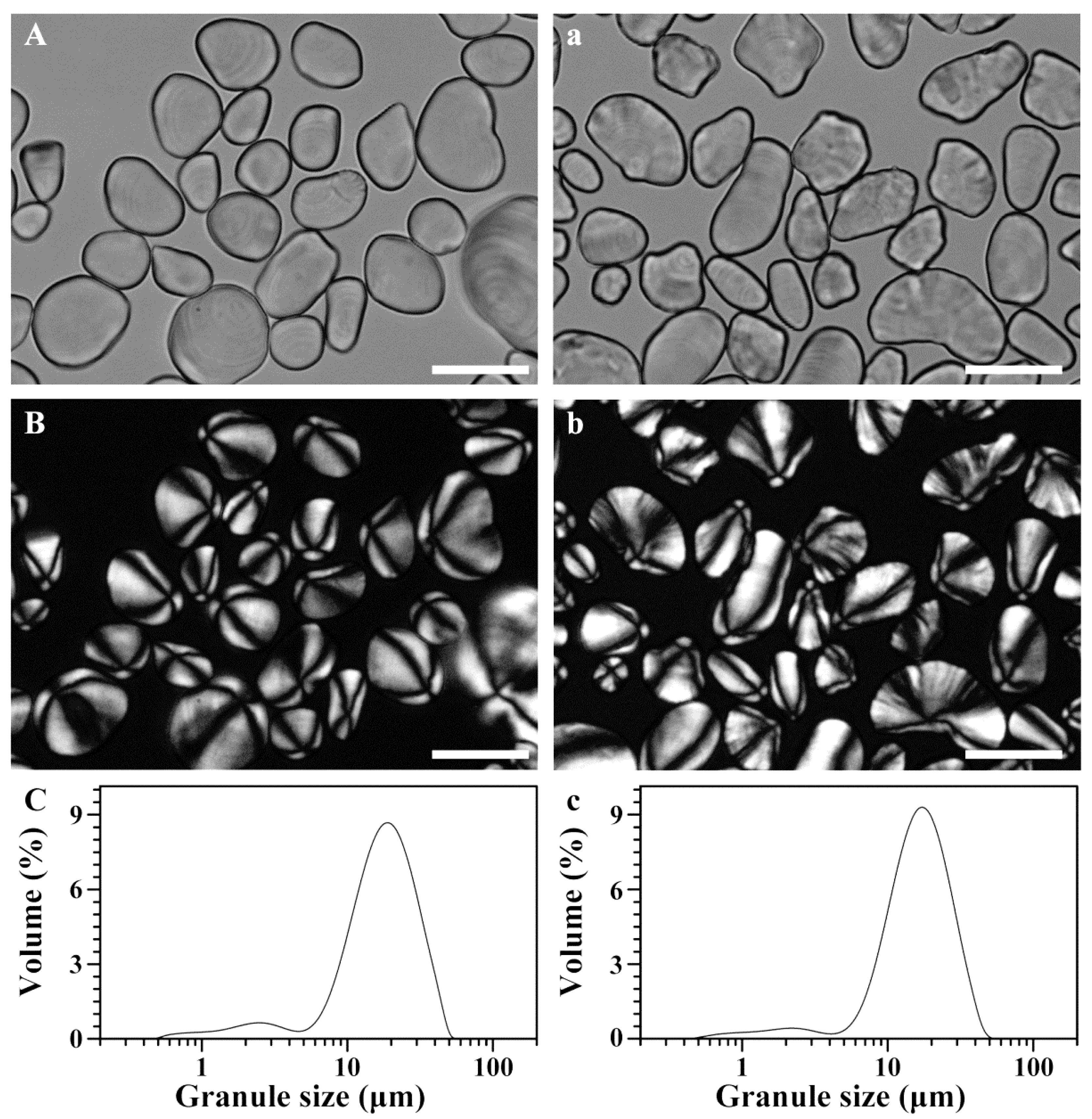 Figure 1
This is an open access article distributed under the
Creative Commons Attribution License
which permits unrestricted use, distribution, and reproduction in any medium, provided the original work is properly cited (CC BY 4.0).

Share & Cite This Article
MDPI and ACS Style
Li, Z.; Guo, K.; Lin, L.; He, W.; Zhang, L.; Wei, C. Comparison of Physicochemical Properties of Starches from Flesh and Peel of Green Banana Fruit. Molecules 2018, 23, 2312.
Note that from the first issue of 2016, MDPI journals use article numbers instead of page numbers. See further details here.
Related Articles
Comments
[Return to top]