Due to planned maintenance work on our platforms, there might be short service disruptions on Saturday, December 3rd, between 15:00 and 16:00 (CET).
Conferences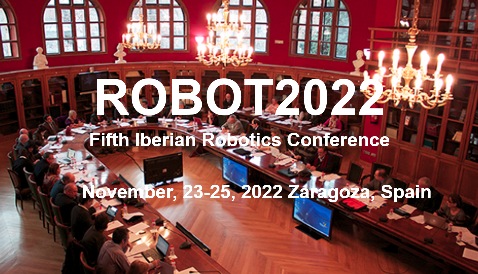 ROBOT 2022: The Fifth Iberian Robotics Conference will take place at Paraninfo Building, University of Zaragoza (November 2022), and follows the four previous editions of the Iberian Robotics Conference held in Madrid in 2013, Lisbon in 2015, Seville in 2017, and Porto in 2019. These previous and successful events, both from the viewpoint of their scientific and technical quality, and for the important number of attending delegates, have motivated us to organize ROBOT2022.
The main goal of ROBOT2022 is to continue previous efforts to showcase robotic research and development of new applications in the Iberian Peninsula. Although focused on works developed in Iberia, the conference is open to submissions from any country in the world.
ROBOT2022 will feature a set of special sessions in distinct fields related to robotics.
Topics and Scopes:
Agricultural robotic systems
Assistive robotic
Biomimetic robots
Cloud computing
Cognitive systems
Cooperative systems
Control architectures
Decision support systems
Distributed and networked systems
Distributed robotic systems
Educational robotics
Ethical and legal robotic issues
Human–robot interaction
Humanoid robotics
Hybrid intelligent systems
Computer vision and image processing
Localization, mapping, and navigation
Locomotion and actuation systems
Marine robotics
Medical robotics
Mobile robots
Multi-robot systems
New mechanism design
Parallel robots
Personal and service robotics
Planning and control
Remote handling and telerobotics
Robotic competitions
Robot learning
Sensors and actuators
Robotic simulation
Social robots
Soft computing
Swarm robotics
Tactile and haptics devices
Unmanned aerial systems
Underwater robotics