Conferences
Upcoming MDPI Conferences (2)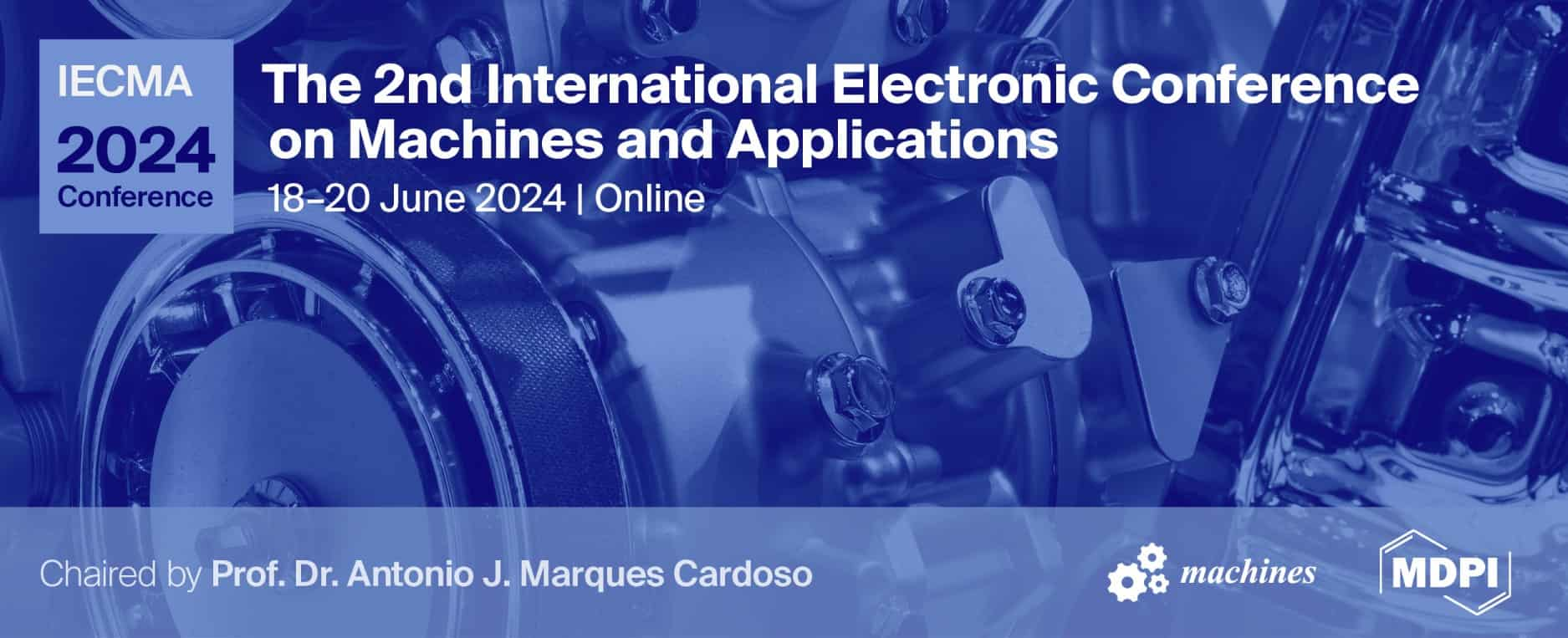 18–20 June 2024
The 2nd International Electronic Conference on Machines and Applications (IECMA 2024)
online
Welcome from the Chair
Dear Colleagues,
It is our pleasure to invite you to join the 2nd International Electronic Conference on Machines and Applications (IECMA 2024) after the strong success of the previous annual online conference. IECMA 2024 will be held from 18-20 June 2024 and hosted online at https://sciforum.net/event/IECMA2024.
Machinery and engineering areas play a key role in an ever-increasingly technological society. Transportation, renewable energies, and more efficient buildings are only some of the domains where the intensive application of these systems has been most noticed. In all these applications, efficiency and reliability, automation and control, and advanced manufacturing are of major concern.
The scope of this online conference is to bring together well-known worldwide experts who are currently working on machinery and engineering and to provide an online forum for presenting and discussing new results.
Throughout this event, we aim to cover, among others, the following topics:
Additive Manufacturing
Condition Monitoring and Fault Diagnosis
Automation and Control Systems
Mechatronic and Intelligent Machines
Turbomachinery
Electrical Machines and Drives
Vehicle Dynamics and Control
Friction and Tribology
All accepted abstracts will be published on the website of the conference. You are required to submit an abstract (minimum 200—maximum 300-word limit). Please see the abstract guidelines in "Instructions for Authors".
After the conference, the participants may submit a full paper to MDPI's Machines journal. After the review process, the authors of the accepted papers will receive a 20% discount on the APC before the paper is published in Machines.
On behalf of the Organizing Committee, we cordially invite you to join us at the 2nd International Electronic Conference on Machines and Applications (IECMA 2024).
We look forward to your contributions.
Sincerely,
Prof. Dr. Antonio J. Marques Cardoso
Chair of the 2nd International Electronic Conference on Machines and Applications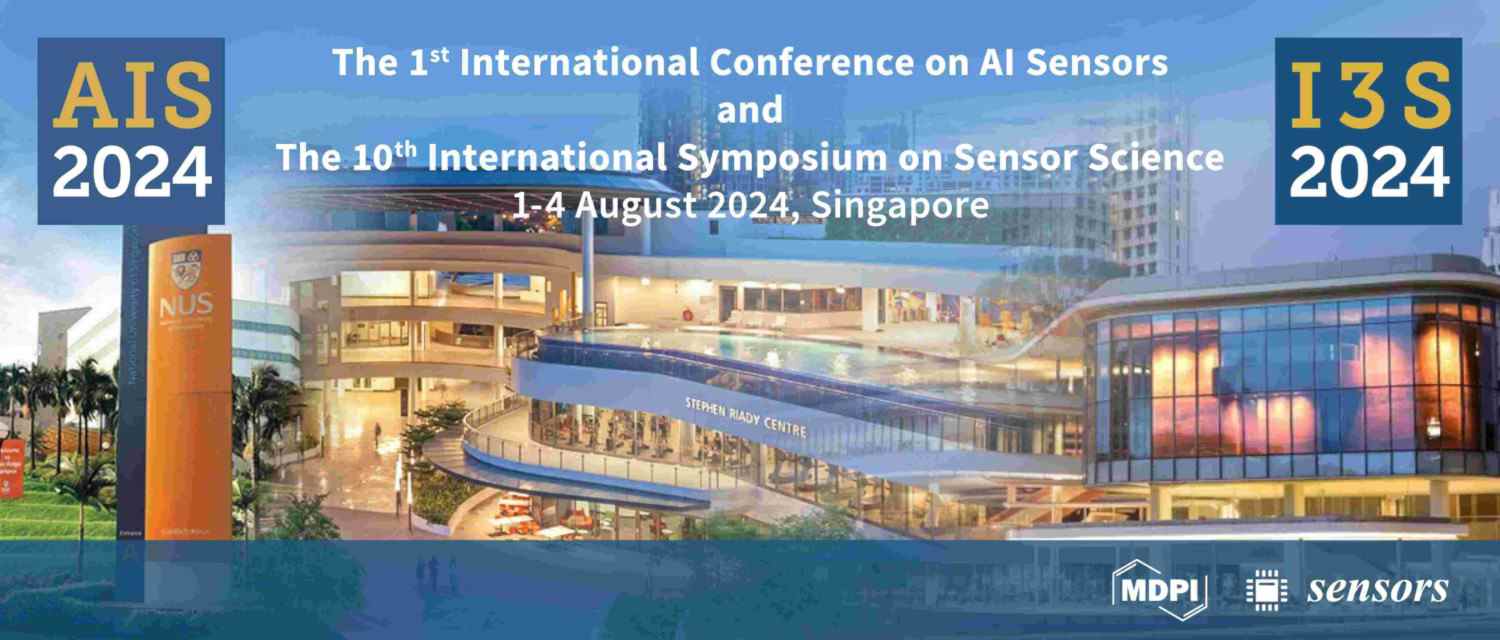 1–4 August 2024
The 1st International Conference on AI Sensors and The 10th International Symposium on Sensor Science
Singapore
We are pleased to announce the 1st International Conference on AI Sensors and the 10th International Symposium on Sensor Science, held at the National University of Singapore, Singapore, from 1 to 4 August 2024.
This conference will provide leading scientists working in this field with a platform to share their latest research and engage in exciting discussions.
Conference Chairs
Prof. Chengkuo Lee, National University of Singapore;
Prof. Guangya Zhou, National University of Singapore;
Prof. Po-Liang Liu, National Chung-Hsing University.
The main topics of the conference include:
AIS Symposium:
Symposium 1: Wearable AI Sensors
Symposium 2: Energy Harvesting Technology for Self-sustained AIoT System
Symposium 3: Enabling Technologies for Neuromorphic Computing and Photonics Neural Network
Symposium 4: Haptic Technology for Future Metaverse Applications
Symposium 5. Advances in Intelligent Sensors and Robots for AI-Enhanced Applications - Industry 4.0, Digital Twin, Smart Home, Healthcare, and Rehabilitation
I3S Workshop
Workshop 1: Sensors Enhanced by Deep Learning
Workshop 2: Sensors Using Metamaterials and Nanophotonics
Workshop 3: Sensors and IC Sensors Using CMOS MEMS and CMOS Compatible Materials
Workshop 4: Si Photonics for Sensing and Edge Computing
Workshop 5: Advanced Semiconductors and Heterogenerous Integration for Sensing Systems and Applications in 6G (e.g., coupound semiconductors, 2D materials, chiplet, and system-in-package, etc)
Workshop 6: Sensors, Implanted Energy Harvesters and Devices, and In-body IoT Technology for Prosthesis and Electroceuticals
Workshop 7: Sensors for Farming, Agriculture, and Aquaculture Applications
Workshop 8: Biosensors and Chemosensors
Workshop 9: Flexible, Stretchable and Wearable Sensors
Workshop 10: Self-powered Sensors and Sensing Systems
Workshop 11: IoT Sensors and System Integration
Workshop 12: Advances in Sensor Applications
Workshop 13: Sensors and Sensor Fusion in Autonomous Vehicles and Drones
Workshop 14: Sensors and Sensing Systems for Advanced Metrology
Important Dates
Deadline for abstract submission: 3rd April 2024
Notification of acceptance: 3rd May 2024
Guide for Authors
To submit your abstract, please click on the following link: https://sciforum.net/user/submission/create/935.
Registration information is coming soon.
Refer to the "Instructions for Authors" section for details regarding Abstract Submission and Publication Opportunities.
For any inquiries regarding the event, please contact [email protected].
Follow the conversation on Twitter with #AIS-I3S2024.
We look forward to seeing you at the AIS-I3S 2024.
Robotics announces selected third-party conferences. In case you would like to announce your own event on the Robotics website, please fill out the following form to apply for the announcement of a conference or other academic event (seminar, workshop).
Upcoming Partner Conferences (1)
27–29 June 2024
6th IFToMM Symposium on Mechanism Design for Robotics
Timişoara, Romania
Call for Papers

The aim of the Symposium on Mechanism Design for Robotics (MEDER 2021) is to bring together researchers, in-dustry professionals, and students from a broad range of disciplines related to mechanisms and robotics to share the latest developments and discuss the directions for the future of mechanism and robotics research. MEDER 2024 continues a successful series of symposiums that started in Mexico 2010, with subsequent events in China in 2012, in Denmark in 2015, in Italy in 2018, and in France in 2021. The conference will be held at the Conference Center and the buildings of the Mechanical Faculty of Politehnica at University of Timişoara in Timişoara, Romania.

Topics
Papers are solicited on topics related to mechanisms within aspects of theory, design, practice, and its applications for robotics, including but not limited to:
▪ Mechanism design;
▪ Mechanism education and history of MMS;
▪ Theoretical and computational kinematics;
▪ Experimental mechanics;
▪ Mechanics of robots;
▪ Control issues of mechanical systems;
▪ Machine intelligence;
▪ Innovative mechanisms and applications;
▪ Linkages and manipulators;
▪ Micro-mechanisms;
▪ Dynamics of machinery and multi-body systems.

Proceedings:
Authors are kindly asked to submit original full papers with a recommended length of 8 pages in Springer format. Instructions will be available in the Symposium webpage. All accepted and presented papers will be published in a Scopus indexed book of the Springer Series Mechanisms and Machine Science, with the title: "Advances in Mechanism Design for Robots—MEDER 2024". For each of three categories (Research, Applications, and Student), three awards (Gold, Silver, and Bronze) will be given to the best papers.

Deadlines
Full paper submission: January 31, 2024
Acceptance notification: March 15, 2024
Final paper submission: April 01, 2024

Registration
Early Registration (before April 15th, 2024):
IFToMM Members 250 Euro
Non IFToMM Members 300 Euro
Regular Registration (after April 15th, 2024):
IFToMM Members 300 Euro
Non IFToMM Members 350 Euro Students 150 Euro
Accompanying Persons 150 Euro
The registration fee includes the complete program of the MEDER 2024 conference and paper publication.

Accommodation
Timişoara provides accommodation in several hotels of different categories. Early reservation is recommended by directly contacting the Organizing Committee Secretariat. A list of hotels will soon be available on the site of the conference.

Technical Sponsors
IFToMM
TC for Robotics and Mechatronics
TC Linkages and Mechanical Controls
IFToMM MO Romania—ARoTMM




General Chairs:
Erwin-Christian Lovasz (România)
Marco Ceccarelli (Italy)

National Organizing Committee
Ioan Doroftei (România)
Mircea Niţulescu (România)

Scientific Committee
Marco Ceccarelli (Italy, Chair)
Mario Acevedo (Mexico)
Shaoping Bai (Denmark)
B. Chedli Bouzgarrou (France)
Carl Nelson (USA)
Alba Perez (Spain)
Yan Jin (UK)
Erwin-Christian Lovasz (Romania)
Victor Petuya (Spain)
Yukio Takeda (Japan)
Ding Xilun (China)

Correspondence Address:
Prof.Dr.-Ing. Erwin-Christian Lovasz
Politehnica University of Timişoara
Bv.Mihai Viteazul nr.1
Ro-300222 Timişoara, Romania

Secretariat
Website: http://meder-2024.upt.ro
E-mail: [email protected]

Organized by
Politehnica University of Timisoara
Department of Mechatronics




Special Issue "Selected Papers from MEDER 2024: Advances in Mechanism Design for Robotics"
https://www.mdpi.com/journal/robotics/special_issues/UJE8W1YP08