Conferences
Upcoming MDPI Conferences (1)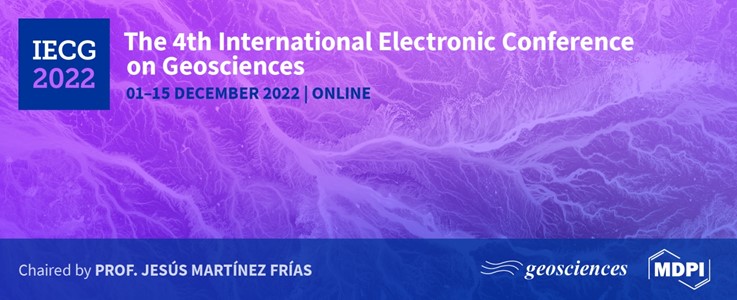 1–15 December 2022
The 4th International Electronic Conference on Geoscience
Online
IECG2022 offers you the opportunity to participate in an international scholarly conference without the concerns and expense of travelling—all you need is access to the internet, and there are no registration fees. During the conference period, you will be able to upload papers, posters, presentations (including videos) and comment on other presentations, and otherwise engage with fellow scholars in real time. In this way, the conference offers a novel opportunity to exchange opinions and views within the scholarly community and to discuss the papers and latest research in a discussion forum. This fourth edition will be organized, as follows, to allow focus on selected specific themes:
A. Natural Hazards;
B. Structural Geology and Tectonics;
C. Sedimentology and Stratigraphy;
D. Geomorphology;
E. Geological Engineering;
F. Mineralogy, Petrology & Volcanology;
G. Seismology;
H. Geoheritage;
I. Others
For information about the procedure for submission, peer review, revision, and acceptance of conference proceedings papers, please refer to the section "Instructions for Authors" at https://iecg2022.sciforum.net/.
We look forward to receiving your research papers and to welcoming you to this 4th edition of the e-conference.
Minerals announces selected third-party conferences. In case you would like to announce your own event on the Minerals website, please fill out the following form to apply for the announcement of a conference or other academic event (seminar, workshop).
Upcoming Partner Conferences (3)

22 May 2022–3 June 2032
Japan Geoscience Union Meeting 2022 (JpGU 2022)
Online
JpGU is a large organization with approximately 10,000 members and 51 scientific associations in the field of earth and planetary sciences. Its annual conference has been held at the Makuhari Messe Event Hall since 2019, with around 8,000 attendees each year. Participants are given the opportunity to tour the exhibition hall while enjoying the conference activities and beer.

11–15 September 2022
10th Jubilee Mid-European Clay Conference
Kliczków Castle, Poland
The organizing Committee on behalf of the Clay Groups of Croatia, Czech Republic, Germany-Switzerland-Austria, Hungary, Slovakia and Poland invite scientists from Europe and all over the world to participate in the 10th Jubilee Mid-European Clay Conference, MECC'20/22, which will be held from September 11th to September 15th, 2022 in the Kliczków Castle, Poland.

20–23 November 2022
24th International Biohydrometallurgy Symposium (IBS 2022)
Rendezvous Hotel Perth Scarborough, Perth, Western Australia
The biannual International Biohydrometallurgy Symposium is a global forum that brings together representatives from industry, research, innovation and education sectors and government. It aims to share knowledge on cutting edge science and technology in the field of mining biotechnology and discuss innovative solutions and best practice approaches. It draws on expertise in biotechnology, chemistry, mineralogy and engineering. Mining biotechnology can benefit the resource sector by enabling the extraction of value from low-grade minerals and wastes streams, providing tools for minerals exploration and environmental monitoring and mitigating harmful environmental impacts.
IBS 2022 will be hosted by Australia's National Science Research Agency, the Commonwealth Scientific and Industrial Research Organisation (CSIRO). The Local Organising Committee includes members from CSIRO and Curtin University. We welcome you to IBS2022 to share your latest scientific advances, find solutions for industry challenges, attend as a sponsor or exhibitor to promote your technologies, services and products, and meet experts across the world.
Abstracts are invited for presentation at IBS 2022 in the following thematic areas:
Bioleaching of metals from low grade ores and concentrates
Biotechnical pre-treatment of ores and concentrates
Biomining of wastes, industrial ecology and circular economy
Biotechnical treatment and resource recovery from mine and process waters
Biostabilisation, bioremediation and ecological restoration
Biological mineral formation and minerals exploration, biogeochemistry and biosensors
Biomining microbiology, molecular biology, systems biology and synthetic biology
Biofouling, bioclogging and biocorrosion in mining industry