Microencapsulation of Capsaicin in Chitosan Microcapsules: Characterization, Release Behavior, and Pesticidal Properties against Tribolium castaneum (Herbst)
Viewed by 929
Abstract
Capsaicin is a capsaicinoid in hot chili peppers, with excellent antibacterial and antimicrobial activities and a good safety profile, but its poor solubility and instability restrict its effectiveness. This limitation may be mitigated by encapsulation. Herein, capsaicin microcapsules (CCMs) were prepared through layer-by-layer
[...] Read more.
Capsaicin is a capsaicinoid in hot chili peppers, with excellent antibacterial and antimicrobial activities and a good safety profile, but its poor solubility and instability restrict its effectiveness. This limitation may be mitigated by encapsulation. Herein, capsaicin microcapsules (CCMs) were prepared through layer-by-layer self-assembly, using chitosan and carboxymethyl chitosan as shell materials. The chemical and microstructure structural characterization was evaluated by the methods of Fourier transform infrared spectroscopy (FTIR), scanning electron microscopy (SEM), and X-ray diffraction (XRD). The SEM indicated the microcapsules were irregular in shape with an average size of about 100 μm. The encapsulation had a high loading efficiency of 64.31%. FTIR and XRD revealed the absence of the interaction between the core and shell materials and the amorphous nature of the CCMs. The analysis results of the microcapsules' release behavior showed the burst release of capsaicin in 7 days and a slow progression afterward in three solutions, with the highest release properties in a basic solution, followed by acidic and neutral salt solutions. The entomotoxicity of CCMs was conducted against
Tribolium castaneum
(Herbst), and its efficacy was compared with pure capsaicin. The CCMs were found to be highly effective against this pest. The LC
50
value for capsaicin and its microcapsules was 31.37 and 29.75 mg/kg on adults, respectively. According to these values,
T. castaneum
's development and reproduction were significantly inhibited compared with the control group. The excellent physicochemical characteristics and insecticidal performance show a high application value for integrated pest control.
Full article
►

▼

Show Figures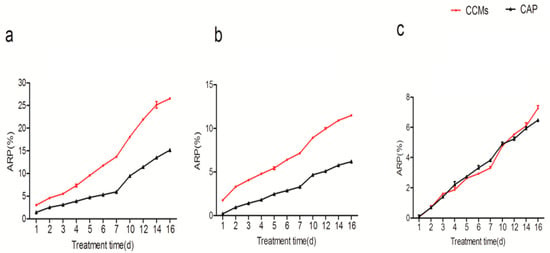 Figure 1