International Journal of Molecular Sciences Events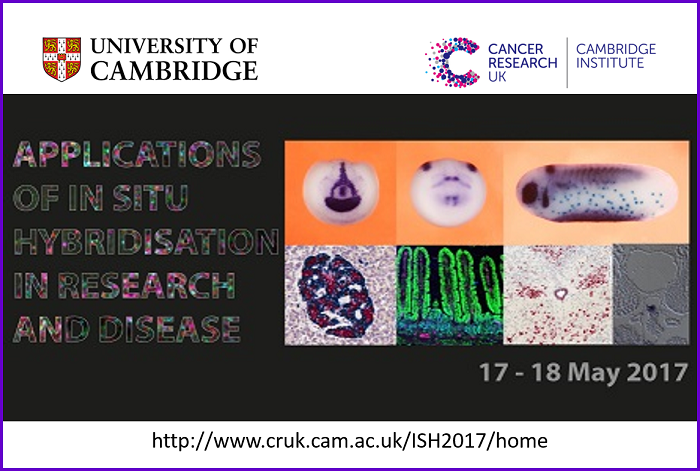 17–18 May 2017
Applications of In Situ Hybridisation in Research and Disease
Cambridge, UK
It is our pleasure to announce the return of our Applications of in situ hybridisation in research and disease symposium. The symposium, organised by a committee chaired by Dr Julia Jones, will be held at the Cancer Research UK Cambridge Institute on the 17-18 May 2017. The meeting will highlight advances in in situ hybridisation and it's application in disease. To achieve these goals we have assembled an outstanding list of world-leading researchers to present their work.
This two-day conference is intended to bring together all researchers across any field interested in ISH. We have lined up a broad range of topics from leaders in the field including: Current Accepted Methods, Evolutionary Biology, Emerging Techniques, and Translational Research.
We will also have a short session entitled ISH Clinic, where talks will be entirely selected from submitted abstracts. This is an opportunity to give a short presentation on interesting results, a troubleshooting case study or a top tip you would like to share. Presentations should be 5 minutes each with a maximum of 2 PowerPoint slides. There will then be a networking event during the evening drinks reception for you to discuss your presentation with other delegates. This is ideal for a first presentation at an International Symposium. Please email [email protected] if you have any questions about this.