International Journal of Molecular Sciences Events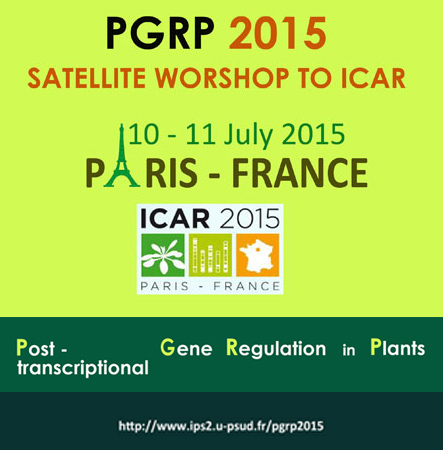 10–11 July 2015
Post-transcriptional Gene Regulation in Plants 2015
Paris, France
The next Post-transcriptional Gene Regulation in Plants which will be held at the National Society of Horticulture of France, in Paris, France.

The PGRP 2015 meeting will follow the ICAR 2015 Arabidopsis conference for 2 days, the 10 and 11th of July 2015. Several aspects of post-transcriptional regulation of gene expression will be covered: pre-mRNA processing (capping, splicing, polyadenylation), RNA stability, and translation as well as new connections with chromatin modifications through regulatory RNAs (miRNA, siRNAs and long non-coding RNAs).

The symposium will bring together about 150 participants in a rather informal atmosphere, facilitating informal exchanges and development of new collaborations. Many slots are reserved for young researchers to present their work in each session.