Conferences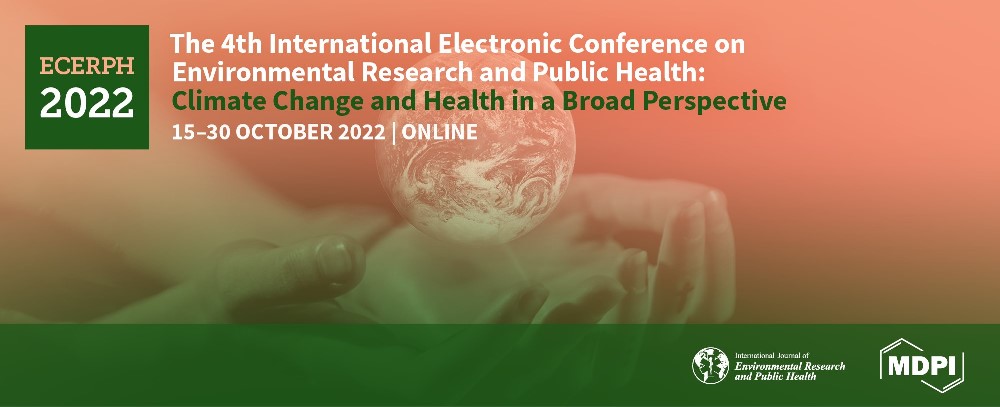 You are cordially invited to participate in the 4th International Electronic Conference on Environmental Research and Public Health (ECERPH2022), which will be held from 15 to 30 October 2022. Prof. Dr. Jon Øyvind Odland serves as the chair of this e-conference. He is a Professor of Global Health at NTNU, Norwegian University of Science and Technology and a specialist in GYN/OB, environmental medicine, and epidemiology. This online event will bring together researchers from all over the world with no concerns regarding travel or other related expenditures.
Health effects could be very different if the world's temperature increases from 5 to 10 °C compared to an increase from 35 to 40 °C. If we look at the mortality associated with climate change, it is obvious that the burden is higher in tropical areas. However, if we add morbidity and complications for, e.g., reproductive health and pregnancy care, the situation might be very different. The spread of infectious diseases related to vector migration is also a very important topic, as is the situation of environmental exposure to contaminants and occupational health.
This conference will provide leading scientists working in the environmental research and public health field with an online platform to share their latest research and engage in exciting discussions. The main topics and sessions of the conference are:
Pregnancy, Reproductive Health, and Climate Change;
Vector Migration from a Climate Perspective;
COVID-19 from a Climate Perspective;
The Forgotten Tropical Diseases from a Climate Perspective;
Cardiovascular Diseases and Climate Change;
Occupational Health and Temperature Change.
The conference will be completely free of charge to attend, as well as for scholars to upload and present their latest work on the conference platform.
The accepted proceedings papers from the conference will most likely be published in a dedicated issue of the MDPI journal Environmental Sciences Forum. Please note that, before publication, Proceedings Series Journals will review accepted papers using the powerful text comparison tool iThenticate. This procedure aims to prevent scholarly and professional plagiarism. Articles with a high repetition rate and lack of novelty will not be published in the conference proceedings. In addition, all participants will be encouraged to submit an extended full manuscript to one dedicated Special Issue in IJERPH with a 15% discount on the article processing charge (APC, the original APC is 2500 CHF).
Important Dates:
Abstract Submission Deadline: 10 July 2022;
Notification of Acceptance: 31 July 2022;
Full Paper Submission Deadline: 28 August 2022;
Conference Date: 15–30 October 2022.
IJERPH is indexed in Scopus, SCIE (IF = 3.390), SSCI (Web of Science), PubMed, MEDLINE, PMC, and many other databases. Please visit the following website for more information: https://www.mdpi.com/journal/ijerph.
Event Awards
In recognition of the support of the conference's esteemed authors and their outstanding scientific accomplishments, we are pleased to announce that the conference will provide one Best Paper Award and one Best Presentation Award.
For more information on ECERPH 2022, please visit the conference website (https://sciforum.net/event/ECERPH-4) or contact us by email ([email protected]).
Please do not hesitate to contact us if you have any questions.
We look forward to welcoming you to this exciting online meeting.
Conference Secretariat