Entropy Events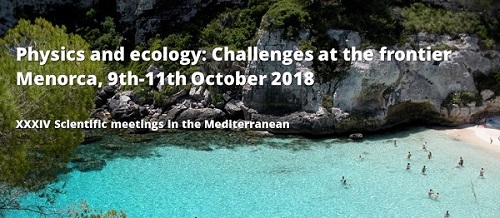 9–11 October 2018
Physics and Ecology: Challenges at the Frontier—The XXXIV Scientific Meetings in the Mediterranean
Menorca, Spain
The technological capacity to obtain and manage large volumes of data from biological systems should lead biology and, in particular ecology, towards a new theoretical sphere, increasingly grounded on principles and general mechanisms. In this transition, physics will play an essential role for its capacity for abstract and fundamental reasoning. This meeting aims to be a meeting point for researchers living in this stimulating frontier, so that they offer us their points of view and the keys that must mark these challenges for the future.
Topics:
Population and community dynamics (resilience, transitions, the logistic model, early-warning predictions, infectious diseases, diversity, environmental and climate-induced fluctuations)
Ecological complex systems (collective phenomena, leadership, group formation, fusion-fission dynamics, information flows, movement patterns, ecological networks)
Movement ecology (space use, exploration, migration, quantitative methods, conservation biology)
For further information, contact Daniel Campos daniel.campos@uab.cat.