Conferences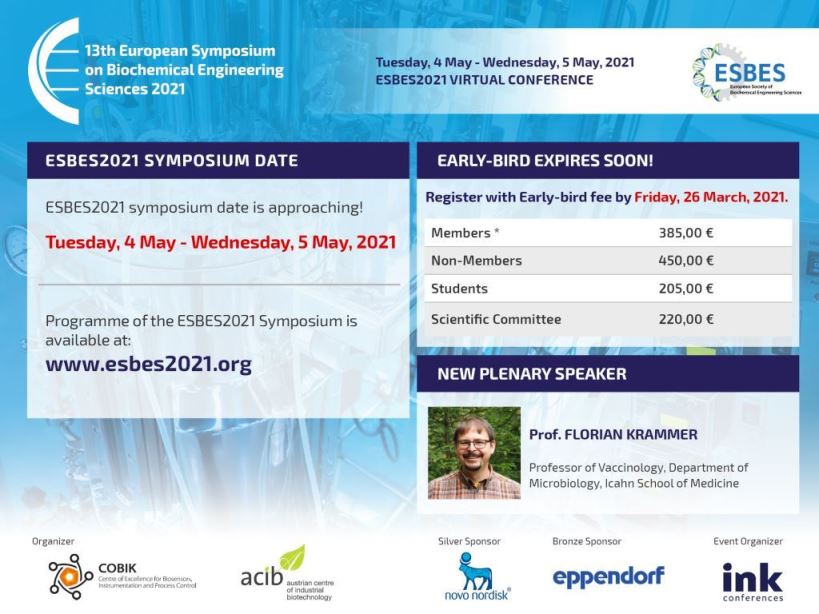 The European Society of Biochemical Engineering Sciences, holds on biannual basis for more than 25 years, ESBES conference series; a well-known established European platform for scientific gathering. ESBES stimulates scientific advances in the field of biochemical engineering and provides a platform for communication, education and interdisciplinary exchange. In 2021 the conference will be held from 3 - 6 May in Portoroz, Slovenia, expecting to attract more than 350 participants from academia and industry. The scientific committee for the 2021 conference is chaired by Prof. Dr. Ales Podgornik and warrants an excellent scientific program with renowned key note speaker
You are welcome to submit the abstract on https://www.esbes2021.org/submit-and-abstract
Topics to be covered including, but are not limited to:
• Bacteriophage engineering
• Biocatalysis
• Biochemical engineering in food production
• Bioenergy and Bioeconomy
• Bioreactor Performance
• Continuous Manufacturing
• Downstream Processing
• Metabolic Engineering and System Biology
• Microalgae Bioengineering
• Microflow systems in Bioengineering
• Modelling, Monitoring, Measurement & Control of bioprocesses
• Regenerative Medicine Manufacturing
• Sustainable advanced fuels & materials
Virtual ESBES2021 will be 2 days online event from 4 Tuesday to 5 Wednesday May 2021. New early-bird registration fee is announced on the official website www.esbes2021.org. Full conference program will be available in the end of February 2021.
Dates to note
• Early-bird registration deadline: 10th March 2021
We look forward to seeing you at the Symposium.s in the field of biochemical engineering.