Conferences
Bioengineering announces selected third-party conferences. In case you would like to announce your own event on the Bioengineering website, please fill out the following form to apply for the announcement of a conference or other academic event (seminar, workshop).
Upcoming Partner Conferences (3)

25–28 March 2020
2020 10th International Conference on Biomedical Engineering and Technology (ICBET 2020)
Tokyo, Japan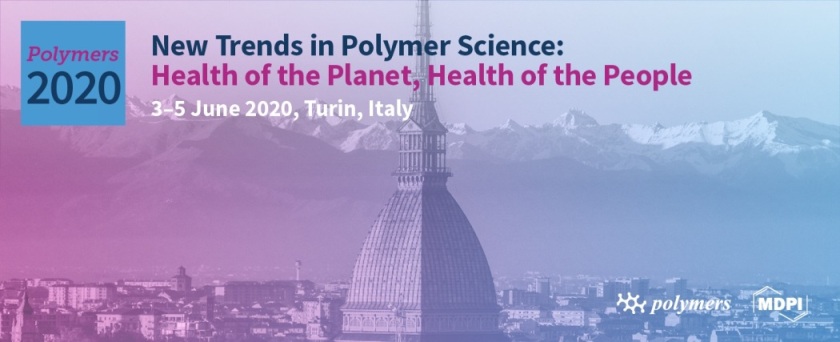 3–5 June 2020
Polymers 2020 -New Trends in Polymer Science: Health of the Planet, Health of the People
Turin, Italy
We are very proud and honored to announce the international conference Polymers 2020 - New Trends in Polymers Science: Health of the Planet, Health of the People, organized in collaboration with the MDPI open access journal Polymers. The conference will be held in Turin, Italy, on June 3–5, 2020.
The purpose of the meeting is to bring together scientists from academia and industry to present leading-edge research on the advancements in polymer science and technology in all its main aspects, with a particular emphasis on those aiming to preserve and improve the health of the planet and of people, as per title. Both oral and poster contributions are welcome. The broad themes that will be addressed during the conference include synthesis, modification, and characterization of synthetic and natural polymers, polymers from green chemistry, polymer hybrids, nanocomposites, polymer biomaterials, polymers in drug delivery and tissue engineering, polymers for human health, bio-based and biodegradable polymers, polymer recycling and re-use, polymers for the environment, functional polymers, and polymers in energy, among others.

20–22 July 2020
2nd Biomedical Engineering and Instrumentation Summit (BEIS-2020)
Boston, MA, USA
Keeping updated on the latest trends in Biomedical Engineering and related areas, United Scientific Group-A non-profit scientific organization hosting BEIS-2020, 2nd Biomedical Engineering and Instrumentation Summit during July 20-22, 2020 in Boston, Massachusetts, United States. The event is organizing with a view to promote awareness and enhance research aiming in developing solutions for the challenges encountered.
The Best Poster Award: 500-800 Swiss France sponsored by Bioengineering MDPI Journal.
BEIS-2020 Keynote line up:
Gordana Vunjak-Novakovic, Columbia University, NY
Elazer R. Edelman, Massachusetts Institute of Technology, MA
Zahi A. Fayad, Icahn School of Medicine at Mount Sinai, NY
Thomas J. Webster, Northeastern University, MA
Anthony Guiseppi-Elie, Texas A&M University, TX
Irene Georgakoudi, Tufts University, MA
Temple F. Smith, Boston University, MA
Chris Xu, Cornell University, NY
Zhongping Chen, University of California, CA
Edward J. Ciaccio, Columbia University, NY
Stephen D Miller, Northwestern University, IL
Scientific Sessions:
Biomaterials & Tissue Engineering
Sensors and Wearable Systems
Signal and Image Processing
Neural Engineering
Biophysics
Biomechanics
3D Bioprinting
Biomedical Computation & Modelling
Biomedical Informatics
Biomedical Imaging & Instrumentation
Orthopaedic & Rehabilitation Engineering
Device Technologies & Biomedical Robotics
This engineering conference is also providing a platform to the companies and/or institutions to present their services, products, innovations and research results.
Abstract submission open for the Special Session on Medical Technology Innovation and Invention
Meet the Objective Business sector with individuals from and around the globe concentrated on finding out about Biomedical Engineering, this is the best chance to achieve the biggest collection of members from all over the world. This Biomedical Engineering conferences in Boston will lead you to get disperse data, meet with current, make a sprinkle with another product offering and get name acknowledgment on this occasion.
Get more info: https://biomedical.unitedscientificgroup.org/
Email: [email protected]
https://unitedscientificgroup.com/conferences/biomedical-engineering/