Need Help?
Support
Find support for a specific problem in the support section of our website.
Get Support
Feedback
Please let us know what you think of our products and services.
Give Feedback
Information
Visit our dedicated information section to learn more about MDPI.
Get Information
clear
15 November 2023

Join Us at the MDPI Author Training Workshop at Manchester Metropolitan University, 17 November 2023, Manchester, United Kingdom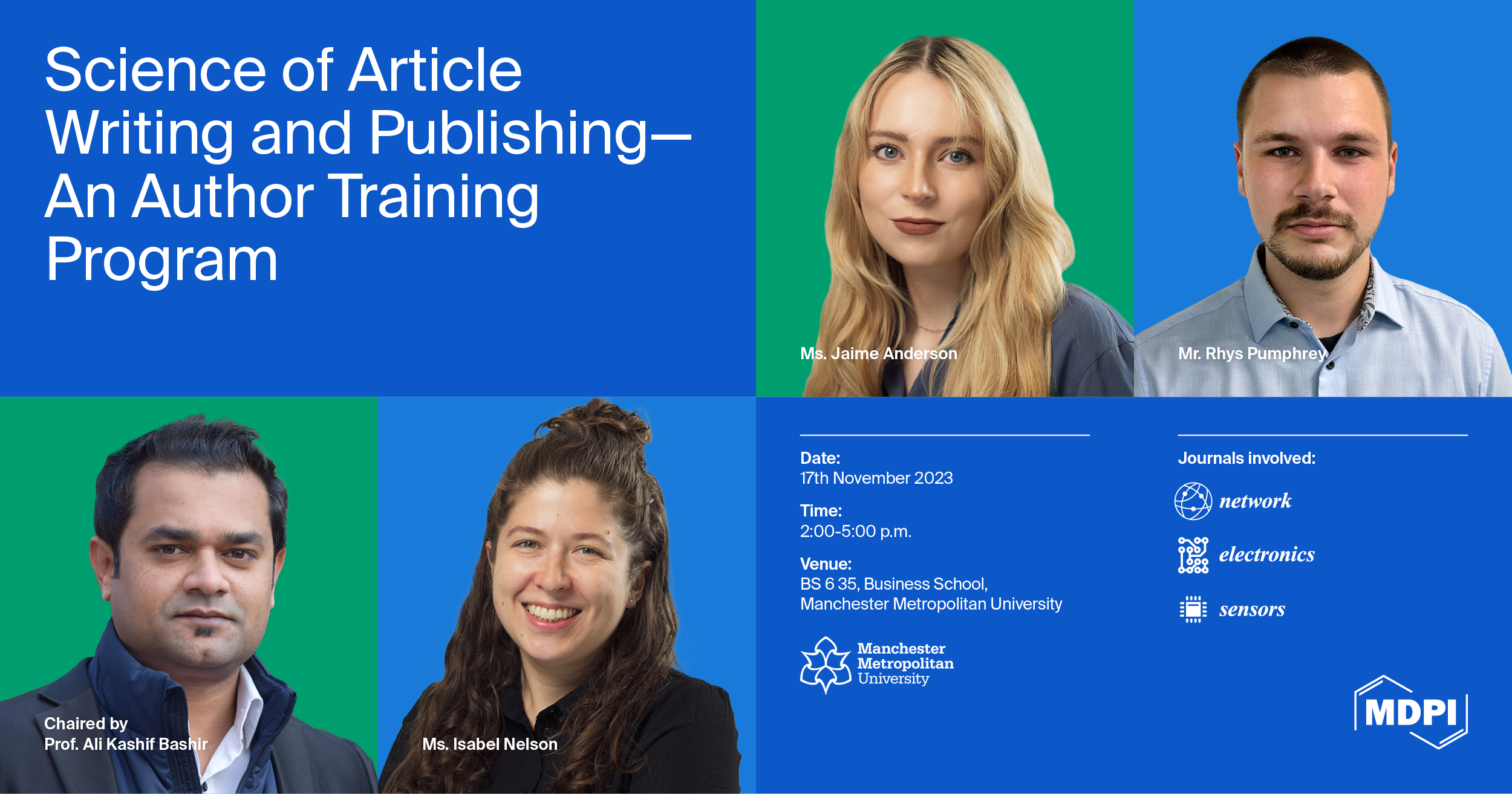 MDPI Manchester, in collaboration with the Manchester Metropolitan University, is organizing an author training session aiming to elucidate the scientific aspects of writing and publishing scholarly articles. The workshops will facilitate scholars in enhancing their comprehension of academic publications through exploration and cultivation. The training will be conducted by proficient academic editors from MDPI and will include the incorporation of use-case scenarios. The event will additionally demonstrate MDPI's regional vision, featuring a round-table discussion with field-leading academics and editors, and a quiz with an opportunity to win prizes.
Date: 17 November 2023
Time: 2:00 p.m.–5:00 p.m.
Venue: BS 6 35, Business School, Manchester Metropolitan University, United Kingdom
Schedule:
Time
Program and Content
Speakers
14:00-14:05
Introducing Author Training
Prof. Ali Kashif Bashir
14:05-14:15
MDPI's Regional Vision
Mr. Rhys Pumphrey
14:15-14:45
How to Write Scientific Papers
Ms. Jaime Anderson
14:45-15:20
Editorial Insights: Reasons for Rejections and Responding to Peer-Reviewers
Ms. Isabel Nelson
15:20-15:30
Break
15:30-16:00
A Round-Table Discussion with Academics and Editors
16:00-16:10
Job Opportunities and Benefits at MDPI
Ms. Jaime Anderson
16:10-16:30
Quiz (with prizes!)
16:30-17:00
Networking
MDPI speakers:
| | |
| --- | --- |
| Speaker | Biography |
| Mr. Rhys Pumphrey | Mr. Rhys Pumphrey obtained his M.Eng. in materials science and engineering from the University of Manchester, UK in 2021. He joined MDPI as an Assistant Editor for the journal Materials the same year. In September 2022, he became a Section Managing Editor, and he is currently the Journal Relations Specialist for Materials. |
| Ms. Jaime Anderson | Ms. Jaime Anderson holds a bachelor's degree in psychology from the University of Manchester, UK (2018) and a Master's degree in comparative and evolutionary psychology from the University of St Andrews, UK (2019). She joined MDPI in June 2020 as Assistant Editor and Section Managing Editor for the journal IJMS. In 2022, she joined the journal Animals, and was appointed Office Manager of the Manchester Office. |
| Ms. Isabel Nelson | Ms. Isabel Nelson obtained her M.Sc. in environmental monitoring, modelling and reconstruction from the University of Manchester, UK in 2020. With an interest in environmental and public health, she joined MDPI as an Assistant Editor for the journal Healthcare in 2021. Since October 2022, she has worked towards becoming a Section Managing Editor, whilst acting as the Journal Relations Specialist for Healthcare. |