Low-Threshold Coherent Emission at 1.5 µm from Fully Er3+ Doped Monolithic 1D Dielectric Microcavity Fabricated Using Radio Frequency Sputtering
1
Institute for Photonics and Nanotechnologies IFN -National Research Council CNR CSMFO Lab. & Fondazione Bruno Kessler FBK—Centro Materiali e Microsistemi CMM, via alla Cascata 56/C Povo, 38123 Trento, Italy
2
Dipartimento di Fisica, Università di Trento, via Sommarive 14, Povo, 38123 Trento, Italy
3
Politecnico di Milano, Dipartimento di Fisica and Institute for Photonics and Nanotechnologies IFN—National Research Council CNR, Piazza Leonardo da Vinci 32, 20133 Milano, Italy
4
Center for Nano Science and
[email protected]
, Istituto Italiano di Tecnologia, Via Giovanni Pascoli, 70/3, 20133 Milan, Italy
5
Laboratoire FOTON (National Center for Scientific Research- Mixed Research Unit UMR CNRS 6082) Équipe Systèmes Photoniques, ENSSAT, CS 80518, F-22305 Lannion, France
6
Institute of Low Temperature and Structure Research, PAS, 2 Okolna St., 50-422 Wroclaw, Poland
7
Center of Excellence for Advanced Materials and Sensing Devices, Ruđer Bošković Institute, Bijenička c. 54, 10000 Zagreb SA1 8EN, Croatia
8
Fondazione Bruno Kessler-FBK Centro Materiali e Microsistemi CMM Functional Materials and Photonics Structures FMPS Unit, via Sommarive 18, Povo, 38123 Trento, Italy
9
Enrico Fermi Center, Piazza del Viminale 1, 00184 Roma, Italy
10
College of Engineering, Swansea University, Singleton Park, Swansea SA1 8EN, UK
11
Institute for Photonics and Nanotechnologies IFN—National Research Council CNR and Politecnico di Milano, Dipartimento di Fisica, Piazza Leonardo da Vinci 32, 20133 Milano, Italy
12
MiPLab. "Nello Carrara" Institute of Applied Physics IFAC—National Research Council CNR, Via Madonna del Piano 10, 50019 Sesto Fiorentino, Italy
*
Author to whom correspondence should be addressed.
Received: 17 December 2018 / Revised: 14 January 2019 / Accepted: 18 January 2019 / Published: 21 January 2019
Abstract
Low threshold coherent emission at 1.5 µm is achieved using Er
3+
-doped dielectric 1D microcavities fabricated with a Radio Frequency-sputtering technique. The microcavities are composed of a half-wavelength Er
3+
-doped SiO
2
active layer inserted between two Bragg reflectors consisting of ten, five, and seven pairs of SiO
2
/TiO
2
layers, also doped with Er
3+
ions. The morphology of the structure is inspected using scanning electron microscopy. Transmission measurements show the third and first order cavity resonance at 530 nm and 1.5 µm, respectively. The photoluminescence measurements are obtained using the optical excitation at the third order cavity resonance using a 514.5 nm Ar
+
laser or Xe excitation lamp at 514.5 nm, with an excitation angle of 30°. The full width at half maximum of the emission peak at 1535 nm decreased with the pump power until the spectral resolution of the detection system was 2.7 nm. Moreover, the emission intensity presents a non-linear behavior with the pump power and a threshold at about 4 µW.
View Full-Text
►

▼

Figures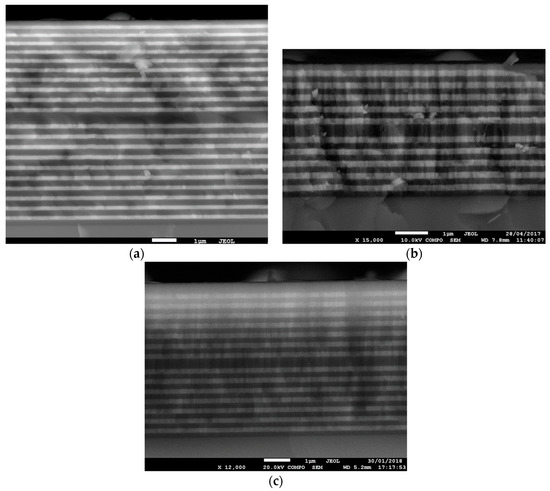 Figure 1
This is an open access article distributed under the
Creative Commons Attribution License
which permits unrestricted use, distribution, and reproduction in any medium, provided the original work is properly cited (CC BY 4.0).

Share & Cite This Article
MDPI and ACS Style
Meroni, C.; Scotognella, F.; Boucher, Y.; Lukowiak, A.; Ristic, D.; Speranza, G.; Varas, S.; Zur, L.; Ivanda, M.; Taccheo, S.; Ramponi, R.; Righini, G.C.; Ferrari, M.; Chiasera, A. Low-Threshold Coherent Emission at 1.5 µm from Fully Er3+ Doped Monolithic 1D Dielectric Microcavity Fabricated Using Radio Frequency Sputtering. Ceramics 2019, 2, 74-85.
Comments
[Return to top]