Wreckfish (
Polyprion americanus

). New Knowledge About Reproduction, Larval Husbandry, and Nutrition. Promise as a New Species for Aquaculture

1

Instituto Español de Oceanografía, Centro Oceanográfico de Vigo, 36280 Vigo, Spain

2

Centro de Investigacións Mariñas, Xunta de Galicia, 36620 Vilanova de Arousa, Pontevedra, Spain

3

Instituto Galego de Formación en Acuicultura, Xunta de Galicia, 36626 Illa de Arousa, Spain

4

Aquarium Finisterrae, 15002 A Coruña, Spain

5

Institute of Marine Biology, Biotechnology and Aquaculture, Hellenic Center for Marine Research, P.O. Box 2214, 71500 Heraklion, Crete, Greece

6

Centro Tecnológico de la Acuicultura, 11500 Puerto de Santa María, Cádiz, Spain

7

Institut Français de Recherche pour l'Exploitation de la Mer, Jean-Jacques Rousseau 155, 92138 Issy-les-Moulineaux, France

8

Universidad Las Palmas de Gran Canaria, Calle Juan de Quesada, 30, 35001 Las Palmas de Gran Canaria, Las Palmas, Spain

*

Author to whom correspondence should be addressed.

Received: 9 January 2019 / Revised: 31 January 2019 / Accepted: 18 February 2019 / Published: 25 February 2019
Abstract
Four different wreckfish (
Polyprion americanus
) broodstock batches were maintained in research facilities under different photo and thermo-period conditions, one in Greece, the Helenic Center for Marine Research (HCMR,
n
= 3) and three in Spain: Instituto Español de Oceanografía (IEO,
n
= 13) in Vigo, Aquarium Finisterrae (MC2,
n
= 21) in A Coruña and Consellería do Mar (CMRM,
n
= 11). The CMRM includes two centers that work together: Instituto Galego de Formación en Acuicultura (IGAFA) and Centro de Investigacións Mariñas (CIMA), both in Pontevedra. During the five years of the project DIVERSIFY (Exploring the biological and socio-economic potential of new-emerging candidate fish species for the expansion of the European aquaculture industry, 2013–2018) works focused on the reproductive biology of the species, broodstock, and larvae nutrition and development of incubation and larval rearing protocols have been carried out. In terms of reproduction, catch methods of new wild animals, the reproductive cycle, sperm characteristics evaluation, and spontaneous and induced spawning methods have been described for wreckfish. Regarding nutrition, the positive effect of two types of enrichment on the fatty acid profiles of Artemia and rotifer has been verified. The relationship between the fatty acid profile of the diets supplied to the broodstock and the fatty acid profile obtained in the oocytes and eggs of the females fed with different diets, has also been demonstrated. Finally, early larval ontogeny has been described and incubation and larval rearing protocols have been proposed based on the results obtained in the different experiments of temperature, growth, survival, and larval feeding that were carried out.
View Full-Text
►

▼

Figures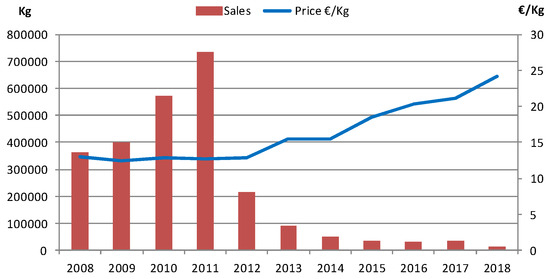 Figure 1
This is an open access article distributed under the
Creative Commons Attribution License
which permits unrestricted use, distribution, and reproduction in any medium, provided the original work is properly cited (CC BY 4.0).

Share & Cite This Article
MDPI and ACS Style
Pérez, E.; Linares, F.; Rodríguez Villanueva, J.L.; Vilar, A.; Mylonas, C.C.; Fakriadis, I.; Papadaki, M.; Papandroulakis, N.; Papadakis, I.; Robles, R.; Fauvel, C.; Roo, J.; Peleteiro, J.B.; Lluch, N.; Pazos, G.; Méndez, B.; Sigelaki, I.; Gómez, C.; Pérez, M.; Álvarez-Blázquez, B. Wreckfish (Polyprion americanus). New Knowledge About Reproduction, Larval Husbandry, and Nutrition. Promise as a New Species for Aquaculture. Fishes 2019, 4, 14.
Comments
[Return to top]