High-Yield Preparation of ZnO Nanoparticles on Exfoliated Graphite as Anode Material for Lithium Ion Batteries and the Effect of Particle Size as well as of Conductivity on the Electrochemical Performance of Such Composites
1
ECKART GmbH, A member of ALTANA, 91235 Hartenstein, Germany
2
Department of Materials Processing, Faculty of Engineering Science, Zentrum für Energietechnik (ZET), University of Bayreuth, 95447 Bayreuth, Germany
3
Department of Functional Materials, Faculty of Engineering Science, Zentrum für Energietechnik (ZET), University of Bayreuth, 95447 Bayreuth, Germany
†
The present work is dedicated to Prof. Dr. Monika Willert-Porada. Prof. Willert-Porada passed away unexpectedly on 11 December 2016 at age of 61. We lost an open minded, highly interdisciplinary and innovative scientist and supervisor.
*
Author to whom correspondence should be addressed.
Received: 4 April 2018 / Revised: 30 April 2018 / Accepted: 18 May 2018 / Published: 23 May 2018
Abstract
The combination of zinc oxide (ZnO) nanoparticles (NP) and graphite provides a promising approach for applications in the field of anode materials for lithium ion batteries. Here, we report a facile and environmentally friendly method yielding uniformly dispersed ZnO particles with a controllable particle size between 5 and 80 nm, supported by exfoliated graphite (EG) sheets. A thermal post-treatment (420 to 800 °C, N
2
) of
[email protected]
composite results in high yield with the opportunity for industrial scale-up. The post-treatment leads to growing ZnO particles on the EG sheets, while oxygen is disincorporated from ZnO by the associated carbothermal reduction of
[email protected]
composites above 600 °C and the conductivity is increased.
[email protected]
composite anodes, reduced at 600 °C, show improved Li storage capacity (+25%) and good cycle stability, compared to the EG anode. This can be attributed to the increased conductivity, despite the particle size increased up to 80 nm. Furthermore, we suggest that the mechanism for the reaction of Li
+
ions with
[email protected]
including ZnO-particles with an average particle size below 20 nm differs from the classical Li
+
ions insertion/de-insertion or alloying process.
View Full-Text
►

▼

Figures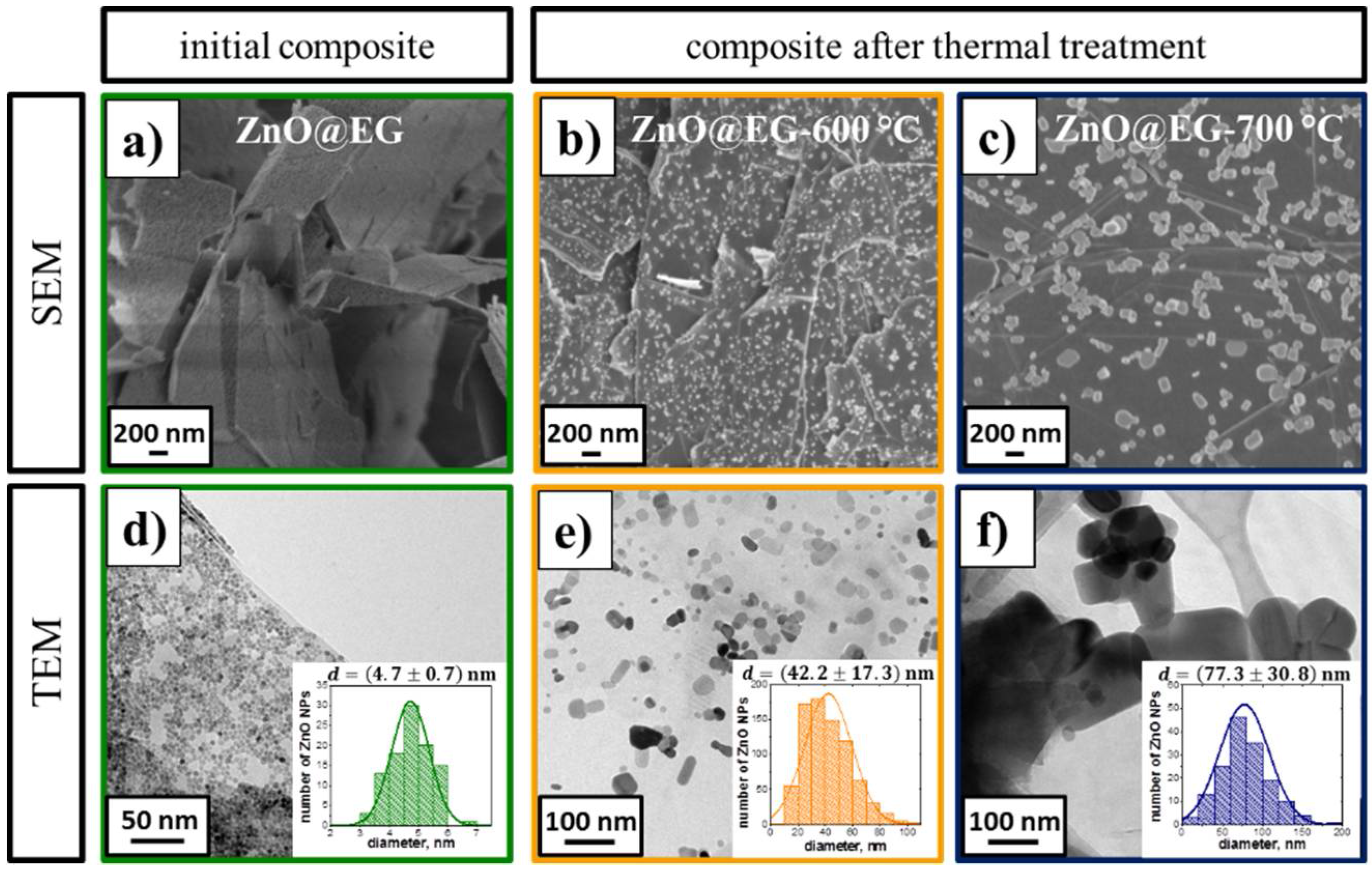 Figure 1
This is an open access article distributed under the
Creative Commons Attribution License
which permits unrestricted use, distribution, and reproduction in any medium, provided the original work is properly cited (CC BY 4.0).

Share & Cite This Article
MDPI and ACS Style
Isakin, O.; Hiltl, S.; Struck, O.; Willert-Porada, M.; Moos, R. High-Yield Preparation of ZnO Nanoparticles on Exfoliated Graphite as Anode Material for Lithium Ion Batteries and the Effect of Particle Size as well as of Conductivity on the Electrochemical Performance of Such Composites. Batteries 2018, 4, 24.
Note that from the first issue of 2016, MDPI journals use article numbers instead of page numbers. See further details here.
Related Articles
Comments
[Return to top]