Open Access This article is
freely available
re-usable
Review
Lachancea thermotolerans
, the Non-
Saccharomyces
Yeast that Reduces the Volatile Acidity of Wines
Department of Biology and Environment, Enology Building, School of Life Sciences and Environment, Chemistry Research Centre of Vila Real (CQ-VR), University of Trás-os-Montes and Alto Douro (UTAD), 5000-801 Vila Real, Portugal
Received: 7 June 2018 / Accepted: 16 July 2018 / Published: 19 July 2018
Abstract
:
To improve the quality of fermented drinks, or more specifically, wine, some strains of yeast have been isolated, tested and studied, such as
Saccharomyces
and non-
Saccharomyces
. Some non-conventional yeasts present good fermentative capacities and are able to ferment in quite undesirable conditions, such as the case of must, or wines that have a high concentration of acetic acid. One of those yeasts is
Lachancea thermotolerants
(
L. thermotolerans
), which has been studied for its use in wine due to its ability to decrease pH through L-lactic acid production, giving the wines a pleasant acidity. This review focuses on the recent discovery of an interesting feature of
L. thermotolerans
—namely, its ability to decrease wines' volatile acidity.
Keywords:
pioneering winemaking techniques; peculiar yeasts; volatile acidity; fermented drinks
1. Introduction
The pioneering of winemaking techniques and new yeast strains contributes to improving the quality of wines worldwide and offering solutions to various problems, such as increased sugar concentrations at grape maturity, or excessively acidic wines. Some non-
Saccharomyces
, as well as some non-conventional species of
Saccharomyces
, present good fermentative capacities and, are able to produce wines with lower levels of ethanol and higher concentrations of glycerol [
1
]. They are also able to avoid stuck fermentations, as they can grow at lower temperatures [
2
,
3
] as well as being nitrogen [
4
] and salt tolerant [
5
]. Moreover, mixed inoculations of non-
Saccharomyces
,
S. cerevisiae
yeasts, and lactic acid bacteria (LAB) in sequential fermentations are of great interest to the wine industry for various technological and sensorial reasons [
6
]. In addition, a peculiar microbial footprint that is characteristic of a particular wine region may be imprinted onto a wine if inoculation with autochthonous yeast is performed [
3
].
A non-
Saccharomyces
species not yet well-explored with huge biotechnological potential is
Lachancea thermotolerans
[
7
], formerly known as
Kluyveromyces thermotolerans
[
8
]. The genus
Lachancea
was proposed by Kurtzman in 2003 to accommodate a group from several different genera showing similarities at the rRNA level. According to Lachance and Lachancea [
9
], the genus continues to anchorage 11 other species to this day:
L. cidri
,
L. dasiensis
,
L. fantastica
,
L. fermentati
,
L. kluyveri
,
L. lanzarotensis
,
L. meyersi
,
L. mirantina
,
L. nothofagi
,
L. quebecensis
, and
L. walti
. As so-called protoploid
Saccharomycetaceae
, the
Lachancea
species has diverged from the
S. cerevisiae
lineage prior to the ancestral whole genome duplication, and as such, offers a complementary model for studying evolution and speciation in yeast [
10
].
Another peculiarity of
L. thermotolerans
is its ability to produce
l
-lactic acid during alcoholic fermentation [
11
]. Although lactic acid production is uncommon among yeasts, it is of great biotechnological interest in regard to fermentation processes where alcoholic fermentation with concomitant acidification is a benefit, such as winemaking [
12
].
Sometimes, to select a certain strain with specific enological features, scientists choose to use a genetic engineering approach. However, these techniques are unfortunately quite time-consuming and expensive. Moreover, metabolic engineering based on recombinant technology has some regulatory issues, such as the use of genetically modified organisms (GMO) in the food and wine industry [
13
]. The alternative solution to genetic manipulation is evolutionary engineering [
14
,
15
], which allows for improvements to phenotypes of choice. This methodology is based on the combination of confined environmental selection and natural variability. Evolutionary engineering aims to create an improved strain based on the selection of behavioral differences between individual cells within a population. The reason why non-recombinant strategies based on evolutionary engineering are eye-catching is that they may be able to generate better-quality strains that are not considered to be GMOs. Evolutionary engineering has long been used for generating new industrial strains [
16
,
17
], and of course, the first step is always to be well-focused on the selection criteria.
Our starting point for this research was the following question: Are indigenous yeasts—or more specifically,
L. thermotolerans
—able to reduce volatile acidity from musts and wines?
2. The Vinegar Taint Problem in Wine
In excessive quantities, volatile acids are considered to be a spoilage characteristic of wines, as they confer an unpleasant vinegary aroma along with an acrid taste. The main component of the volatile acidity of wines and musts is acetic acid. The maximum acceptable limit for volatile acidity in most wines is 1.2 g L
−1
of acetic acid [
18
], but the aroma threshold for acetic acid depends on the variety and style of the wine, being the vinegary smell recognizable at acetic acid concentrations of 0.8–0.90 g L
−1
[
19
]. Acetic acid can be formed at any time during the wine-making process. It can appear on the grapes or the grape-must due to a myriad of yeasts (
Hansenula
spp. and
Brettanomyces bruxellensis
), filamentous fungi (
Aspergillus niger
,
Aspergillus tenuis
,
Cladosporium herbarum
,
Rhizopus arrhizus
, and
Penicillium
spp), and bacteria (LAB-like indigenous
Lactobacilli
, otherwise known as "ferocious", and acetic acid bacteria). It can also appear during the alcoholic fermentation process as a by-product of
S. cerevisiae
sugars' metabolism, or due to some contamination by spoilage yeasts (
Pichia anomala
,
Candida krusei
,
Candida stellate
,
Hansaniaspora uvarum/Kloeckera apiculate
, and
Saccharomycodes ludwigii
) or bacteria (
Acetobacter pasteurianus
and
Acetobacter liquefaciens
that survive during fermentation); after MLF (malolactic fermentation), due to heterofermentative species of
Oenococcus
and
Lactobacillus
that have the potential to produce acetic acid through the metabolism of residual glucose (usually no more than 0.1–0.2 g L
−1
of acetic acid); or in the bottled wine, due to spoilage by contaminating yeasts and/or bacteria [
20
,
21
].
3.
L. thermotolerans'

Main Features in Alcoholic Drinks
4. Strain Isolation and Wine Biodeacetification
5. Conclusions
Climate change has caused increased temperatures for many wine-growing regions around the world.
L. thermotolerans
offers a unique potential to counter this effect of global warming on wine grapes by producing acid during fermentation, which can moderately reduce alcohol levels and produce, also, high concentrations of the fruity-like flavor compound, ethyl lactate (using lactate as a precursor).
L. thermotolarans
can also be used to develop a controlled biological deacetification process of wines with high volatile acidity. However, the ability of
L. thermotolerans
44C to consume acetic acid is a highly oxygen-dependent one, which means that its metabolism must shift more towards respiration than to fermentation. The high amount of sugars present in the grape-must may also inhibit or delay
L. thermotolerans
' acetic acid consumption during refermentation processes.
Consequently, further research is needed before the deacetification of wines will be able to be added to the list of
Lanchancea
's enological features.
Funding
We appreciate the financial support provided to the Research Unit (CQ-VR) in Vila Real (PEst-OE/QUI/UI0616/2014) by FCT—Portugal and COMPETE.
Conflicts of Interest
The author declares no conflict of interest.
Figure 1.
Growth and color change (due to pH changes) of the differential medium with 0.5% (
v
/
v
) acetic acid, 0.05% (
w
/
v
) glucose, and bromocresol green (0.005% (
w
/
v
)) at pH 4.0, indicating the simultaneous consumption of glucose and acetic acid by the isolated strains, namely "44C". E:
S. cerevisiae
PYCC4072 (negative control); F:
Z. bailii
ISA1307 (positive control). Retrieved from Vilela et al. [
34
].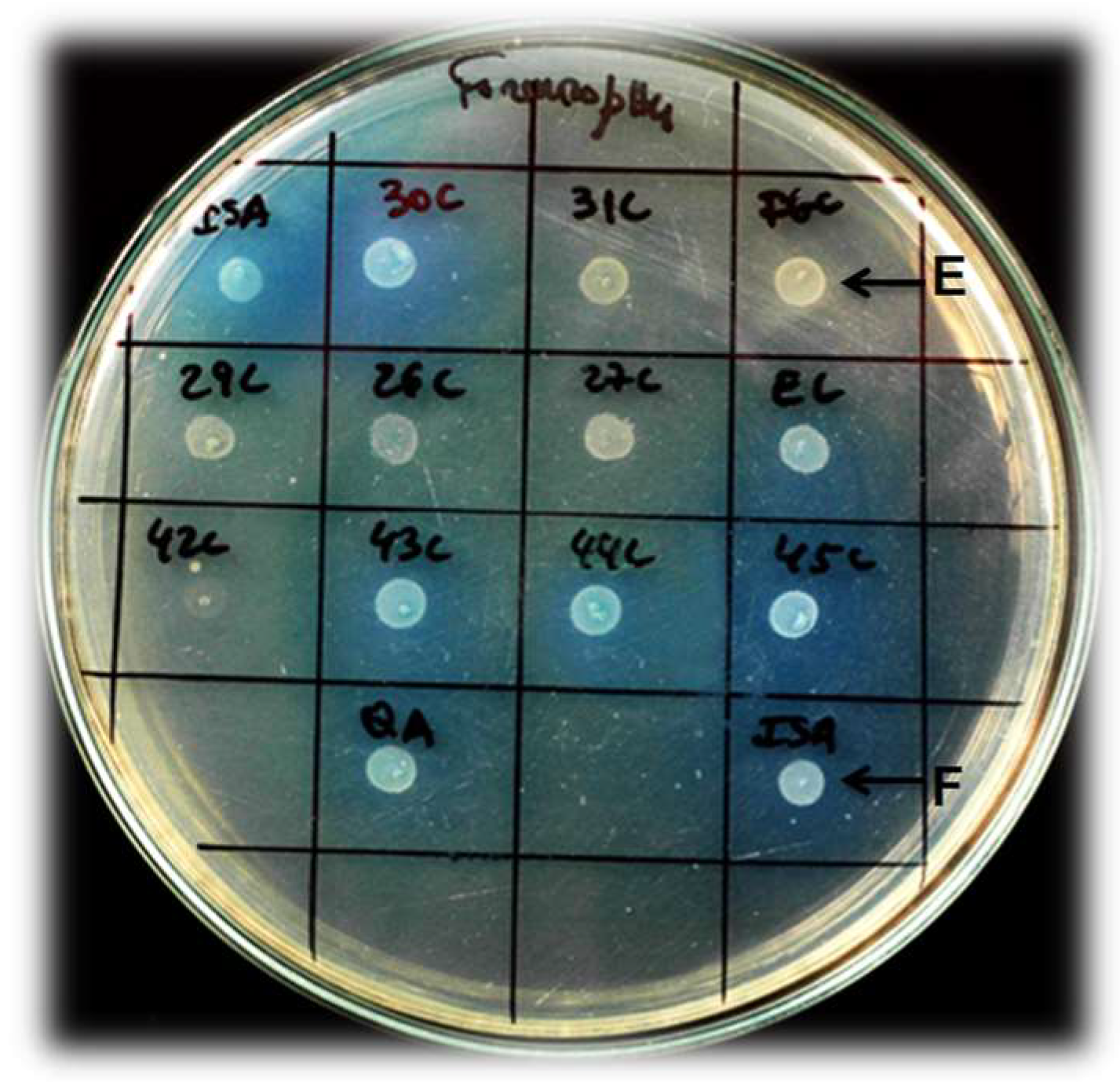 Table 1.
Percentage of acetic acid (
italic letters
) and glucose (
bold letters
) consumption after refermentation of wine-supplemented culture medium, containing glucose 13% (
w
/
v
) and ethanol 4% (
v
/
v
) or glucose 3.3% (
w
/
v
) and ethanol 10% (
v
/
v
), after 48 and 72 h of incubation, respectively. Results obtained for strains and culture conditions with the same letter are not significantly different (
p
< 0.001) [
29
].
Glucose (13%,

w

/

v

)
Ethanol (4%,

v

/

v

)
Glucose (3.3%,

w

/

v

)
Ethanol (10%,

v

/

v

)
Aerobic Conditions
Limited Aerobic Conditions
Aerobic Conditions
Limited Aerobic Conditions
Yeast strains

Acetic acid


Glucose

Acetic acid


Glucose

Acetic acid


Glucose

Acetic acid


Glucose

Z. bailii

ISA 1307

94.8 ± 3.30 c


52.4 ± 2.62 c

40.9 ± 9.80 a


38.8 ± 6.36 b

71.2 ± 3.02 b


23.1 ± 5.60 a

41.6 ± 2.64 a


39.4 ± 2.10 b

L. thermotolerans

44C

94.6 ± 4.79 d


58.5 ± 8.60 c

15.25 ± 3.30 a


31.0 ± 5.69 b

28.1 ± 1.70 c


16.4 ± 1.76 a

17.4 ± 7.16 b


30.4 ± 5.79 b

© 2018 by the author. Licensee MDPI, Basel, Switzerland. This article is an open access article distributed under the terms and conditions of the Creative Commons Attribution (CC BY) license (http://creativecommons.org/licenses/by/4.0/).