Androgen and Oestrogen Affect the Expression of Long Non-Coding RNAs During Phallus Development in a Marsupial
1
School of BioSciences, The University of Melbourne 3010, VIC, Australia
2
RIKEN, Center for Integrative Medical Sciences, Yokohama, Kanagawa 230-0045, Japan
3
Advanced Genomics Center, National Institute of Genetics, Mishima, Shizuoka 411-8540, Japan
*
Author to whom correspondence should be addressed.
Received: 27 November 2018 / Revised: 19 December 2018 / Accepted: 27 December 2018 / Published: 30 December 2018
Abstract
There is increasing evidence that long non-coding RNAs (lncRNAs) are important for normal reproductive development, yet very few lncRNAs have been identified in phalluses so far. Unlike eutherians, phallus development in the marsupial tammar wallaby occurs post-natally, enabling manipulation not possible in eutherians in which differentiation occurs in utero. We treated with sex steroids to determine the effects of androgen and oestrogen on lncRNA expression during phallus development. Hormonal manipulations altered the coding and non-coding gene expression profile of phalluses. We identified several predicted co-regulatory lncRNAs that appear to be co-expressed with the hormone-responsive candidate genes regulating urethral closure and phallus growth, namely
IGF1
,
AR
and
ESR1
. Interestingly, more than 50% of
AR
-associated coding genes and lncRNAs were also associated with
ESR1
. In addition, we identified and validated three novel co-regulatory and hormone-responsive lncRNAs:
lnc-BMP5, lnc-ZBTB16
and
lncRSPO4
.
Lnc-BMP5
was detected in the urethral epithelium of male phalluses and was downregulated by oestrogen in males.
Lnc-ZBTB16
was downregulated by oestrogen treatment in male phalluses at day 50 post-partum (pp).
LncRSPO4
was downregulated by adiol treatment in female phalluses but increased in male phalluses after castration. Thus, the expression pattern and hormone responsiveness of these lncRNAs suggests a physiological role in the development of the phallus.
View Full-Text
►

▼

Figures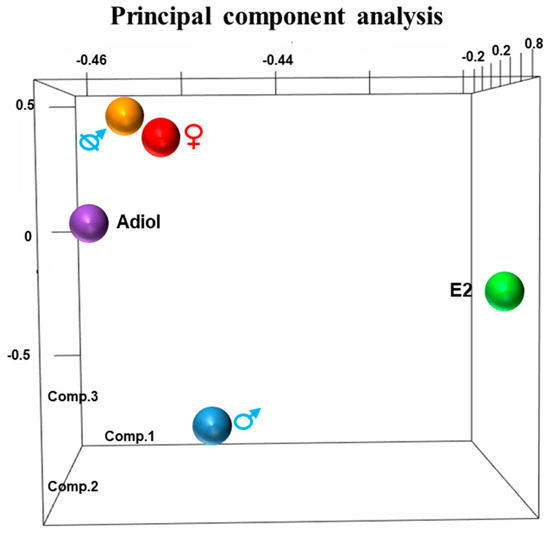 Figure 1
This is an open access article distributed under the
Creative Commons Attribution License
which permits unrestricted use, distribution, and reproduction in any medium, provided the original work is properly cited (CC BY 4.0).

Share & Cite This Article
MDPI and ACS Style
Chen, Y.; Kuroki, Y.; Shaw, G.; Pask, A.J.; Yu, H.; Toyoda, A.; Fujiyama, A.; Renfree, M.B. Androgen and Oestrogen Affect the Expression of Long Non-Coding RNAs During Phallus Development in a Marsupial. Non-Coding RNA 2019, 5, 3.
Note that from the first issue of 2016, MDPI journals use article numbers instead of page numbers. See further details here.
Related Articles
Comments
[Return to top]