Open Access This article is
freely available
re-usable
Brief Report
MicroRNA-451 Inhibits Migration of Glioblastoma while Making It More Susceptible to Conventional Therapy
1
Department of Neurosurgery, Harvey Cushing Neuro-oncology Laboratories, Brigham and Women's Hospital, Harvard Medical School, Boston, MA 02115, USA
2
Department of Neurological Surgery, Kagawa University Hospital, Miki-cho, 761-0793 Kagawa, Japan
3
Division of Neurosurgery, Beckman Research Institute, City of Hope, Duarte, CA 91010, USA
4
Department of Neurochemistry, Mossakowski Medical Research Centre, Polish Academy of Sciences, 02-106 Warsaw, Poland
*
Author to whom correspondence should be addressed.
Received: 21 December 2018 / Accepted: 11 March 2019 / Published: 15 March 2019
Abstract
:
Malignant glioblastoma (GBM, glioma) is the most common and aggressive primary adult brain tumor. The prognosis of GBM patients remains poor, despite surgery, radiation and chemotherapy. The major obstacles for successful remedy are invasiveness and therapy resistance of GBM cells. Invasive glioma cells leave primary tumor core and infiltrate surrounding normal brain leading to inevitable recurrence, even after surgical resection, radiation and chemotherapy. Therapy resistance allowing for selection of more aggressive and resistant sub-populations including GBM stem-like cells (GSCs) upon treatment is another serious impediment to successful treatment. Through their regulation of multiple genes, microRNAs can orchestrate complex programs of gene expression and act as master regulators of cellular processes. MicroRNA-based therapeutics could thus impact broad cellular programs, leading to inhibition of invasion and sensitization to radio/chemotherapy. Our data show that miR-451 attenuates glioma cell migration in vitro and invasion in vivo. In addition, we have found that miR-451 sensitizes glioma cells to conventional chemo- and radio-therapy. Our data also show that miR-451 is regulated in vivo by AMPK pathway and that AMPK/miR-451 loop has the ability to switch between proliferative and migratory pattern of glioma cells behavior. We therefore postulate that AMPK/miR-451 negative reciprocal feedback loop allows GBM cells/GSCs to adapt to tumor "ecosystem" by metabolic and behavioral flexibility, and that disruption of such a loop reduces invasiveness and diminishes therapy resistance.
Keywords:
glioblastoma; microRNA; AMPK; invasiveness; therapy resistance
1. Introduction
Malignant glioblastoma (GBM), the most common primary brain tumor in adults, is among the most devastating cancers, with a median survival of approximately 15 months [
1
]. Current standard of care for patients includes maximal safe resection followed by irradiation and chemotherapy with temozolomide (TMZ). Invasiveness—the capability of GBM cells to infiltrate surrounding normal brain parenchyma—constitutes a major therapeutic challenge, as even extensive resection of the primary tumor mass leaves a significant number of tumor cells in the brain, leading to inevitable recurrence. The therapy resistance of GBM is greatly exacerbated by the sub-population of GBM stem-like cells (GSCs), characterized by high cellular molecular and phenotypic heterogeneity [
2
] which is further enhanced by microenvironmental adaptation to hypoxia and glucose deficiency [
3
,
4
]. Therefore, there is recognized need for developing novel therapy approaches that would inhibit GBM invasiveness while curbing its growth potential by overcoming therapy resistance.
GBM presents unique challenges to therapy due to its location, aggressive biological behavior, diffuse infiltrative growth and intratumoral heterogeneity [
5
,
6
,
7
]. GBM cells, and particularly GSCs, are characterized by chemo- and radio-therapy resistance leading to inevitable recurrence, thus targeting of GSCs offers a promising mode of GBM control. Invasion and dispersal of GBM cells into normal brain is another major source of treatment failure in humans and leads to neurologic morbidity and mortality. However, molecular and phenotypic heterogeneity of GSCs, resulting in co-existence of invasive and highly resistant sub-populations, makes single-target therapies ineffective [
2
,
8
,
9
,
10
,
11
,
12
,
13
]. The brain is an extremely metabolically active organ that derives energy almost entirely from glucose, which requires tight control of blood glucose homeostasis [
14
]. In brain tumors metabolic adaptations are critical, including aerobic glycolysis leading to even higher glucose-dependence (the Warburg effect [
15
]) and reduction of glucose uptake specifically in GSC sub-population attenuated their tumorigenicity [
4
]. Therefore, targeting adaptation to microenvironmental challenges offers novel avenues for effective anti-GBM therapy. 5' AMP-activated protein kinase (AMPK) is a major energetic biosensor and metabolic switch that controls a broad array of biosynthetic and catabolic pathways in the cell [
16
]. As in certain situations of energy deficits AMPK may halt cell growth, it was first described as bona fide tumor suppressor. However, recently, a number of studies have emerged showing that AMPK enables cancer cell survival capabilities under stress [
17
,
18
,
19
,
20
,
21
]. Specifically, AMPK activated in solid tumors [
22
,
23
,
24
,
25
,
26
,
27
,
28
], was shown to promote oncogenic transformation [
29
,
30
,
31
,
32
], stemness [
33
,
34
,
35
], increase glucose uptake and facilitate ATP recovery [
36
,
37
,
38
,
39
,
40
]. AMPK is hyper-activated in GBM, AMPK inhibition resulted in decreased growth of GBM xenografts, and its activation by oncogenic events was recapitulated in rodent models of GBM [
23
,
26
,
41
,
42
,
43
,
44
]. AMPK thus provides a potent regulatory mechanism by which cancer cells temporarily halt growth on microenvironmental and therapy-inflicted challenges and it could become crucial in advanced/recurred tumors that experience metabolic and genotoxic stress [
22
,
45
]. In the last several years, important developments in cancer biology include the discovery of deregulated microRNAs and their use for therapeutic intervention [
46
,
47
,
48
]. Apart from microRNAs with gain and loss of function acting as tumor suppressors [
49
,
50
,
51
,
52
,
53
] and oncogenes [
54
,
55
] in GBM [
56
,
57
] and other malignancies [
58
], we identified one microRNA (miR-451) which is not deregulated in brain tumor cells per se, but is instead finely regulated by AMPK pathway. We have established the existence of a strong, reciprocal negative feedback loop between miR-451 and AMPK activity mediated by suppression of OCT1 transcription factor [
59
,
60
,
61
,
62
]. MiR-451 in turn targets simultaneously several components of the AMPK pathway and such microRNA-451/AMPK loop allows GBM cells to adapt to "stress" and nutrient deficits, promoting or suppressing brain tumor cell phenotypes based on microenvironmental contexts. If the proposed studies are successful, it would provide strong rationale for the clinical translation of a novel therapeutic strategy using miR-451 that hinder GBM cells invasion while making them more susceptible to radio/chemotherapy.
Therapeutic strategies targeting GBM require multi-target molecules to overcome heterogeneous nature of the disease. The deepened understanding of molecular and cellular mechanisms of targeted factors in discovery stage can considerably shorten expensive clinical phase and increase the chance of the development of successful approach. Testing naturally expressed microRNA candidates using heterogeneous, patient-derived cells and clinically relevant model systems to combine their effect with standard therapy is innovative way to turn phenotypic data into robust therapy-relevant discoveries.
2. Results
2.1. MicroRNA-451 Is a Potent Inhibitor of GBM Cell Motility/Migration In Vitro and Invasiveness In Vivo
2.2. MicroRNA-451 Sensitizes GBM Cells to Conventional Therapy
The role of miR-451 in drug resistance of cancer cells has been reported in several malignancies. Expression of miR-451 in doxorubicin-resistant breast cancer cells increased their sensitivity to the drug [
74
]. Imatinib and miR-451 alone had no significant effect on GBM neurosphere formation, but in combination, led to its marked inhibition [
75
]. Erythropoietin-induced suppression of miR-451 in GBM led to increased cisplatin chemoresistance [
73
]. Overexpression of miR-451 sensitized lung cancer cells to cisplatin [
76
,
77
,
78
] and irradiation [
79
], breast cancer cells to tamoxifen and paclitaxel [
80
,
81
], and colorectal cancer cells to irinotecan [
82
]. We showed that GBM cells responded to TMZ treatment and irradiation by significant reduction of endogenous miR-451 expression by ~3-fold (
Figure 3
a), while stable overexpression of miR-451 led to significant sensitization to both therapeutic regimens (
Figure 3
b). Interestingly, when we queried the GEO database for the expression of microRNAs in primary vs recurrent GBM samples, miR-451 was the most significantly down regulated microRNA in recurrent GBMs (out of 251 detected microRNAs) (
Figure 3
c). This result underscores the importance of miR-451 downregulation in GBM cells upon treatment in order to acquire the resistance, thus allowing the recurrence. As it was demonstrated that radio- and chemo-therapy may in fact increase GBM invasiveness [
83
,
84
], we believe that miR-451 restoration concurrently with irradiation/TMZ leading to anti-migratory and pro-sensitization effect, may be a particularly relevant approach.
2.3. MiR-451 and Its Effector Network Are Linked to Cellular Response to Stress via AMPK Signaling to Drive the Microenvironmental Adaptation of GBM Cells/GSCs
Our data has shown that miR-451 possesses significant anti-migratory effects in GBM cells and that high levels of glucose are required to maintain its expression [
60
]. Additionally, forced expression of miR-451 sensitizes GBM cells to conventional radio-/chemo-therapy. On the contrary, low glucose levels lead to the suppression of miR-451 levels [
60
,
61
,
62
]. We first determined if glucose deprivation leads to global de-regulation of microRNA expression.
Figure 4
a demonstrates the pattern of microRNA expression in two GBM cell lines upon glucose withdrawal by showing those microRNAs that were either significantly different between two cell lines or significantly different between high and low glucose. There was high variability of microRNA expression between the two lines and very few glucose-dependent changes. When we analyzed whether the expression of microRNAs significantly changed in low glucose in at least one cell type, it became apparent that miR-451 was the only microRNA whose expression was glucose-dependent in both cell lines: in fact, it was significantly suppressed in low glucose (
Figure 4
b). This finding was further supported by an experiment in which RNA was isolated from the brains of rats treated with streptozotocin (STZ)—a drug used for the induction of diabetes [
85
]. MiR-451 was one of a handful of microRNAs that were higher in STZ-treated (i.e., hyperglycemic) animals and the only one whose expression overlapped that of glucose-dependent microRNAs in GBM cells (
Figure 4
c). These results suggest that glucose-dependent microRNA rearrangements are specific rather than global. Interestingly, miR-451 was the most significantly down regulated microRNA in migrating GBM cells (
Figure 4
d) [
62
].
These findings thus support a unique role of miR-451 the pathophysiology of GBM. Next, we queried both The Cancer Genome Atlas database and our collection of GBM matched samples (i.e., tumor sample with adjacent tissue devoid of gross pathology from the same individual) for the expression of miR-451. As evident from
Figure 5
a, miR-451 is not significantly deregulated in GBM. This finding was confirmed when we measured miR-451 levels in a collection of GSCs. It varied between Ct values 29–36, which overlapped with non-malignant neuroglia. When we stably overexpressed miR-451 in one GSC (GBM12), its levels significantly rose (from Ct 33.3 to Ct 29.8, ~11-fold) but remained within physiologically relevant range (
Figure S1
). To uncover the global effect of miR-451 expression, we performed a gene microarray in GBM cells stably overexpressing miR-451 and found a remarkably low number of genes (91) that were significantly down-regulated. Of these, only nine possessed a predicted miR-451 target site within their 3′-UTR, 5′-UTR or coding sequence (
Figure 5
b). Therefore both, microarray and in silico analysis suggest that miR-451 has an overall low number of targets and that most of deregulated transcripts are affected indirectly. Most miR-451 targets are linked to cell movement/motility, cell survival and response to endogenous stimuli (
Figure 5
c). The most prominent gene network among those 91 deregulated genes is the LKB1/AMPK pathway that includes targets experimentally validated by us including CAB39, YWHAZ, c-MYC [
61
,
62
] and other researchers [
79
,
86
,
87
,
88
] (
Figure S3
).
4. Materials and Methods
All standard experimental procedures (cell culture, engineering of stable cell lines, real-time PCR, transfections, cell assays, isolation of RNA, intracranial xenografts) were performed as described by us [
2
,
60
,
62
,
105
]. Streptozotocin treatment was performed as described in References [
85
,
106
].
Author Contributions
Conceptualization, A.B., E.S. and J.G.; methodology, D.O., K.A., M.O.N., A.B., and J.G.; validation, D.O., K.A.; formal analysis, J.G.; data curation, A.B.; writing—original draft preparation, J.G.; writing—review and editing, A.B., E.S. and J.G.; visualization, A.B.; supervision, J.G.; funding acquisition, A.B and J.G.
Funding
This research was funded by NCI 1R01 CA176203-01A1 (to J.G.) and OSF OPUS # 2018/29/B/NZ1/01016 (to A.B.) and National Science Centre Poland NCN 2014/15/B/NZ4/04487 (to E.S.).
Conflicts of Interest
The authors declare no conflicts of interest.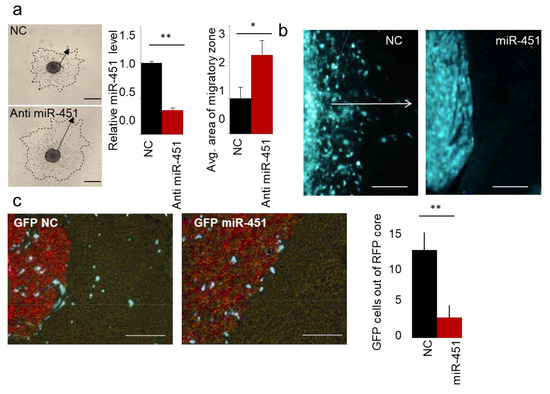 Figure 1.
miR-451 impedes migration of GBM cells in vitro and invasiveness of GSCs in vivo. (
a
) Representative images of spheroid migration, qRT-PCR of miR-451 upon anti-miR-451 transfection, and quantification. (
b
) Representative images of intracranial xenografts of GBM12 cells expressing control GFP or GFP miR-451. White arrow depicts invasive zone. (
c
) Representative images of intracranial xenografts of GBM12 cells expressing control GFP or GFP miR-451 admixed with Red Fluorescent Protein-labeled Gli36 cells (
left
), quantification of GFP cells outside RFP core per random field (
right
). *
p
-value < 0.05, **
p
-value < 0.01.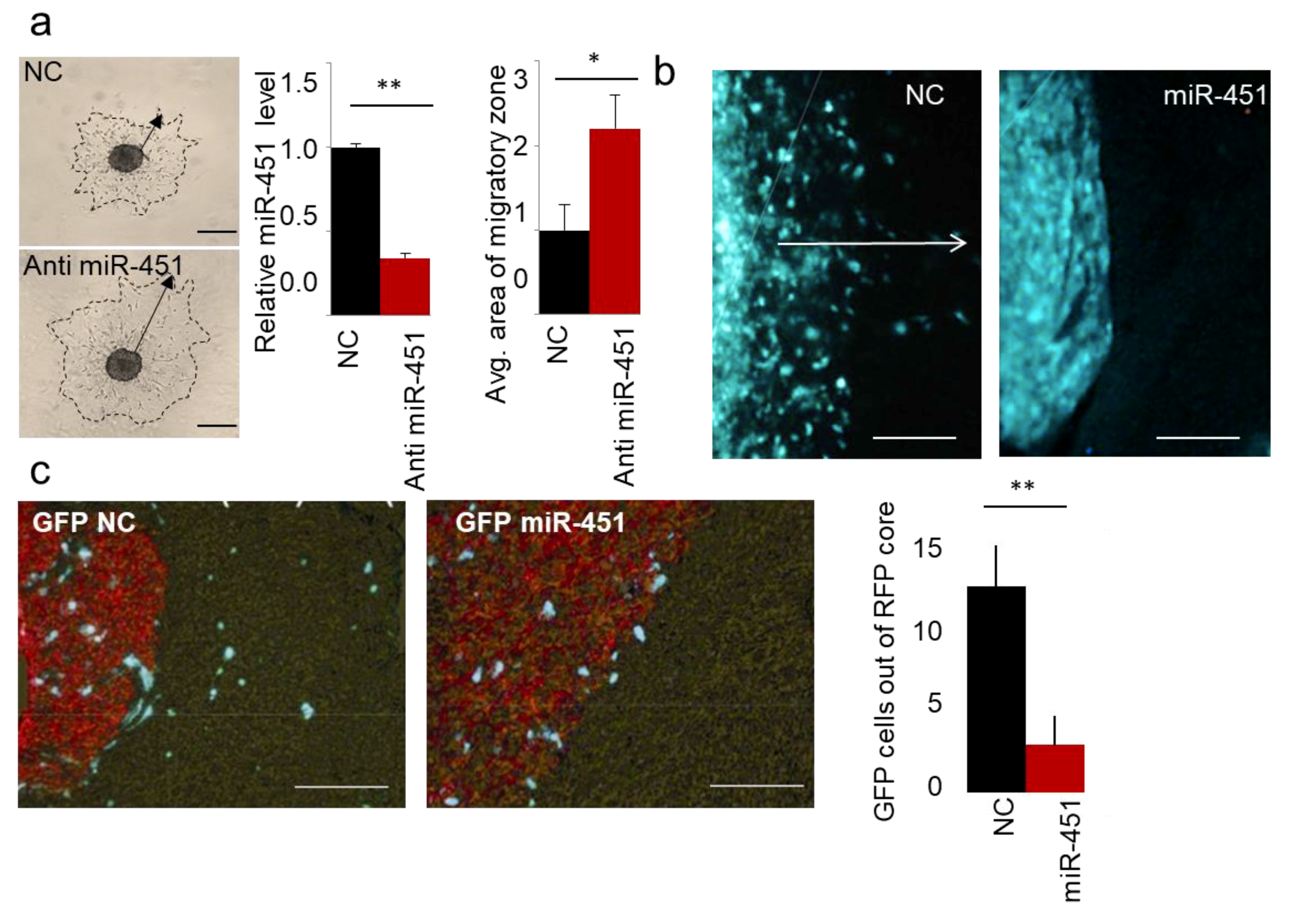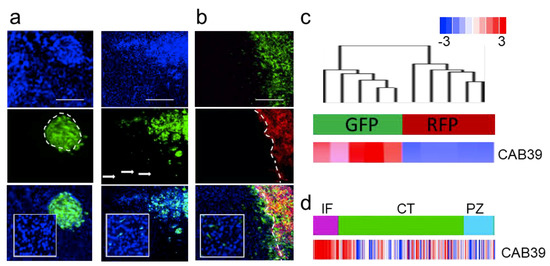 Figure 2.
Characterization of primary GSC phenotype. (
a
) Representative images of intracranial xenografts (nodular GBM9—left, invasive GBM12—right, cells are GFP-labeled, blue—DAPI staining). (
b
) Invasive (GBM12 GFP-labeled) and nodular (GBM9 RFP-labeled) GSCs retain their phenotype in co-injection model in vivo (blue—DAPI staining). (
c
) Hierarchical clustering of gene expression in cells isolated from heterogeneous tumors (
n
= 5 independent tumor separated for GFP and RFP cells respectively) in unsupervised analysis (top cluster) and CAB39 expression (bottom bar). (
d
) CAB39 expression was retrieved from Ivy GAP database-based expression signature in different anatomic areas of GBM (IT, infiltrating tumor; CT, cellular tumor; PZ, perinecrotic zone).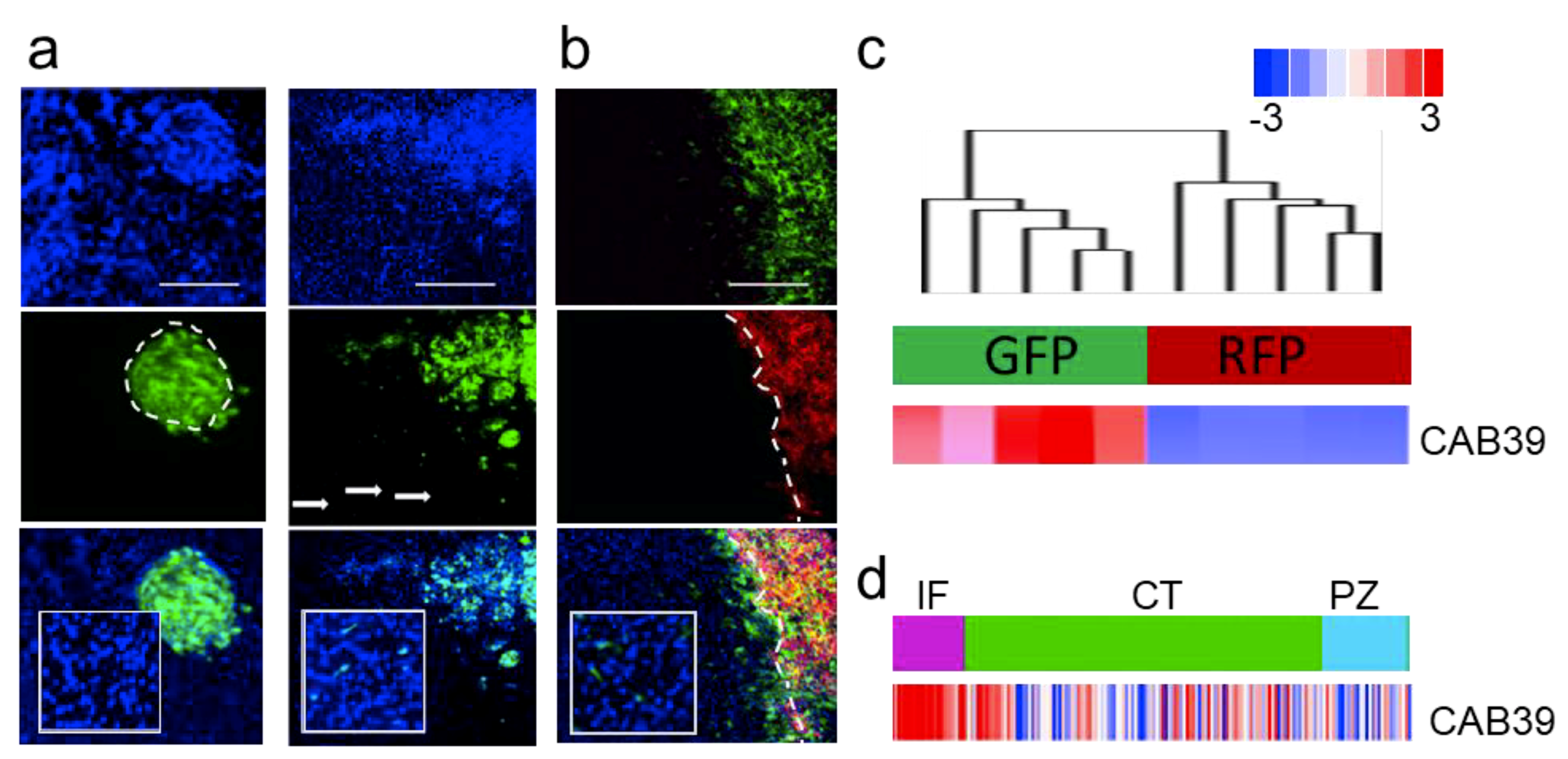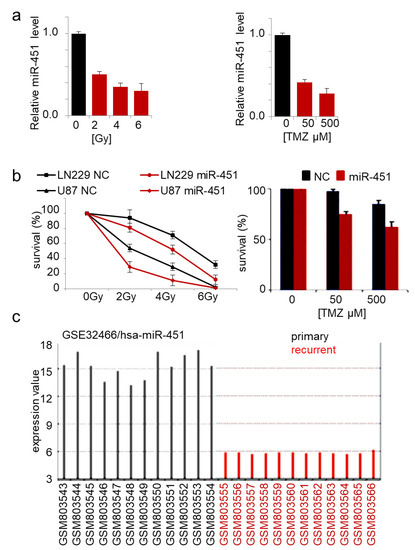 Figure 3. Forced expression of miR-451 sensitizes GBM cells to therapy. (a) miR-451 is down-regulated in cells exposed to radiation (left) and TMZ treatment (right) in GBM cells; qRT-PCR of miR-451. (b) miR-451 decreases survival of cells irradiated (left) or treated with TMZ (right). (c) miR-451 is significantly down-regulated in recurrent GBM (source: GEO accession—GSE32466).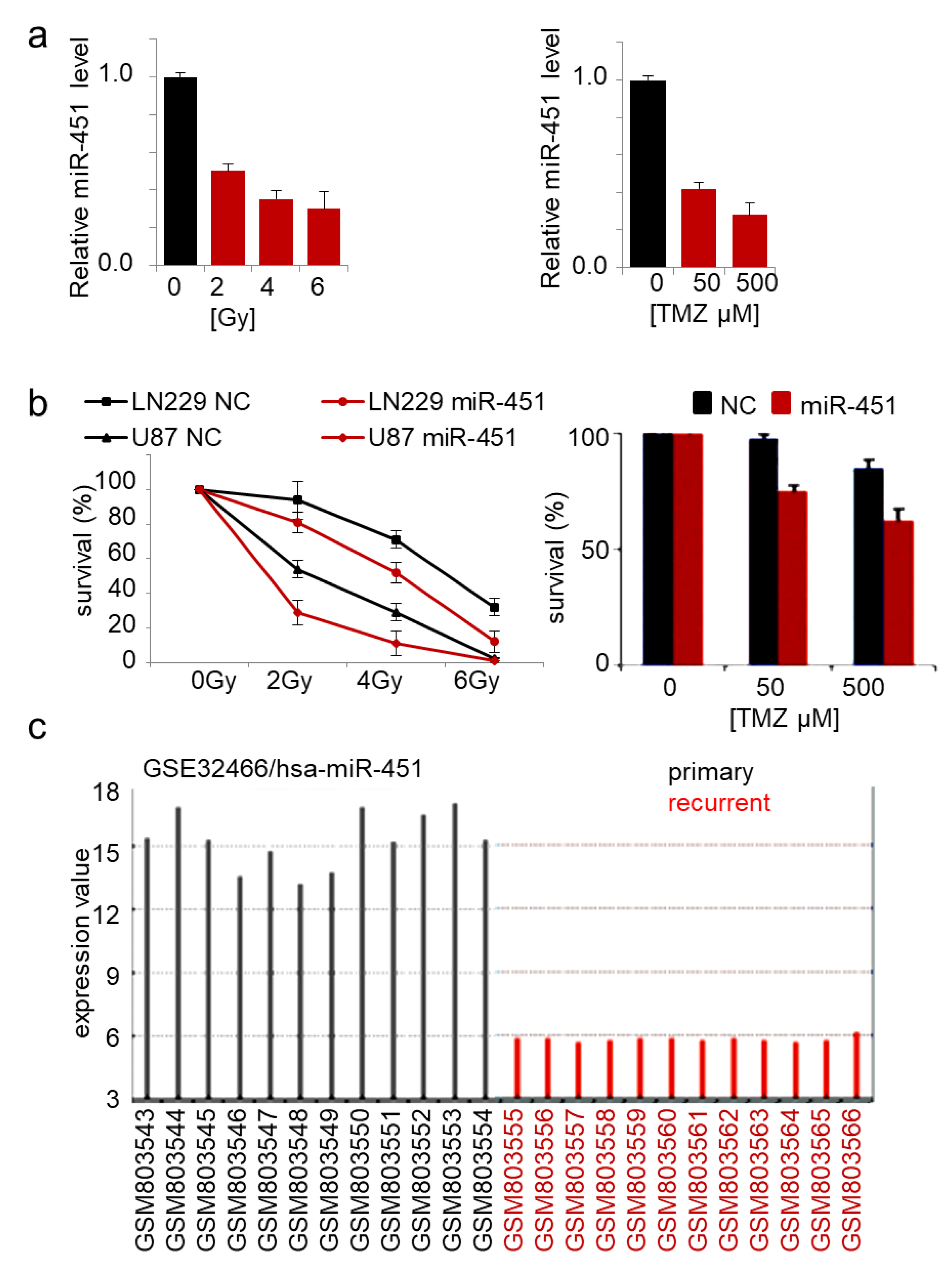 Figure 4. miR-451 is specifically down-regulated in low glucose in GBM cells. (a,b) Unsupervised clustering of microRNA by Nanostring analysis; red bar: high glucose, black bar: low glucose. (a) microRNAs significantly different in two GBM cell lines cultured for 24 h in high (+) and low (−) glucose conditions. (b) microRNAs significantly different in both glucose regimens in at least one cell line; box: miR-451. (c) Venn diagram showing number of microRNAs significantly deregulated in glucose-deprived GBM cells and brains of STZ-treated rats. (d) Venn diagram showing number of microRNAs significantly deregulated in glucose-deprived GBM cells and during 3D spheroid dispersal assay (3 days).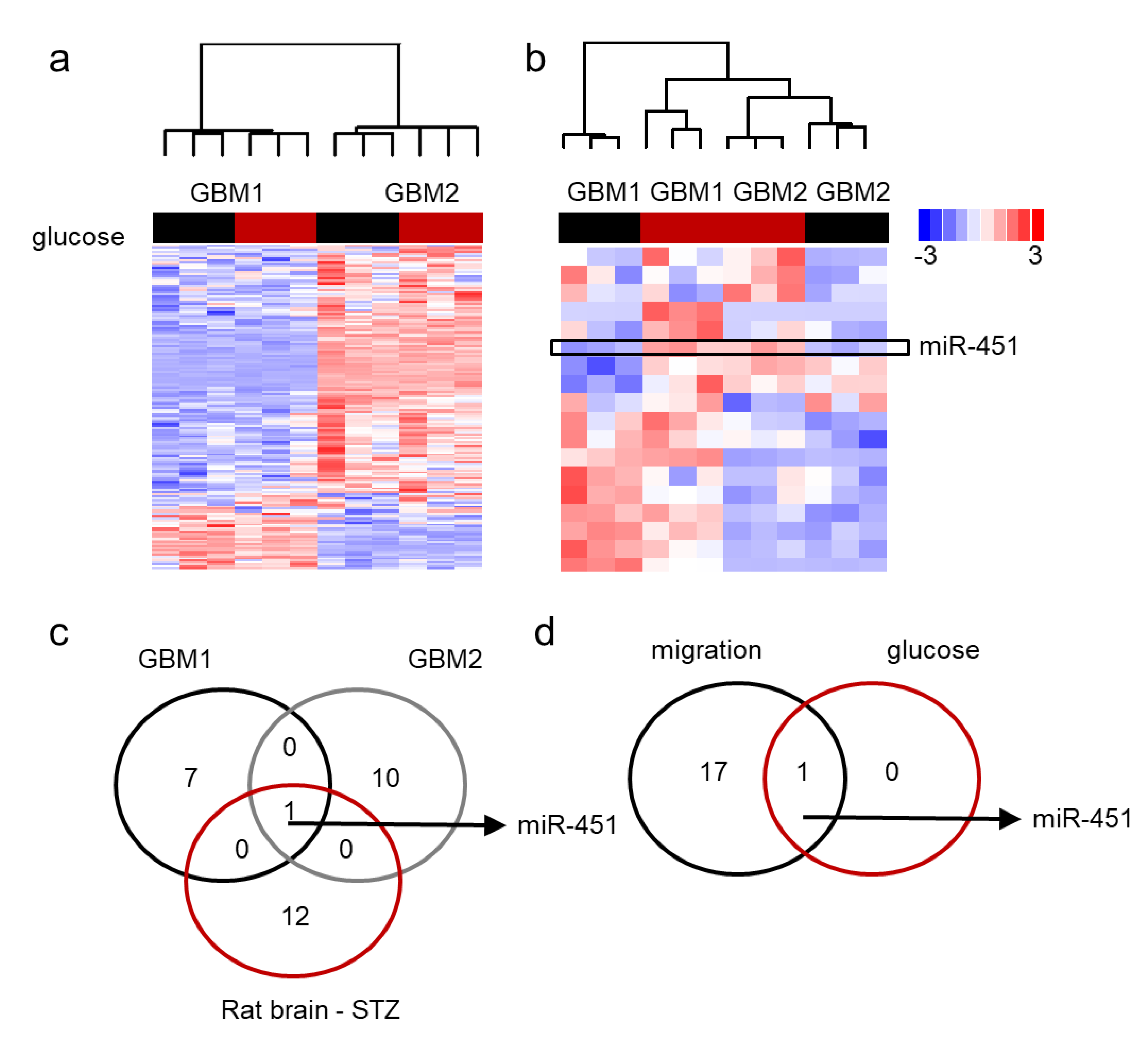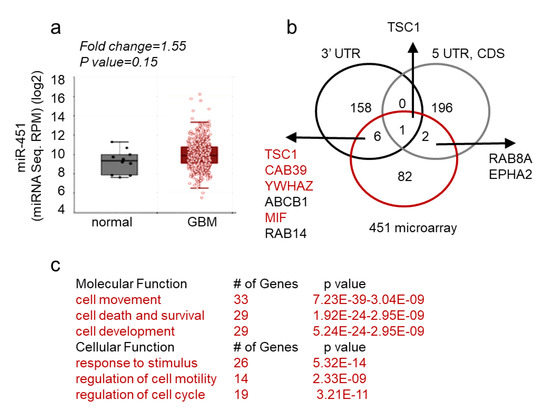 Figure 5. miR-451 expression in GBM and its targeted network. (a) MiR-451 is not significantly deregulated in GBM—microRNA sequencing of miR-451 in normal and GBM brain. Data source: TCGA. (b) Venn diagram showing number of genes deregulated in U87 and U251 cells stably overexpressing miR-451 (red), putative targets of miR-451 in 3′-UTRs (black) or 5′-UTRs and coding sequences (CDS) (grey)—based on TargetScan and miRWalk software. (c) Functional Annotation Analysis of major ontology categories of the genes down-regulated by miR-451 overexpression analyzed by IPA (Ingenuity®Systems) (molecular function, upper table) and GO enrichment STRING software (cellular function, bottom table).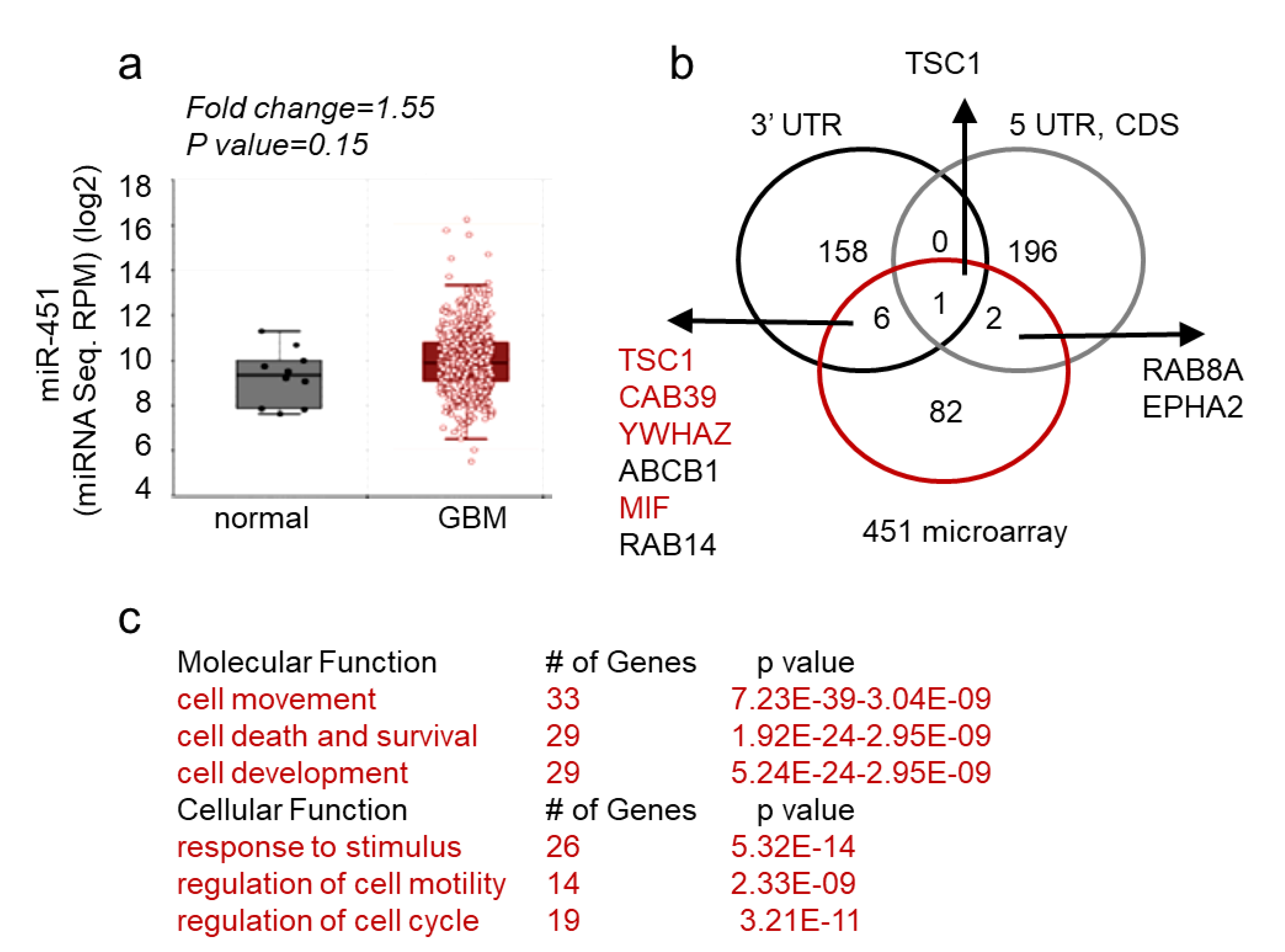 © 2019 by the authors. Licensee MDPI, Basel, Switzerland. This article is an open access article distributed under the terms and conditions of the Creative Commons Attribution (CC BY) license (http://creativecommons.org/licenses/by/4.0/).