MicroRNA in Brain pathology: Neurodegeneration the Other Side of the Brain Cancer
1
Affiliation Department of Neurosurgery, Brigham and Women's Hospital, Harvard Medical School, Boston, MA 02115, USA
2
Affiliation Department of Neurochemistry, Mossakowski Medical Research Centre, Polish Academy of Sciences, 02-106 Warsaw, Poland
*
Author to whom correspondence should be addressed.
†
Dr. Jacek Lenart died on 18th, January, 2019.
Received: 7 January 2019 / Revised: 6 February 2019 / Accepted: 15 February 2019 / Published: 23 February 2019
Abstract
The mammalian brain is made up of billions of neurons and supporting cells (glial cells), intricately connected. Molecular perturbations often lead to neurodegeneration by progressive loss of structure and malfunction of neurons, including their death. On the other side, a combination of genetic and cellular factors in glial cells, and less frequently in neurons, drive oncogenic transformation. In both situations, microenvironmental niches influence the progression of diseases and therapeutic responses. Dynamic changes that occur in cellular transcriptomes during the progression of developmental lineages and pathogenesis are controlled through a variety of regulatory networks. These include epigenetic modifications, signaling pathways, and transcriptional and post-transcriptional mechanisms. One prominent component of the latter is small non-coding RNAs, including microRNAs, that control the vast majority of these networks including genes regulating neural stemness, differentiation, apoptosis, projection fates, migration and many others. These cellular processes are also profoundly dependent on the microenvironment, stemness niche, hypoxic microenvironment, and interactions with associated cells including endothelial and immune cells. Significantly, the brain of all other mammalian organs expresses the highest number of microRNAs, with an additional gain in expression in the early stage of neurodegeneration and loss in expression in oncogenesis. However, a mechanistic explanation of the concept of an apparent inverse correlation between the odds of cancer and neurodegenerative diseases is only weakly developed. In this review, we thus will discuss widespread de-regulation of microRNAome observed in these two major groups of brain pathologies. The deciphering of these intricacies is of importance, as therapeutic restoration of pre-pathological microRNA landscape in neurodegeneration must not lead to oncogenesis and vice versa. We thus focus on microRNAs engaged in cellular processes that are inversely regulated in these diseases. We also aim to define the difference in microRNA networks between pro-survival and pro-apoptotic signaling in the brain.
View Full-Text
►

▼

Figures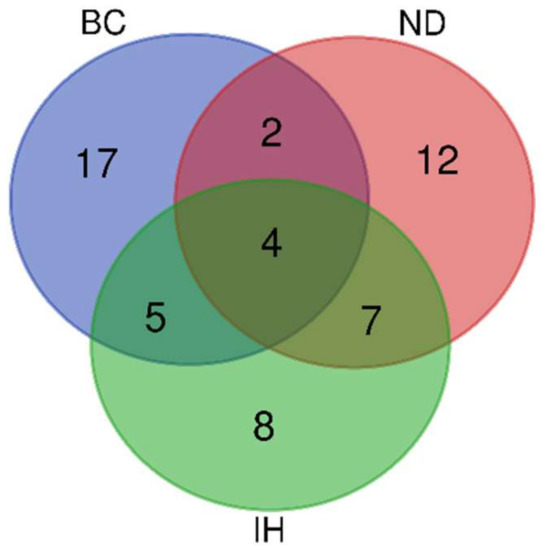 Figure 1
This is an open access article distributed under the
Creative Commons Attribution License
which permits unrestricted use, distribution, and reproduction in any medium, provided the original work is properly cited (CC BY 4.0).

Share & Cite This Article
MDPI and ACS Style
Godlewski, J.; Lenart, J.; Salinska, E. MicroRNA in Brain pathology: Neurodegeneration the Other Side of the Brain Cancer. Non-Coding RNA 2019, 5, 20.
Note that from the first issue of 2016, MDPI journals use article numbers instead of page numbers. See further details here.
Related Articles
Comments
[Return to top]