Characterization of Collagen Fibers (I, III, IV) and Elastin of Normal and Neoplastic Canine Prostatic Tissues
1
Department of Veterinary Pathology, School of Agricultural and Veterinarian Sciences, São Paulo State University (Unesp), Jaboticabal, São Paulo 14884-900, Brazil
2
Department of Veterinary Clinic, School of Veterinary Medicine and Animal Science, São Paulo State University (Unesp), Botucatu, São Paulo 18618-681, Brazil
3
Department of Veterinary Surgery and Anesthesiology, School of Veterinary Medicine and Animal Science, São Paulo State University (Unesp), Botucatu, São Paulo 18618-681, Brazil
*
Author to whom correspondence should be addressed.
Received: 7 January 2019 / Revised: 20 February 2019 / Accepted: 25 February 2019 / Published: 2 March 2019
Abstract
This study aimed to investigate collagen (Coll-I, III, IV) and elastin in canine normal prostate and prostate cancer (PC) using Picrosirius red (PSR) and Immunohistochemical (IHC) analysis. Eight normal prostates and 10 PC from formalin-fixed, paraffin-embedded samples were used. Collagen fibers area was analyzed with ImageJ software. The distribution of Coll-I and Coll-III was approximately 80% around prostatic ducts and acini, 15% among smooth muscle, and 5% surrounding blood vessels, in both normal prostate and PC. There was a higher median area of Coll-III in PC when compared to normal prostatic tissue (
p
= 0.001 for PSR and
p
= 0.05 for IHC). Immunostaining for Coll-IV was observed in the basal membrane of prostate acini, smooth muscle, blood vessels, and nerve fibers of normal and PC samples. Although there was no difference in Coll-IV area between normal tissue and PC, tumors with Gleason score 10 showed absence of Coll-IV, when compared to scores 6 and 8 (
p
= 0.0095). Elastic fibers were found in the septa dividing the lobules and around the prostatic acini of normal samples and were statistically higher in PC compared to normal tissue (
p
= 0.00229). Investigation of ECM components brings new information and should be correlated with prognosis in future studies.
View Full-Text
►

▼

Figures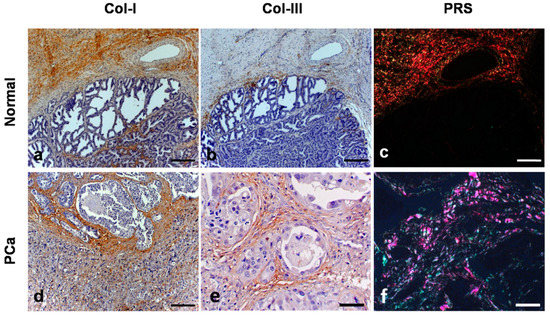 Figure 1
This is an open access article distributed under the
Creative Commons Attribution License
which permits unrestricted use, distribution, and reproduction in any medium, provided the original work is properly cited (CC BY 4.0).

Share & Cite This Article
MDPI and ACS Style
Calderón, L.G.R.; Kobayashi, P.E.; Vasconcelos, R.O.; Fonseca-Alves, C.E.; Laufer-Amorim, R. Characterization of Collagen Fibers (I, III, IV) and Elastin of Normal and Neoplastic Canine Prostatic Tissues. Vet. Sci. 2019, 6, 22.
Note that from the first issue of 2016, MDPI journals use article numbers instead of page numbers. See further details here.
Related Articles
Comments
[Return to top]