Evolution of Phenolic Compound Profiles and Antioxidant Activity of Syrah Red and Sparkling Moscatel Wines Stored in Bottles of Different Colors
1
Department of Technology and Social Sciences (DTCS III), Campus Juazeiro, Bahia State University, CEP 48905-680 Juazeiro, BA, Brazil
2
Graduate Program in Food Science and Technology (PROCTA), Campus Aracaju, Federal University of Sergipe, CEP 49100-000 Sergipe, SE, Brazil
3
Department of Food Technology, Campus Petrolina, Federal Institute of Sertão Pernambucano, Rod. BR 407 Km 08, S/N, Jardim São Paulo, CEP 56314-520 Petrolina, PE, Brazil
4
Brazilian Agricultural Research Corporation (Embrapa), Semiarid/Grapes and Wine, Rodovia Br 428, Km 152, P.O. Box 23, CEP 56302-970 Petrolina, PE, Brazil
*
Author to whom correspondence should be addressed.
Received: 2 September 2018 / Revised: 8 November 2018 / Accepted: 9 November 2018 / Published: 15 November 2018
Abstract
The objective of this study was to evaluate the effects of storage time and bottle color on the phenolic compound profiles of Syrah red and sparkling Moscatel wines stored for 12 months in green, amber, and clear bottles. The profile of the phenolic compounds and their antioxidant activity in vitro were determined. Commercial wines were bottled in an automatic filling machine and closed with natural cork. After the bottling process, the wines were stored vertically on shelves which received natural light indirectly (±8 h/day), at temperatures which varied from 24 to 30 °C and relative humidity 40–65%. The wines were analyzed every three months over one year. Several phenolic compound families were quantified through reversed-phase high performance liquid chromatography (RP-HPLC) coupled to diode-array detection (DAD) and fluorescence detection (FD). The different bottle colors studied had not influenced the evolution of the sparkling Moscatel and Syrah red wines. The main variations obtained were related to storage time. The main changes were observed in the Syrah wine, where storage time was associated with an increase in hue (h*), decrease in catechin and epicatechin, and most notably, a decrease in the anthocyanin malvidin 3-glucoside. The sparkling Moscatel wine did not show important changes in most phenolic compounds; however, the catechin increased significantly during storage and this increase was similar in bottles of all colors. In general, the wines were stable in relation to the antioxidant activity in vitro.
View Full-Text
►

▼

Figures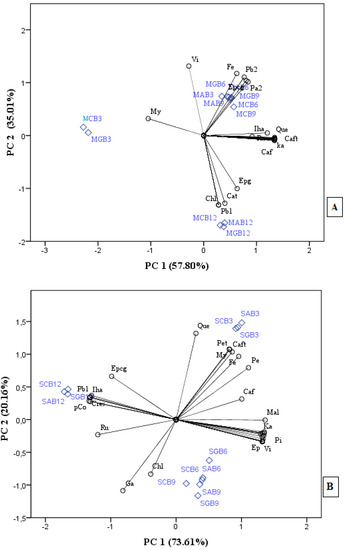 Figure 1
This is an open access article distributed under the
Creative Commons Attribution License
which permits unrestricted use, distribution, and reproduction in any medium, provided the original work is properly cited (CC BY 4.0).

Share & Cite This Article
MDPI and ACS Style
De Souza, J.F.; De Souza Nascimento, A.M.; Linhares, M.S.S.; Dutra, M.C.P.; Dos Santos Lima, M.; Pereira, G.E. Evolution of Phenolic Compound Profiles and Antioxidant Activity of Syrah Red and Sparkling Moscatel Wines Stored in Bottles of Different Colors. Beverages 2018, 4, 89.
Note that from the first issue of 2016, MDPI journals use article numbers instead of page numbers. See further details here.
Related Articles
Comments
[Return to top]