Knockdown of Gene Expression in Macrophages by microRNA Mimic-Containing Poly (Lactic-
co

-glycolic Acid) Microparticles

1

Department of Medicine, Royal College of Surgeons in Ireland, Beaumont Hospital, Dublin 9, Ireland

2

Drug Delivery and Advanced Materials Team, School of Pharmacy, Royal College of Surgeons in Ireland, Dublin 2, Ireland

3

Centre for Research in Medical Devices (CURAM), RCSI, Dublin and National University of Ireland, Galway H91 HE94, Ireland

4

Trinity Centre for Bioengineering, Trinity College Dublin, Dublin 2, Ireland

5

Tissue Engineering Research Group, Royal College of Surgeons in Ireland, 123 St Stephens Green, Dublin 2, Ireland

6

Lung Biology Group, Department of Clinical Microbiology, Royal College of Surgeons in Ireland, Beaumont Hospital, Dublin 9, Ireland

*

Author to whom correspondence should be addressed.

Received: 19 November 2018 / Revised: 10 December 2018 / Accepted: 14 December 2018 / Published: 15 December 2018
Abstract
Background:
microRNA (miRNA) regulate target gene expression through translational repression and/or mRNA degradation and are involved in the regulation of inflammation. Macrophages are key inflammatory cells that are important in chronic inflammatory lung diseases such as cystic fibrosis (CF). Macrophage-expressed miRNA represent therapeutic drug targets, yet delivery of nucleic acids to macrophages has proved challenging.
Methods:
miRNAs were encapsulated in poly (lactic-
co
-glycolic acid) (PLGA)-based microparticles using double emulsion solvent evaporation and characterised for physicochemical features. Phorbol myristic acetate (PMA)-differentiated U937 macrophages were transfected with empty PLGA microparticles or those encapsulating a premiR-19b-3p or scrambled control miRNA mimic. miRNA internalisation and knockdown of a miR-19b-3p target gene, secretory leucoprotease inhibitor (SLPI), were determined by qRT-PCR.
Results:
Microparticle formulations were consistently found to be 2–3μm and all had a negative ζ potential (−5 mV to −14 mV). Encapsulation efficiency of premiR-19b-3p was 37.6 ± 13.4%. Levels of mature miR-19b-3p were higher in macrophages after delivery of premiR-19b-3p microparticles compared to empty or scrambled control miRNA-containing microparticles. Significant SLPI knockdown was achieved 72 hours post-delivery of premiR-19b-3p microparticles compared to controls.
Conclusions
: miRNA-encapsulating PLGA microparticles offer a new treatment paradigm for delivery to macrophages that could potentially be administered to CF lungs via inhalation.
View Full-Text
►

▼

Figures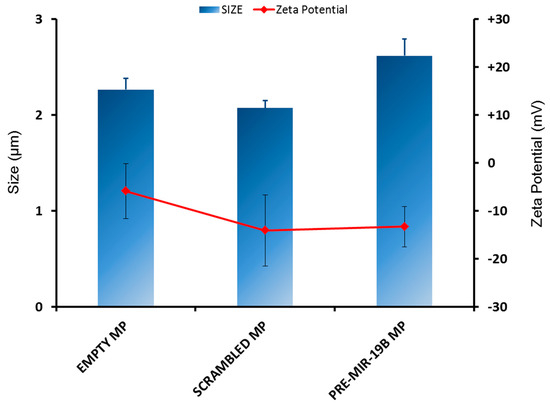 Figure 1
This is an open access article distributed under the
Creative Commons Attribution License
which permits unrestricted use, distribution, and reproduction in any medium, provided the original work is properly cited (CC BY 4.0).

Share & Cite This Article
MDPI and ACS Style
McKiernan, P.J.; Lynch, P.; Ramsey, J.M.; Cryan, S.A.; Greene, C.M. Knockdown of Gene Expression in Macrophages by microRNA Mimic-Containing Poly (Lactic-co-glycolic Acid) Microparticles. Medicines 2018, 5, 133.
Note that from the first issue of 2016, MDPI journals use article numbers instead of page numbers. See further details here.
Related Articles
Comments
[Return to top]