Proteomic Investigations of Proteases Involved in Cotyledon Senescence: A Model to Explore the Genotypic Variability of Proteolysis Machinery Associated with Nitrogen Remobilization Efficiency during the Leaf Senescence of Oilseed Rape
1
Université de Caen Normandie, Normandie Université, F-14032 Caen, France
2
UCN, UMR INRA–UCBN 950 Ecophysiologie Végétale, Agronomie & Nutritions N.C.S., FED 4277 Normandie Végétal, F-14032 Caen, France
3
INRA, UMR INRA–UCBN 950 Ecophysiologie Végétale, Agronomie & Nutritions N.C.S., FED 4277 Normandie Végétal, F-14032 Caen, France
4
The Plant Chemetics Laboratory, Department of Plant Sciences, University of Oxford, South Parks Road, Oxford OX1 3RB, UK
5
The Plant Chemetics Laboratory, Max Planck Institute for Plant Breeding Research, Carl-von-Linne Weg 10, 50829 Cologne, Germany
6
CNRS UMR6270, "PISSARO" Facilities of IRIB-HN, Faculté des Sciences de Rouen, F-76821 Mont-Saint-Aignan, France
*
Author to whom correspondence should be addressed.
Received: 29 August 2017 / Revised: 23 October 2017 / Accepted: 24 October 2017 / Published: 2 November 2017
Abstract
Oilseed rape is characterized by a low nitrogen remobilization efficiency during leaf senescence, mainly due to a lack of proteolysis. Because cotyledons are subjected to senescence, it was hypothesized that contrasting protease activities between genotypes may be distinguishable early in the senescence of cotyledons. To verify this assumption, our goals were to (i) characterize protease activities in cotyledons between two genotypes with contrasting nitrogen remobilization efficiency (Ténor and Samouraï) under limiting or ample nitrate supply; and (ii) test the role of salicylic acid (SA) and abscisic acid (ABA) in proteolysis regulation. Protease activities were measured and identified by a proteomics approach combining activity-based protein profiling with LC-MS/MS. As in senescing leaves, chlorophyll and protein contents decrease in senescing cotyledons and are correlated with an increase in serine and cysteine protease activities. Two RD21-like and SAG-12 proteases previously associated with an efficient proteolysis in senescing leaves of Ténor are also detected in senescing cotyledons. The infiltration of ABA and SA provokes the induction of senescence and several cysteine and serine protease activities. The study of protease activities during the senescence of cotyledons seems to be a promising experimental model to investigate the regulation and genotypic variability of proteolysis associated with efficient N remobilization.
View Full-Text
►

▼

Figures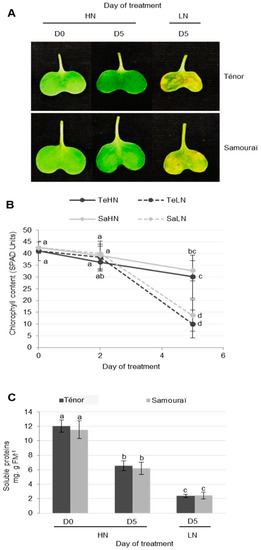 Figure 1
This is an open access article distributed under the
Creative Commons Attribution License
which permits unrestricted use, distribution, and reproduction in any medium, provided the original work is properly cited (CC BY 4.0).

Share & Cite This Article
MDPI and ACS Style
Poret, M.; Chandrasekar, B.; Van der Hoorn, R.A.L.; Coquet, L.; Jouenne, T.; Avice, J.-C. Proteomic Investigations of Proteases Involved in Cotyledon Senescence: A Model to Explore the Genotypic Variability of Proteolysis Machinery Associated with Nitrogen Remobilization Efficiency during the Leaf Senescence of Oilseed Rape. Proteomes 2017, 5, 29.
Note that from the first issue of 2016, MDPI journals use article numbers instead of page numbers. See further details here.
Related Articles
Comments
[Return to top]