Post-Translational Modification of Proteins Mediated by Nitro-Fatty Acids in Plants: Nitroalkylation
Group of Biochemistry and Cell Signaling in Nitric Oxide, Department of Experimental Biology, Center for Advanced Studies in Olive Grove and Olive Oils, Faculty of Experimental Sciences, University Campus Las Lagunillas, University of Jaén, E-23071 Jaén, Spain
*
Author to whom correspondence should be addressed.
Received: 26 February 2019 / Revised: 25 March 2019 / Accepted: 26 March 2019 / Published: 29 March 2019
Abstract
Nitrate fatty acids (NO
2
-FAs) are considered reactive lipid species derived from the non-enzymatic oxidation of polyunsaturated fatty acids by nitric oxide (NO) and related species. Nitrate fatty acids are powerful biological electrophiles which can react with biological nucleophiles such as glutathione and certain protein–amino acid residues. The adduction of NO
2
-FAs to protein targets generates a reversible post-translational modification called nitroalkylation. In different animal and human systems, NO
2
-FAs, such as nitro-oleic acid (NO
2
-OA) and conjugated nitro-linoleic acid (NO
2
-cLA), have cytoprotective and anti-inflammatory influences in a broad spectrum of pathologies by modulating various intracellular pathways. However, little knowledge on these molecules in the plant kingdom exists. The presence of NO
2
-OA and NO
2
-cLA in olives and extra-virgin olive oil and nitro-linolenic acid (NO
2
-Ln) in
Arabidopsis thaliana
has recently been detected. Specifically, NO
2
-Ln acts as a signaling molecule during seed and plant progression and beneath abiotic stress events. It can also release NO and modulate the expression of genes associated with antioxidant responses. Nevertheless, the repercussions of nitroalkylation on plant proteins are still poorly known. In this review, we demonstrate the existence of endogenous nitroalkylation and its effect on the in vitro activity of the antioxidant protein ascorbate peroxidase.
View Full-Text
►

▼

Figures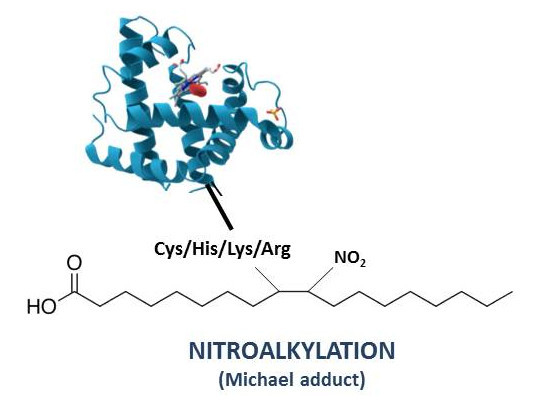 Graphical abstract
This is an open access article distributed under the
Creative Commons Attribution License
which permits unrestricted use, distribution, and reproduction in any medium, provided the original work is properly cited (CC BY 4.0).

Share & Cite This Article
MDPI and ACS Style
Aranda-Caño, L.; Sánchez-Calvo, B.; Begara-Morales, J.C.; Chaki, M.; Mata-Pérez, C.; Padilla, M.N.; Valderrama, R.; Barroso, J.B. Post-Translational Modification of Proteins Mediated by Nitro-Fatty Acids in Plants: Nitroalkylation. Plants 2019, 8, 82.
Note that from the first issue of 2016, MDPI journals use article numbers instead of page numbers. See further details here.
Related Articles
Comments
[Return to top]