Open Access This article is
freely available
re-usable
Article
WeatherNet: Recognising Weather and Visual Conditions from Street-Level Images Using Deep Residual Learning
SpaceTimeLab, Department of Civil, Environmental and Geomatic Engineer, University College London (UCL) Gower Street, London WC1E 6BT, UK
*
Author to whom correspondence should be addressed.
Received: 31 October 2019 / Accepted: 28 November 2019 / Published: 30 November 2019
Abstract
:
Extracting information related to weather and visual conditions at a given time and space is indispensable for scene awareness, which strongly impacts our behaviours, from simply walking in a city to riding a bike, driving a car, or autonomous drive-assistance. Despite the significance of this subject, it has still not been fully addressed by the machine intelligence relying on deep learning and computer vision to detect the multi-labels of weather and visual conditions with a unified method that can be easily used in practice. What has been achieved to-date are rather sectorial models that address a limited number of labels that do not cover the wide spectrum of weather and visual conditions. Nonetheless, weather and visual conditions are often addressed individually. In this paper, we introduce a novel framework to automatically extract this information from street-level images relying on deep learning and computer vision using a unified method without any pre-defined constraints in the processed images. A pipeline of four deep convolutional neural network (CNN) models, so-called WeatherNet, is trained, relying on residual learning using ResNet50 architecture, to extract various weather and visual conditions such as dawn/dusk, day and night for time detection, glare for lighting conditions, and clear, rainy, snowy, and foggy for weather conditions. WeatherNet shows strong performance in extracting this information from user-defined images or video streams that can be used but are not limited to autonomous vehicles and drive-assistance systems, tracking behaviours, safety-related research, or even for better understanding cities through images for policy-makers.
Keywords:
computer vision; deep learning; convolutional neural networks (CNN); weather condition; visual conditions
1. Introduction
While there are different methods that are used to understand the dynamics of weather and visual conditions, a knowledge gap appears when addressing this subject. To date, these two crucial domains—weather and visual conditions—have been studied individually, ignoring the importance of understanding the dynamics and impact of one domain on the other. There is no unified method that can extract information related to both weather and visual conditions from a street-level image that can be utilised by planners and policy-makers.
2. Related Work
Various weather and visual conditions have been detected relying on a wide spectrum of computer vision algorithms. Here, we categorised them into four broad types: mathematical models, filter-based models, machine learning models using shallow algorithms, and deep models using a convolution structure.
3. Methodology
3.1. WeatherNet Framework
To address the current knowledge gap, we introduced a framework of parallel deep CNN models to recognise weather and visual conditions from street-level images of urban scenes, so-called WeatherNet (see
Figure 2
). This WeatherNet comprises four deep CNN models to detect dawn/dusk, day, night-time, glare, rain, snow, and fog, respectively. These models are: (1) NightNet detects the differences between dawn/dusk, day and night-time. It aims to understand the subtleties of street-level images despite the dynamics of weather conditions and urban structure; (2) GlareNet detects images with glare regardless of its source (sun or artificial light) for both dawn/dusk, day and night-time of various weather conditions. Glare is defined as a direct light source that can be seen to cause rings or star effect on the length of the camera without any correction; (3) PreciptationNet detects clear, rainy, or snowy weather for both day and night-time; and (4) FogNet detects the occurrence of fog for dawn/dusk, day and night-time and whether this fog happens in the existence of clear, snowy, or rainy weather.
Models 2 and 4 are trained as binary classifiers (0,1) that detect whether one of the aforementioned events occurs, whereas models 1 and 3 are trained to output one of three classes. The main reasons for training different sets of CNN models then combining them in a framework are the complexity of the classification of urban scenes and the mutual occurrence of one or more of the events at the same time.
Figure 3
explains the classes that may occur in one scene by solid arrows, whereas the classes that are mutually exclusive are not linked. For instance, it may be rainy and foggy during the daytime, while glare is present. Therefore, combining separate models that tackle a certain event in a binary fashion would give a better description of the events in a single image, in addition to the simplicity of the usage and the integration of these models, entirely or partially, for various studies depending on which factors are useful. On the other hand, this binary format makes the precision of the individual models independent from each other, which could allow the modification or improvement of one classifier or more without changing the entire framework.
The training and testing images are resized to (224 × 224 × 3) and fed-forward to the input layer of ResNet50 via transfer learning. Apart from the depth of the architecture of the ResNet, which makes this network a robust one for various classification tasks compared to the previous network, is the concept of residual learning. For a further explanation of the architecture and the hyperparameters of the model, see [
30
]. The gradients, pre-trained on the ImageNet database [
31
,
32
], of the different residual blocks of convolution, pooling, and batch normalisation layers are set to false, whereas the gradient of the two fully-connected layers of 64 nodes are activated by a ReLU function [
33
,
34
], defined as:
where
x
is the value of the input neuron.
The output layer of the model gives a binary output of single neurons activated based on a sigmoid function, defined as:
where
x
is the value of the input neuron.
The four CNN models are trained based on the back-propagation of error with a batch size of 32, with 'adam' optimiser [
35
] and with an initial learning rate of 0.001 and momentum of 0.9. Each model is trained for 100 training cycles (epochs).
While different architectures of the deep CNN model perform differently [
36
], it is worth mentioning that we experimented with different types of CNN models. These included architectures such as AlexNet [
31
], VGGNet [
37
], deeper ResNet (152), or custom-made architecture, similar to what was introduced in the URBAN-i model [
3
]. However, transfer learning via ResNet50 for the stated classification tasks provided optimised results in terms of accuracy and computational speed. One main reason could be due to the nature of the classification models that differentiate them from other object-classification tasks. They can be categorised as perception models, as explained by Ibrahim et al. (2020), that require an understanding of the overall scene while extracting nuanced features for each class. Therefore, the challenge is to find a CNN architecture that is deep enough to extract these subtle features without overfitting to the details of each scene, which may include features that do not belong to weather or visual conditions.
3.2. Data
While Google Street-view images are a good source for various deep learning applications in cities, the images presented there only represent urban areas at a single weather condition, commonly clear weather, neglecting other visual and weather conditions that impact the appearance of cities. On the other hand, there are different datasets for detecting different weather conditions. For instance, the Image2Weather dataset consists of more than 180,000 images of global landmarks of four weather categories such as sunny, cloudy, rainy, snowy, and foggy [
38
]. However, the images used for training are still limited and represent cities during the daytime. Accordingly, data augmentation techniques have been applied to enhance the training of each model. The datasets are augmented by rescaling, shearing, horizontal flips, and zooming. These techniques are often common approaches for best practice to enhance the training process and the overall performance of deep learning models [
20
,
39
].
Similarly, the Multi-class Weather Image (MWI) dataset consists of 20,000 images of different weather conditions [
19
]. Another example is a binary weather dataset that contains 10,000 images belonging to either sunny or cloudy weather [
27
]. Additionally, a large dataset of images is presented to describe weather conditions from the aspect of cloud intensity such as clear, partly cloudy, mostly cloudy, or cloudy including the time and location data [
40
]. However, the dataset only represents cities at daytime for cloud intensity, neglecting the other factors.
Put together, creating our own datasets that represent the different environmental conditions of urban scenes was the only way to conduct this research. We downloaded 23,865 images from the web, specifically Google images for training and testing, using different queries for each class of the weather and visual conditions that included day and night-time, glare, fog, rain, snow and clear weather. After inspecting these images qualitatively and disregarding images that clearly did not belong to any of these categories, the images were labelled according to each visual class. It is worth mentioning that the process of manually labelling these images into multi-classes and verifying the outcome is time-intensive. This is because some images may include features that belong to two exclusive classes and a thorough categorisation needs to be made after a second inspection. Additionally, they may not contain enough features to clearly represent a visual class, in which case they must be discarded. Accordingly, the process increases the workload and the interval of time needed to make realistic labelling for the data beyond their meta-data. On the other hand, selecting images based on their public accessibility without breaching any individual's copyrights was also a key for selecting or disregarding images. Subsequently, the images collected were used only for the purpose of training and testing, without publicly sharing or posting them elsewhere.
Table 2
summarises the classes and sample size of the datasets used for each model.
Figure 4
shows a sample of the multi-class images for training, testing, and validation.
The datasets for each CNN model were subdivided into training and testing sets in an 80–20% train-to-test fashion.
3.3. Evaluation Metrics
We evaluated the performance of each CNN model using the following metrics: A cost function of cross entropy was used to evaluate the model loss during training, testing, and validation. It is defined as:
where is the target vector; is the output vector; and
n
represents the number of classes. We also calculated the accuracy, precision and recall, false-positive rate, and F1-score for each model, defined as:
where are the predicted true-positive values; are the predicted true-negative values; are the predicted false-positive values; and are the predicted false-negative values.
Finally, we compared the performance of our framework with other benchmarks in terms of scope and accuracy. This discussion is partly qualitative due to the absence of benchmark datasets to compare the results from all the methods. However, we also evaluated the performance of WeatherNet on two available datasets, [
29
,
41
], and compared the results of our framework with the original outputs.
4. Results
Putting all the algorithms of WeatherNet together, the framework can enable the users to extract information of georeferenced weather, and the visual conditions to be used for multi-purpose research related to scene awareness where the weather and visual conditions play a crucial role.
5. Discussion
5.1. What Makes the WeatherNet State-of-the-Art?
Cities are complex systems by nature, in which the dynamics of their appearance is highly influenced by multiple factors. Weather and visual conditions are some of these prominent factors that not only impact the appearance of cities, but also complicate the process of understanding them. In this paper, we introduced the WeatherNet framework to tackle the variations and dynamics of the appearance of cities from the perspective of weather and visual aspects. From a single street-level image of an urban scene, the framework was able to capture information related to visual conditions such as dawn–dusk, day or night-time, in addition to detecting glare. On the other hand, the framework could detect weather conditions such as clear, fog, rain, and snow.
Figure 7
shows samples of the testing images of various urban settings, visual, and weather conditions.
The innovation of WeatherNet, in comparison to the current state-of-the-art, can be seen in three aspects:
1. The framework is capable of tackling various weather and visual states including detecting glare, which has never been tackled in any previous deep learning and computer vision research. By using a unified and simple method, the WeatherNet framework is capable of classifying day or night-time, glare, fog, rain, and snow. Most of the previous models recognise only a limited number of weather conditions, neglecting other vital factors.
2. Unlike the current weather recognition models, the proposed framework does not require any pre-defined constraints such as applying filters, defining a camera angle, or defining an action area to the processed image. This simplicity of input makes the proposed framework user-friendly and a base for practical applications for both computer scientists and non-computer scientists to capture information related to weather and appearance of cities from user-defined datasets of street-level images.
3. Although weather and visual conditions depend on time and space, there are no weather stations in each location in cities, and the data forecasted and captured rather represent the agglomeration of locations rather than a precise condition for each location. This undermines the dynamics of the visual appearance of cities. Accordingly, the proposed framework captures weather and visual information. This can enable city planners to map the dynamics of cities according to their weather and visual appearance, which can be a useful tool to understand the dynamics of the appearance of locations and the impacts of these weather and visual dynamics to other aspects of cities (i.e., understanding locations in cities that are most likely to cause accidents or risks under certain weather and visual conditions).
5.2. Limitations
The proposed framework shows novelty in analysing a wide range of street-level images of cities that belong to various urban structure, visual, and weather conditions globally. The precision of the framework in classification depends on the individual accuracy of each trained CNN model. While the misclassification error for each classifier was below 8% on the test-sets, in this paper, we only aimed to introduce the concept of WeatherNet without further fine-tuning for the CNN hyperparameters or introducing a new architecture that may give better results. In future work, more experiments with different architectures of CNN models or the way the framework is pipelined may enhance the accuracy.
While the trained deep models showed high accuracy, precision, recall, and F1-score in classifying scenes regardless of the position of the camera, weather, or lighting conditions, misclassification was still encountered in some scenes. This occurred most often in scenes where the classification may have had some ambiguity such as scenes of heavy cloud that tended to seem rainy, or scenes of heavy fog that tended to seem snowy. Similar to human eyes, single shots can be interpreted differently on the first viewing and the quality of classification can be enhanced by seeing sequential images. In future work, such issues can be solved when video stream data is fed to the framework, where a threshold or a smoothing function is applied for a sequence of frames of short-time interval. Subsequently, the best probabilities of the prediction can only be taken into account for classification. The overall accuracy of multi-frames can be enhanced by a threshold of multiple predictions.
Comparing the performance of the conducted models to previous work remains a limitation due to the absence of weather datasets that comprise all classes as presented in this paper, despite comparing the individual models (i.e., including images of weather at day and night-time and images with and without glare of different weather conditions). However, this makes the proposed model indispensable in responding to the current knowledge gap in this research area, and for analysing the variations of urban scene images by deep learning and computer vision, which may be helpful for driver-assistance systems or planner and policy-makers in cities.
6. Remarks and Future Work
In this paper, we presented a novel framework, WeatherNet, to detect and map weather and visual conditions from single-images relying on deep learning and computer vision. WeatherNet is capable of detecting 10 classes: dawn/dusk, day, night, glare, no glare, fog, no fog, clear, rainy, and snowy weather. We aimed to exemplify the application of deep learning and computer vision for scene-awareness and understanding the dynamics of the appearance of urban scenes that could be useful for autonomous applications in cities or elsewhere.
After training four deep CNN models on street-level images from different corners of the globe of various urban structure, weather conditions, and visual appearances, the proposed WeatherNet showed a strong performance in recognising the combination of different categories of a single image. For example, by using the WeatherNet framework, urban scenes of street-level images can be classified with multiple classes for a given space and time such as 'image at daytime, with fog and no rain, in which glare exists'. The novelty of the proposed framework is in its simplicity for practical applications and for tackling various conditions in a binary fashion, relying on a unified method without pre-defined constraints for processing images. The proposed framework can be utilised for various proposes; it may be helpful for data automation and autonomous driving in cities, also, it may be utilised toward data automation for mapping and urban planning purposes.
For future work, there are two main areas that seem promising to optimise and further validate the presented framework. First, experimenting with different architectures of CNN models including an attention-aware layer may enhance the overall performance of the model and allow further multi-task classification. Second, deploying the weights of the WeatherNet framework on a spatio-temporal image dataset that is fused with historical meteorological data could be used for further evaluation of the framework performance in a more practical setting.
Author Contributions
Methodology, Mohamed R. Ibrahim; Writing—Original Draft Preparation, Mohamed R. Ibrahim; Supervision, James Haworth and Tao Cheng.
Funding
This research was supported by funds from UCL Overseas Research Scholarship (ORS) and the Road Safety Trust (RST 38_03_2017).
Conflicts of Interest
The authors declare no conflicts of interest.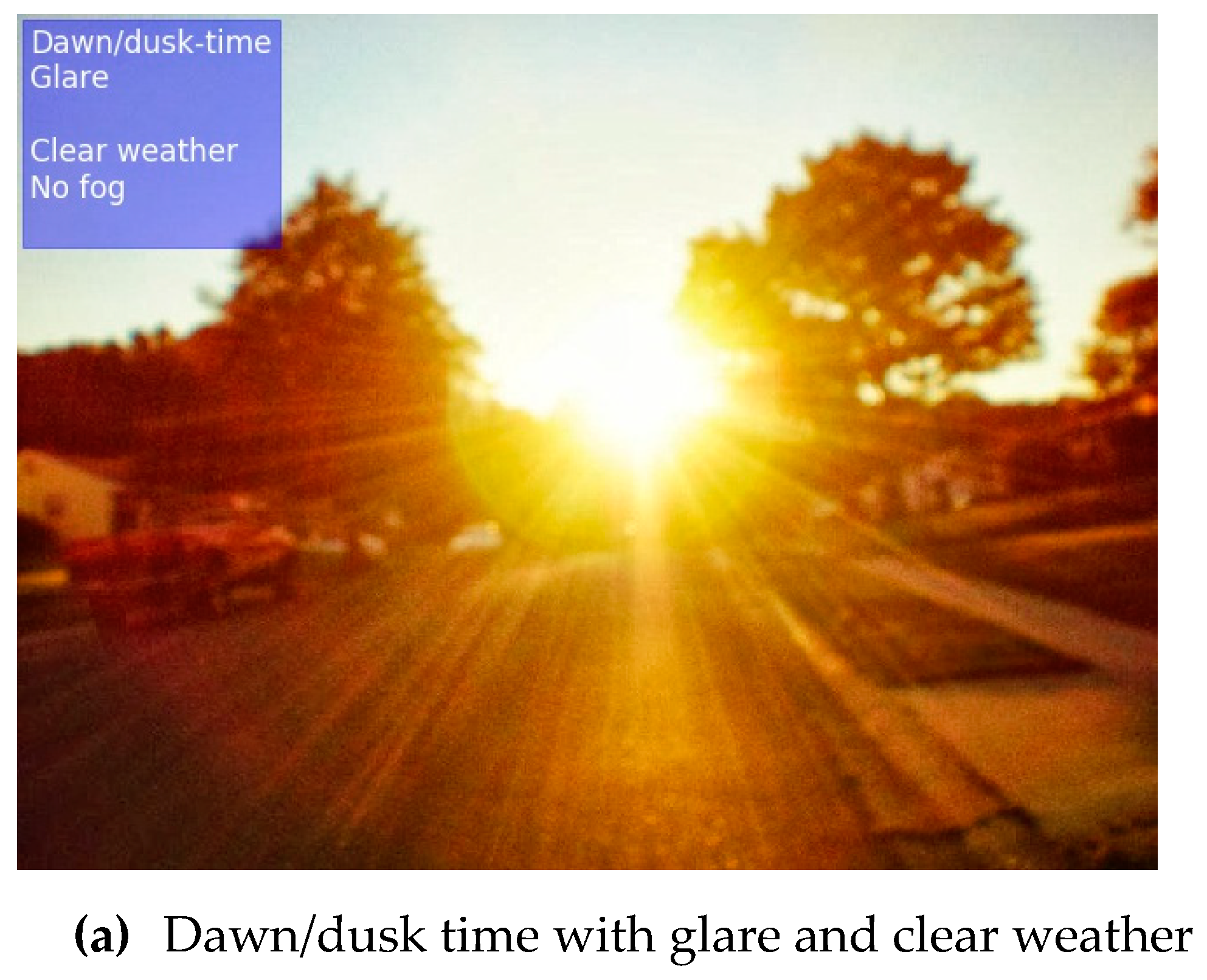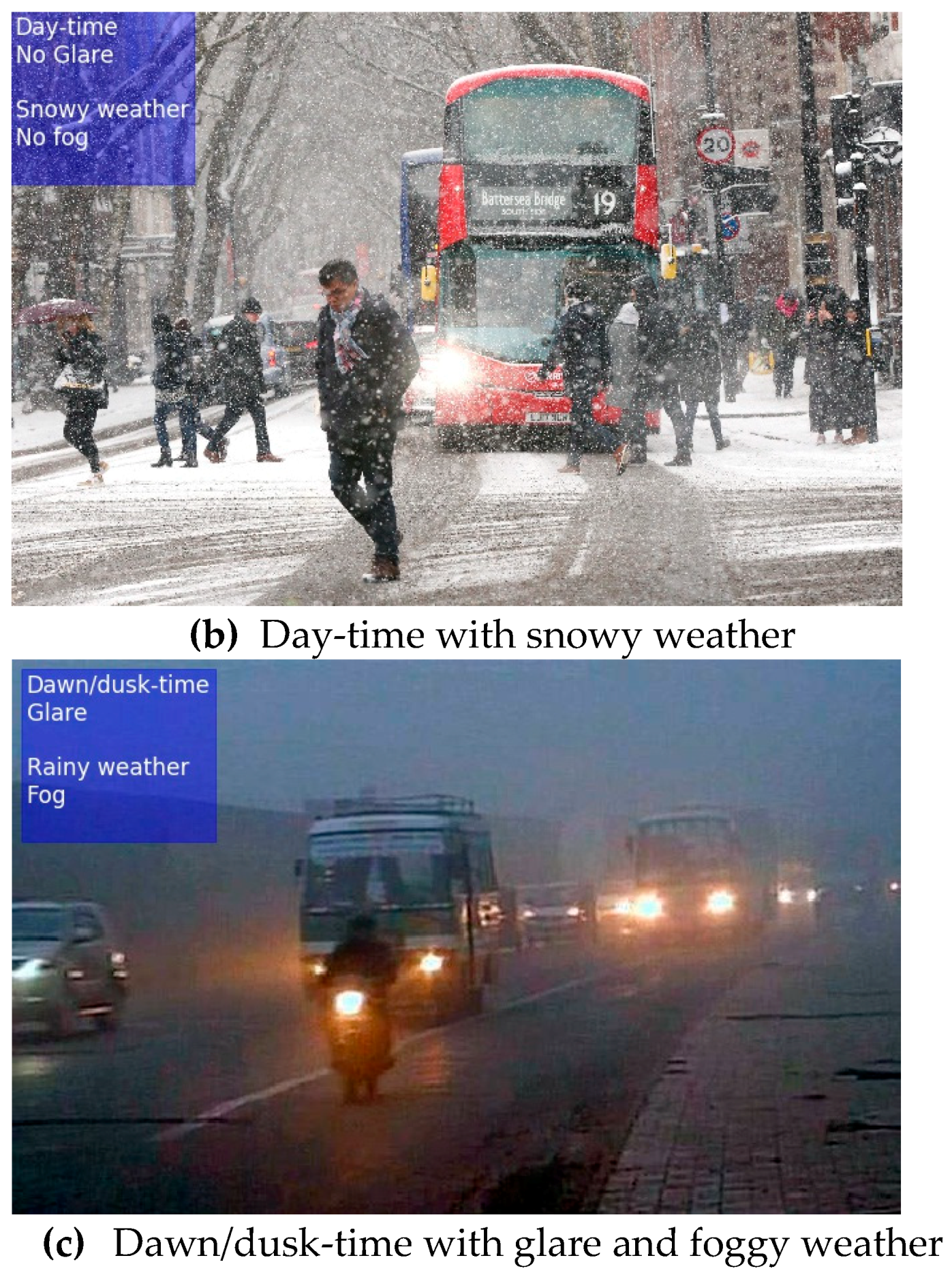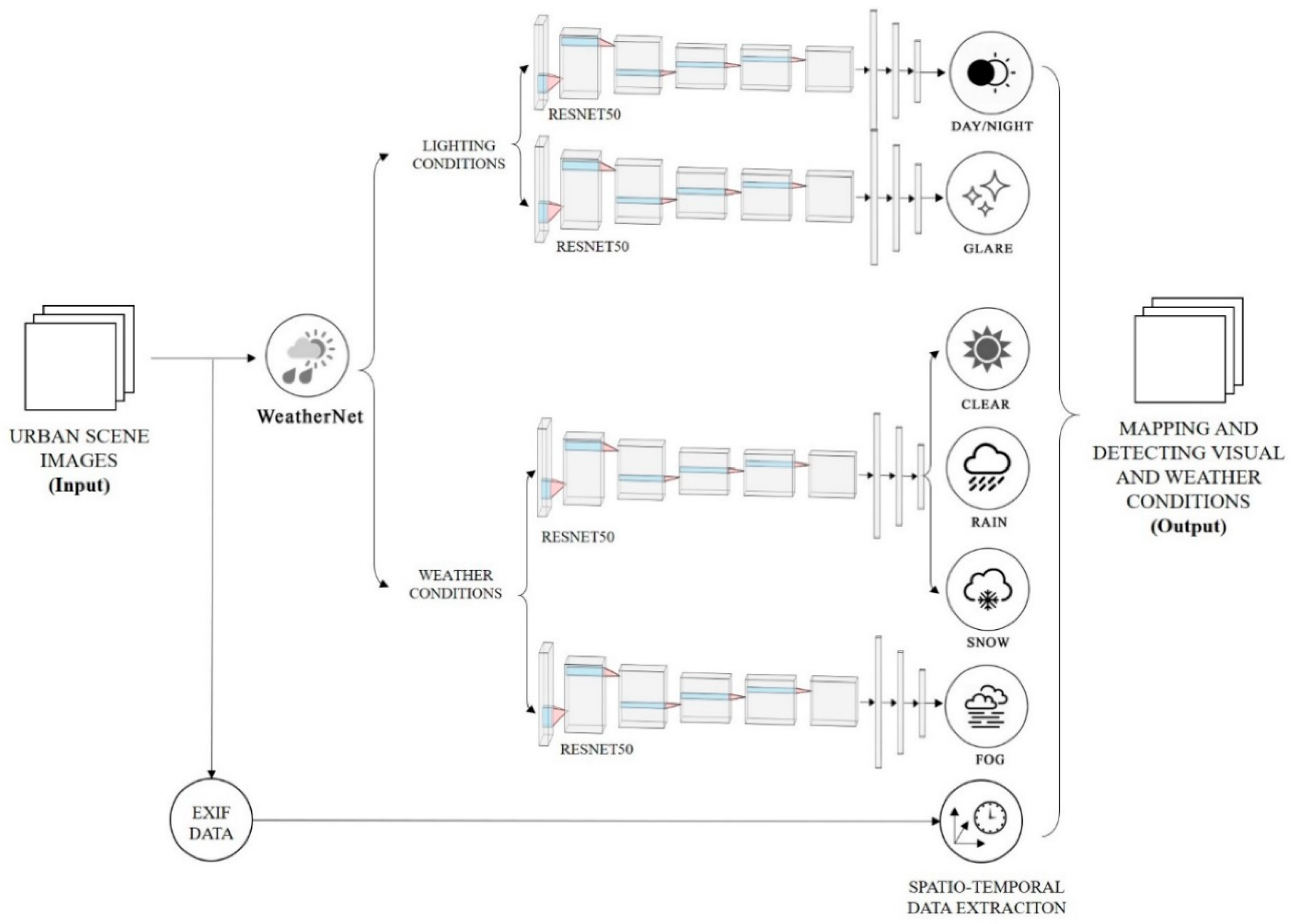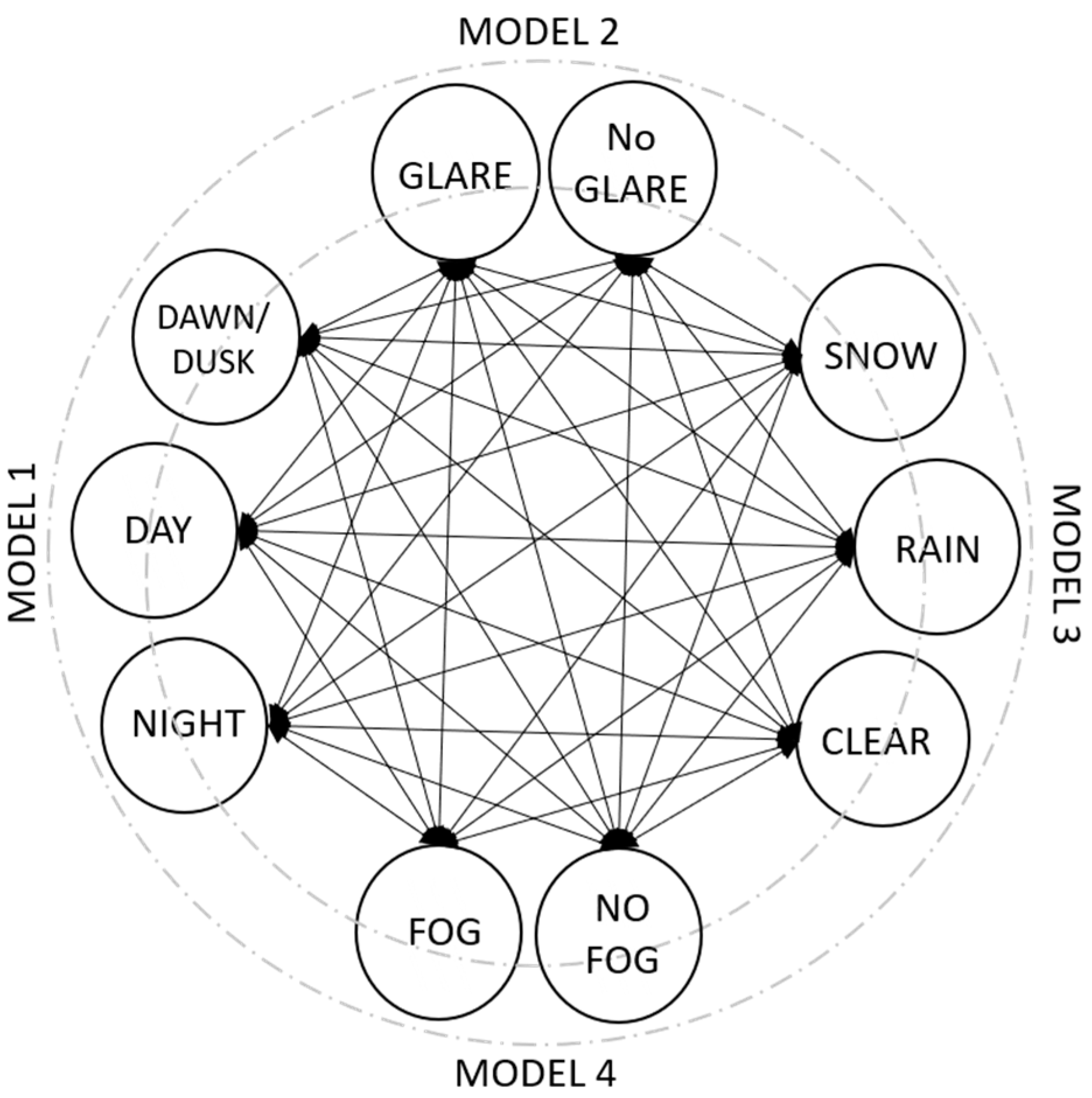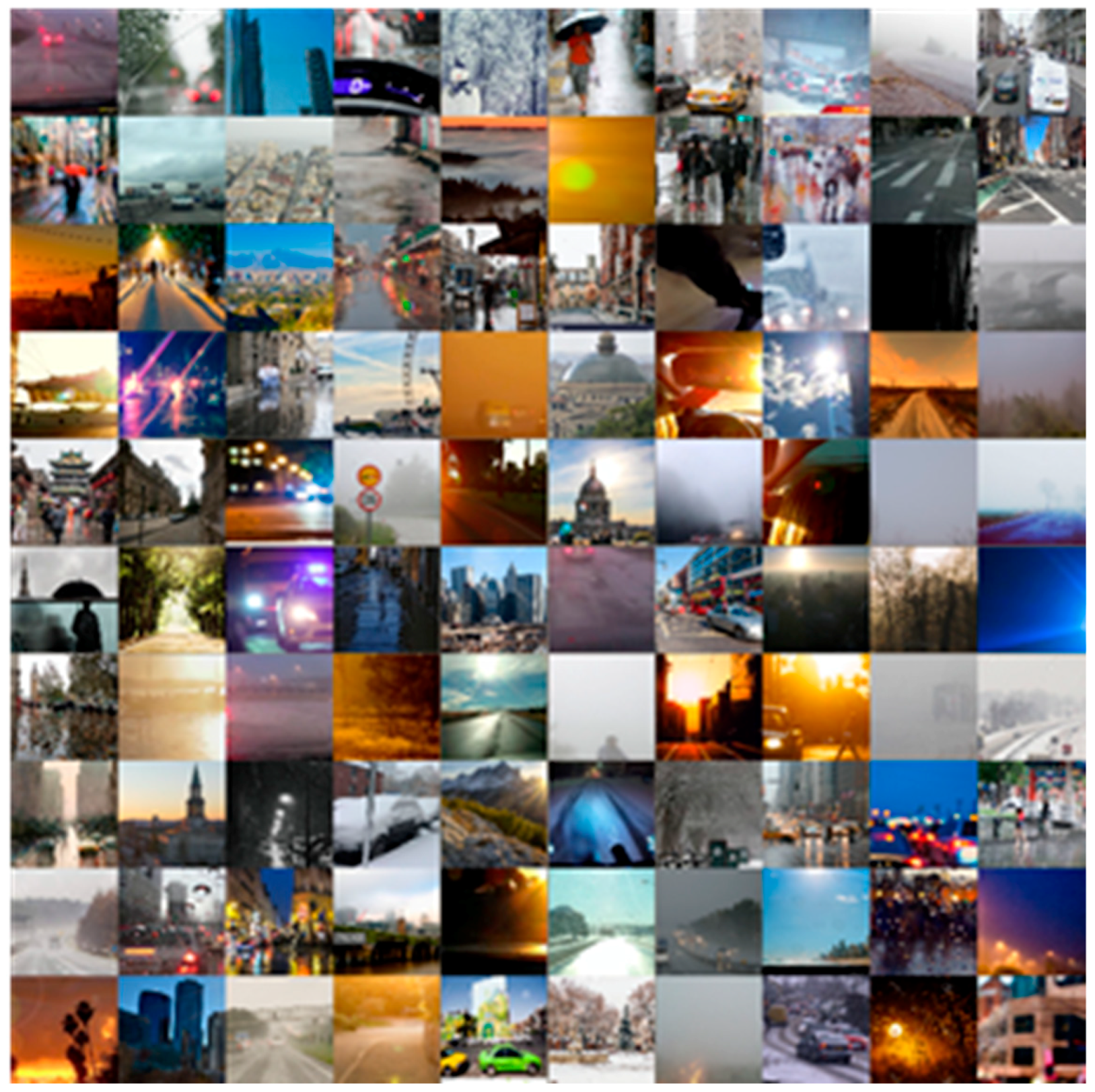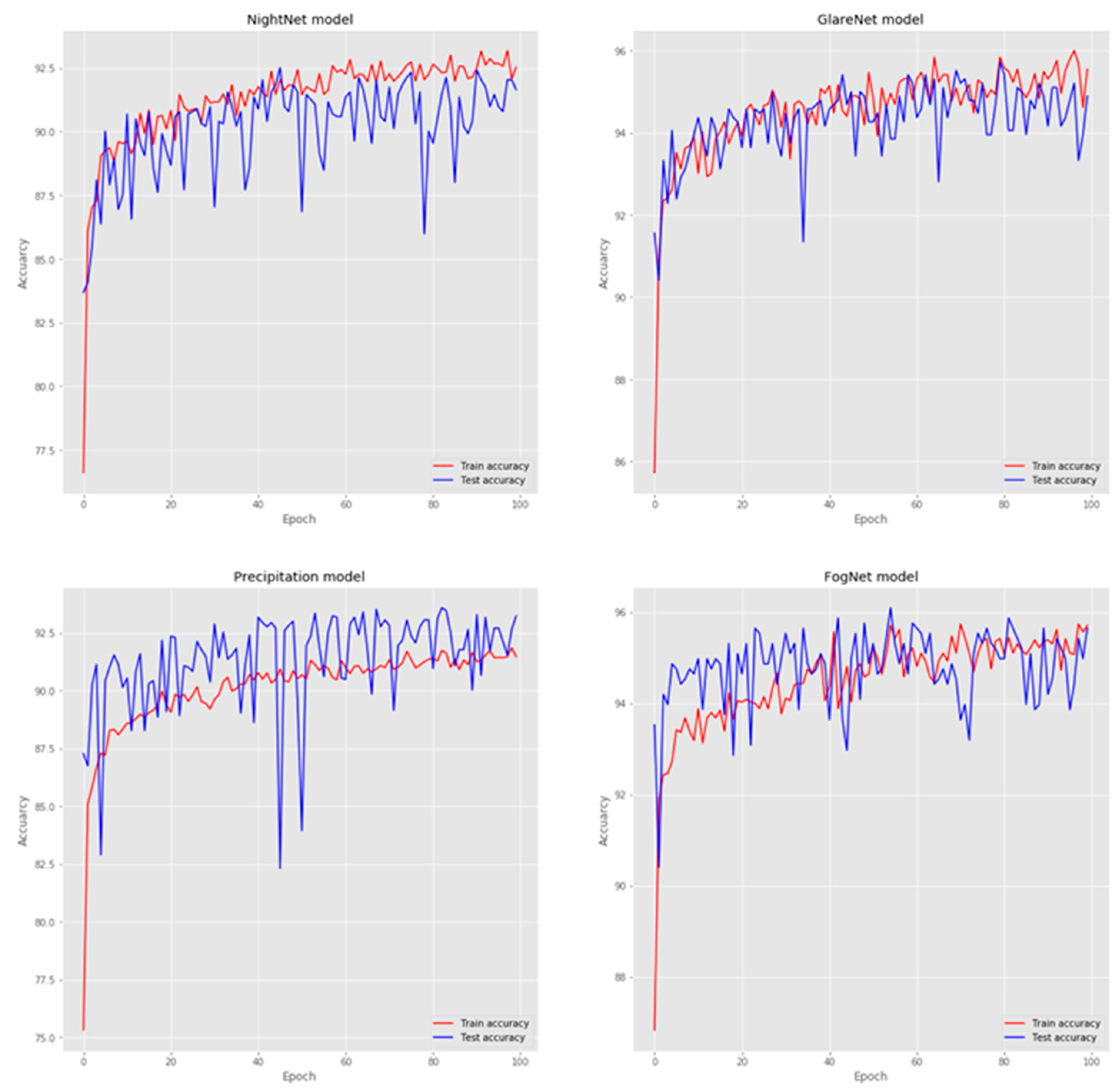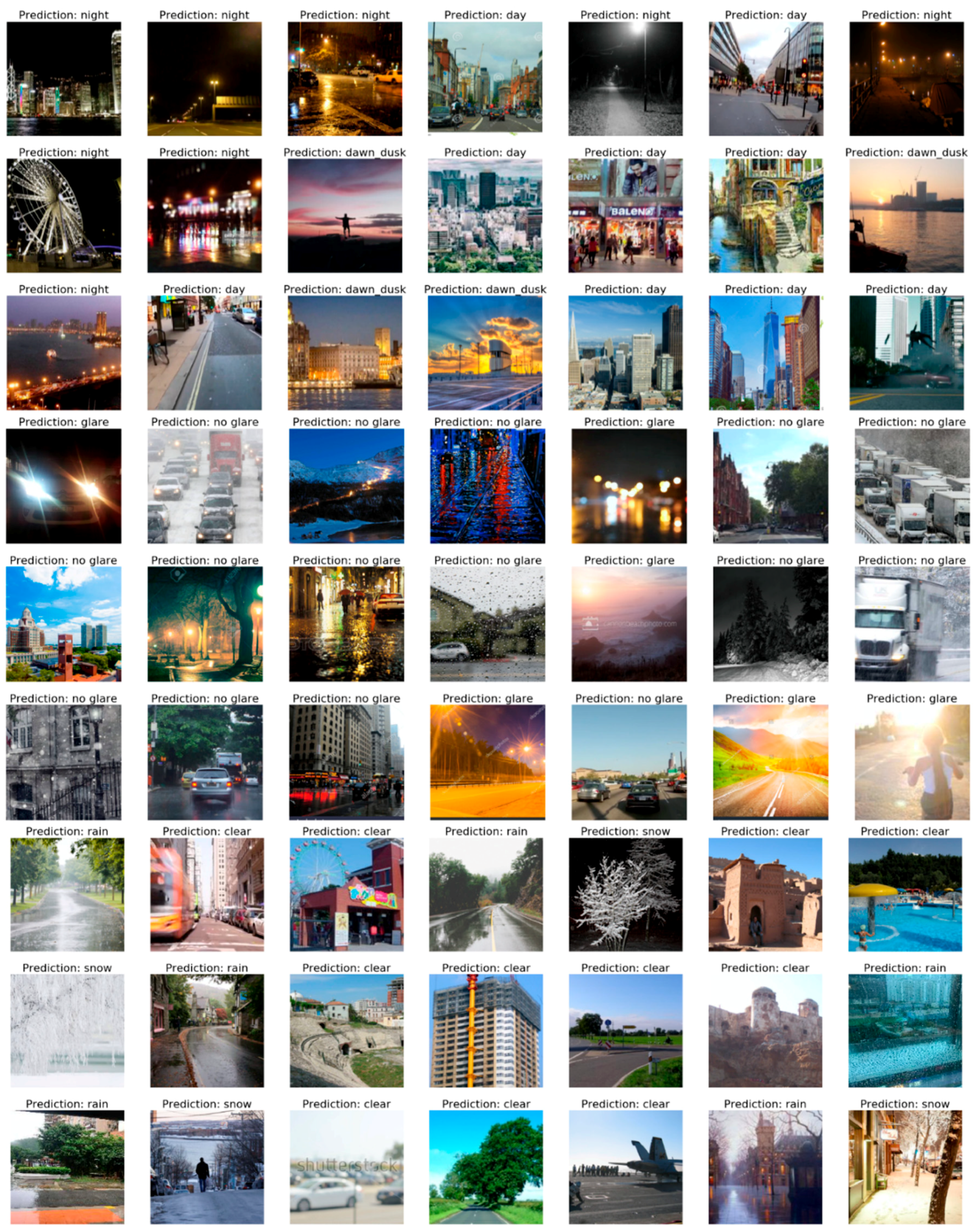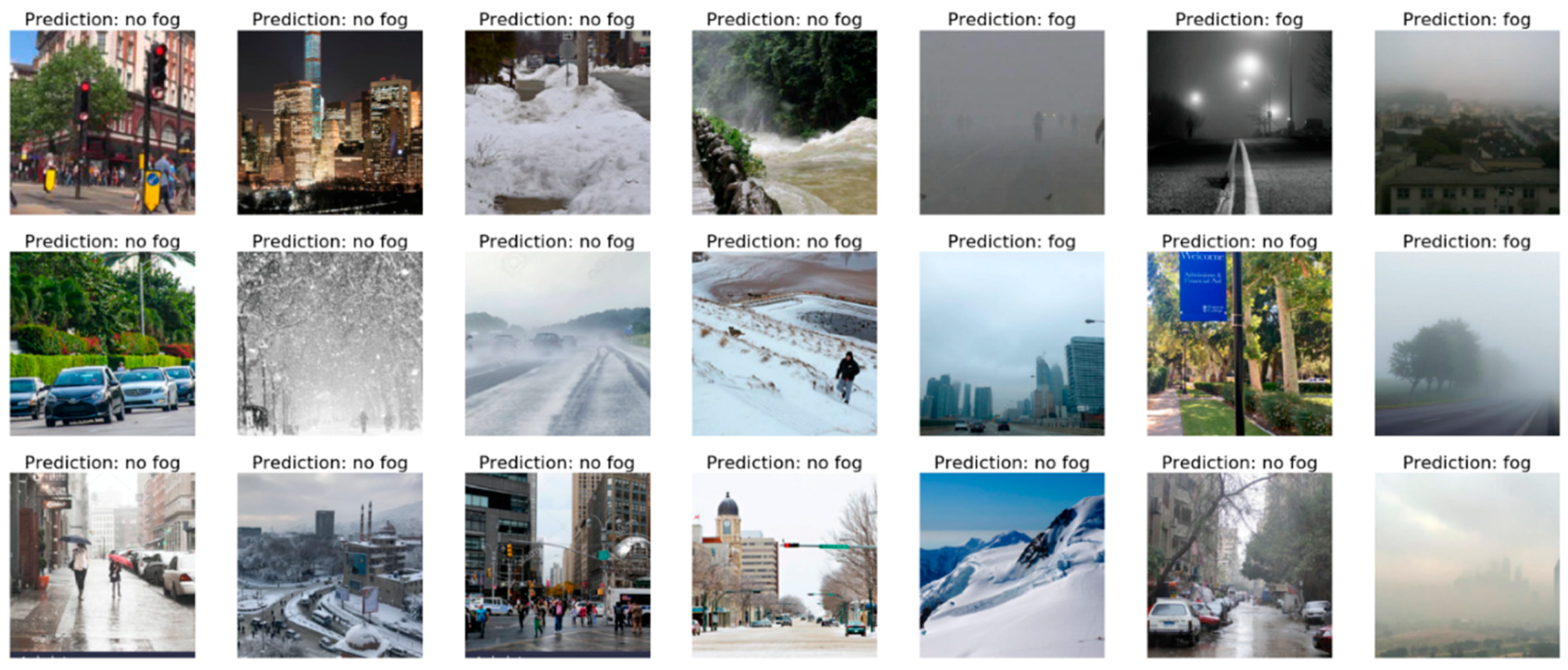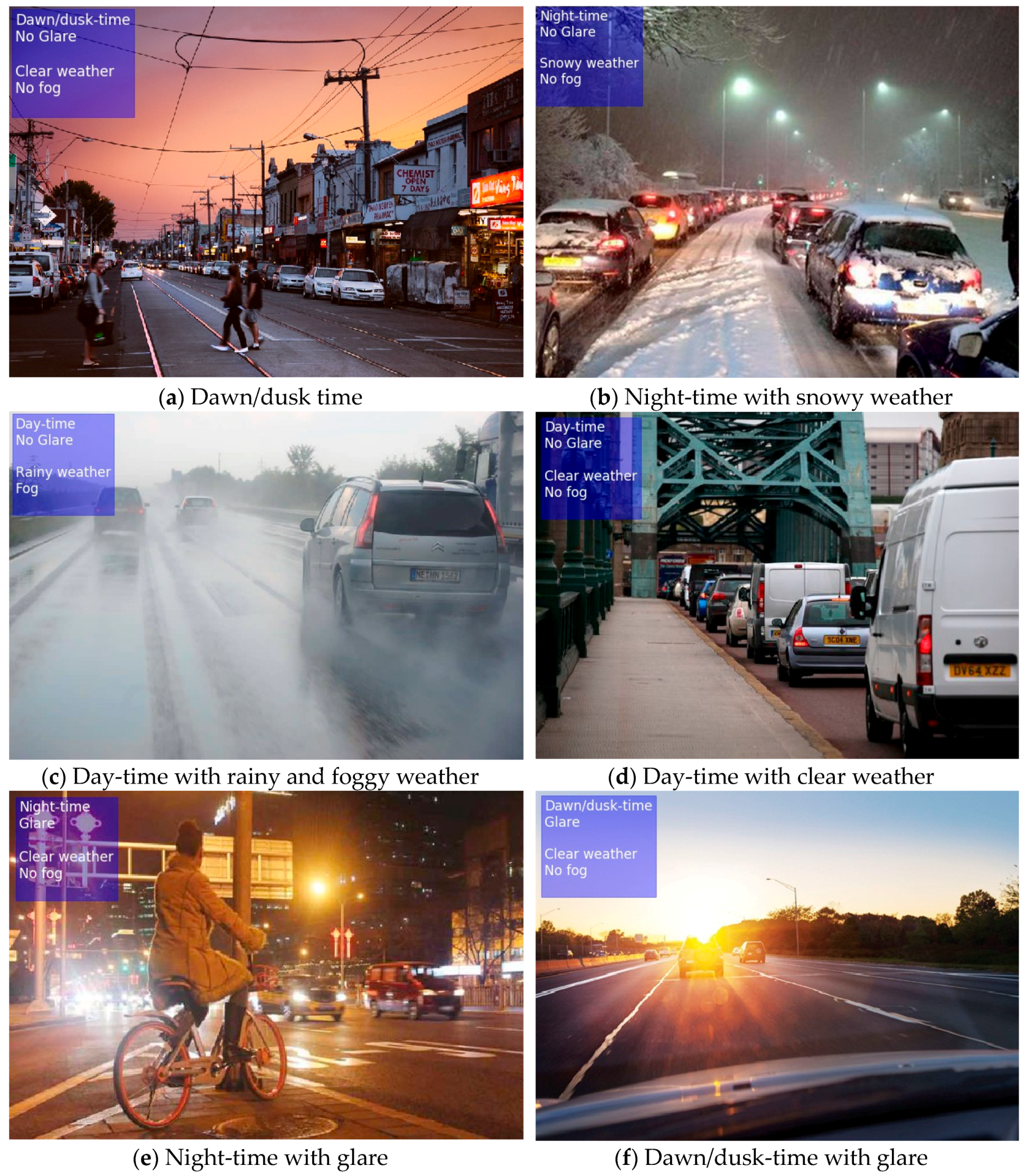 Approach
Mathematical Models
Filtering-Based Models
Machine Learning Models
Deep Learning Models
Advantage

Multi-labelling—transfer learning

Less complex than deep learning models

Minimal pre-defined settings

Unrestricted image dataset

Disadvantage

Model fit for a specific task

Model fit for a specific task

Model fit for a specific task

Computationally intensive for training

Requires data fusion for multiple sources

Difficult to interpret the model structure

Depends of the pixel values of the image

Require large, labelled dataset
| CNN Model | Dataset Classes | Sample Size |
| --- | --- | --- |
| Model1—NightNet | Dawn/Dusk | 1673 |
| | Day | 2584 |
| | Night | 1848 |
| Model2—GlareNet | Glare | 1159 |
| | No glare | 3549 |
| Model3—PrecipitationNet | Clear | 4017 |
| | Rain | 2343 |
| | Snow | 2347 |
| Model4—FogNet | Fog | 718 |
| | No fog | 3627 |
| CNN Model | Loss (Cross Entropy) | Accuracy (%) | Precision (a) | Recall/True-Positive Rate (a) | False-Positive Rate (a) | F1-Score |
| --- | --- | --- | --- | --- | --- | --- |
| Model1—NightNet | 0.098 | 91.6 | 0.885 | 0.825 | 0.045 | 0.854 |
| Model2—GlareNet | 0.040 | 94.8 | 0.883 | 0.895 | 0.035 | 0.889 |
| Model3—PrecipitationNet (b) | 0.077 | 93.2 | 0.959 | 0.932 | 0.068 | 0.947 |
| Model4—FogNet | 0.037 | 95.6 | 0.862 | 0.829 | 0.022 | 0.845 |
(a) The metrics are evaluated for the referenced class—indexed zero—for each model. (b) This model contains three classes, in which the false-positive rate is shared with the classes prior to the referenced class.

Table 4. Evaluations of the state-of-the-art models based on model types, scope, and classification labels.
Methods
Night-Time Detection (Classes)
Glare Detection
Fog Detection
Weather Detection (Classes)
Overall Score
[17]
Regions of interest—Histograms
-
-
-
x (clear, light rain, heavy rain)
0.85
[40]
Support Vector Regressor
-
-
-
x (clear, partly cloudy, mostly cloudy, cloudy)
NA
[38]
Random Forest Classifier
-
-
x
x (Sunny, cloudy, rainy, snowy)
0.70
[27]
CNN model
-
-
-
x (Sunny, cloudy)
0.91
[28]
Different types of CNN models
-
-
x
x (snowy, rainy)
0.80
[41]
SAID ENSEMBLE
METHOD
-
-
-
x (sunny, cloudy, rainy)
0.86
[29]
CNN-LSTM
-
-
x
x (sunny, cloudy, rainy, snowy)
0.91
WeatherNet
Multiple Residual deep models
x (Dawn/dusk, day, night)
x
x
x (Clear, rain, snow)
0.93
Open-Sourced Benchmark Datasets
Total Images
Labels
Method
Testing Scope
Original Method Score
WeatherNet Score
Multi-class Weather Dataset for Image Classification
[41]
1125
Cloudy, sunshine, rain, sunset
SAID ENSEMBLE
METHOD II
Rain detection
Accuracy: 95.20%
Accuracy: 97.69%
Multi-label weather dataset (test-set)
[29]
2000
(Sunny, cloudy, rainy, snowy, foggy)
CNN-Att-ConvLSTM
Sunny/clear detection
Fog detection
Rain detection
Snow detection
(Precision/Recall): 0.838/0.843
(Precision/Recall): 0.856/0.861
(Precision/Recall): 0.856/0.758
(Precision/Recall): 0.894/0.938
(Precision/Recall): 0.924/0.827
(Precision/Recall): 0.833/0.940
(Precision/Recall): 0.958/0.651
(Precision/Recall): 0.789/1

© 2019 by the authors. Licensee MDPI, Basel, Switzerland. This article is an open access article distributed under the terms and conditions of the Creative Commons Attribution (CC BY) license (http://creativecommons.org/licenses/by/4.0/).