Cyclodextrins Can Entrap Zearalenone-14-Glucoside: Interaction of the Masked Mycotoxin with Cyclodextrins and Cyclodextrin Bead Polymer
1
Department of Pharmacology, Faculty of Pharmacy, University of Pécs, Szigeti út 12, H-7624 Pécs, Hungary
2
János Szentágothai Research Center, University of Pécs, Ifjúság útja 20, H-7624 Pécs, Hungary
3
Department of Food and Drug, University of Parma, Via G.P. 7 Usberti 17/A, 43124 Parma, Italy
4
Institute of Organic and Medicinal Chemistry, Medical School, University of Pécs, Szigeti út 12, H-7624 Pécs, Hungary
5
CycloLab Cyclodextrin Research & Development Laboratory, Ltd., Illatos út 7, H-1097 Budapest, Hungary
*
Author to whom correspondence should be addressed.
Received: 19 July 2019 / Revised: 7 August 2019 / Accepted: 7 August 2019 / Published: 9 August 2019
Abstract
Zearalenone (ZEN) is a
Fusarium
-derived xenoestrogenic mycotoxin. In plants, zearalenone-14-
O
-β-
d
-glucoside (Z14G) is the major conjugated metabolite of ZEN, and is a masked mycotoxin. Masked mycotoxins are plant-modified derivatives, which are not routinely screened in food and feed samples. Cyclodextrins (CDs) are cyclic oligosaccharides built up from D-glucopyranose units. CDs can form stable host–guest type complexes with lipophilic molecules (e.g., with some mycotoxins). In this study, the interaction of Z14G with native and chemically modified β- and γ-CDs was examined employing fluorescence spectroscopy and molecular modeling. Furthermore, the removal of Z14G from aqueous solution by insoluble β-CD bead polymer (BBP) was also tested. Our results demonstrate that Z14G forms the most stable complexes with γ-CDs under acidic and neutral conditions (
K
≈ 10
3
L/mol). Among the CDs tested, randomly methylated γ-CD induced the highest increase in the fluorescence of Z14G (7.1-fold) and formed the most stable complexes with the mycotoxin (
K
= 2 × 10
3
L/mol). Furthermore, BBP considerably reduced the Z14G content of aqueous solution. Based on these observations, CD technology seems a promising tool to improve the fluorescence analytical detection of Z14G and to discover new mycotoxin binders which can also remove masked mycotoxins (e.g., Z14G).
View Full-Text
►

▼

Figures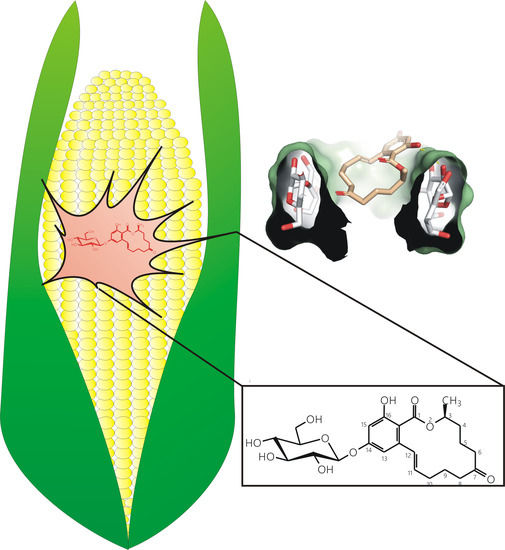 Graphical abstract
This is an open access article distributed under the
Creative Commons Attribution License
which permits unrestricted use, distribution, and reproduction in any medium, provided the original work is properly cited (CC BY 4.0).

Share & Cite This Article
MDPI and ACS Style
Faisal, Z.; Fliszár-Nyúl, E.; Dellafiora, L.; Galaverna, G.; Dall'Asta, C.; Lemli, B.; Kunsági-Máté, S.; Szente, L.; Poór, M. Cyclodextrins Can Entrap Zearalenone-14-Glucoside: Interaction of the Masked Mycotoxin with Cyclodextrins and Cyclodextrin Bead Polymer. Biomolecules 2019, 9, 354.
Note that from the first issue of 2016, MDPI journals use article numbers instead of page numbers. See further details here.
Related Articles
Comments
[Return to top]