Membrane Remodeling as a Key Player of the Hepatotoxicity Induced by Co-Exposure to Benzo[a]pyrene and Ethanol of Obese Zebrafish Larvae
Inserm, EHESP, Irset (Institut de recherche en santé, environnement et travail)—UMR_S 1085, University of Rennes, F-35000 Rennes, France
*
Author to whom correspondence should be addressed.
Received: 6 April 2018 / Revised: 4 May 2018 / Accepted: 4 May 2018 / Published: 14 May 2018
Abstract
The rise in prevalence of non-alcoholic fatty liver disease (NAFLD) constitutes an important public health concern worldwide. Including obesity, numerous risk factors of NAFLD such as benzo[a]pyrene (B[a]P) and ethanol have been identified as modifying the physicochemical properties of the plasma membrane in vitro thus causing membrane remodeling—changes in membrane fluidity and lipid-raft characteristics. In this study, the possible involvement of membrane remodeling in the in vivo progression of steatosis to a steatohepatitis-like state upon co-exposure to B[a]P and ethanol was tested in obese zebrafish larvae. Larvae bearing steatosis as the result of a high-fat diet were exposed to ethanol and/or B[a]P for seven days at low concentrations coherent with human exposure in order to elicit hepatotoxicity. In this condition, the toxicant co-exposure raised global membrane order with higher lipid-raft clustering in the plasma membrane of liver cells, as evaluated by staining with the fluoroprobe di-4-ANEPPDHQ. Involvement of this membrane's remodeling was finally explored by using the lipid-raft disruptor pravastatin that counteracted the effects of toxicant co-exposure both on membrane remodeling and toxicity. Overall, it can be concluded that B[a]P/ethanol co-exposure can induce in vivo hepatotoxicity via membrane remodeling which could be considered as a good target mechanism for developing combination therapy to deal with steatohepatitis.
View Full-Text
►

▼

Figures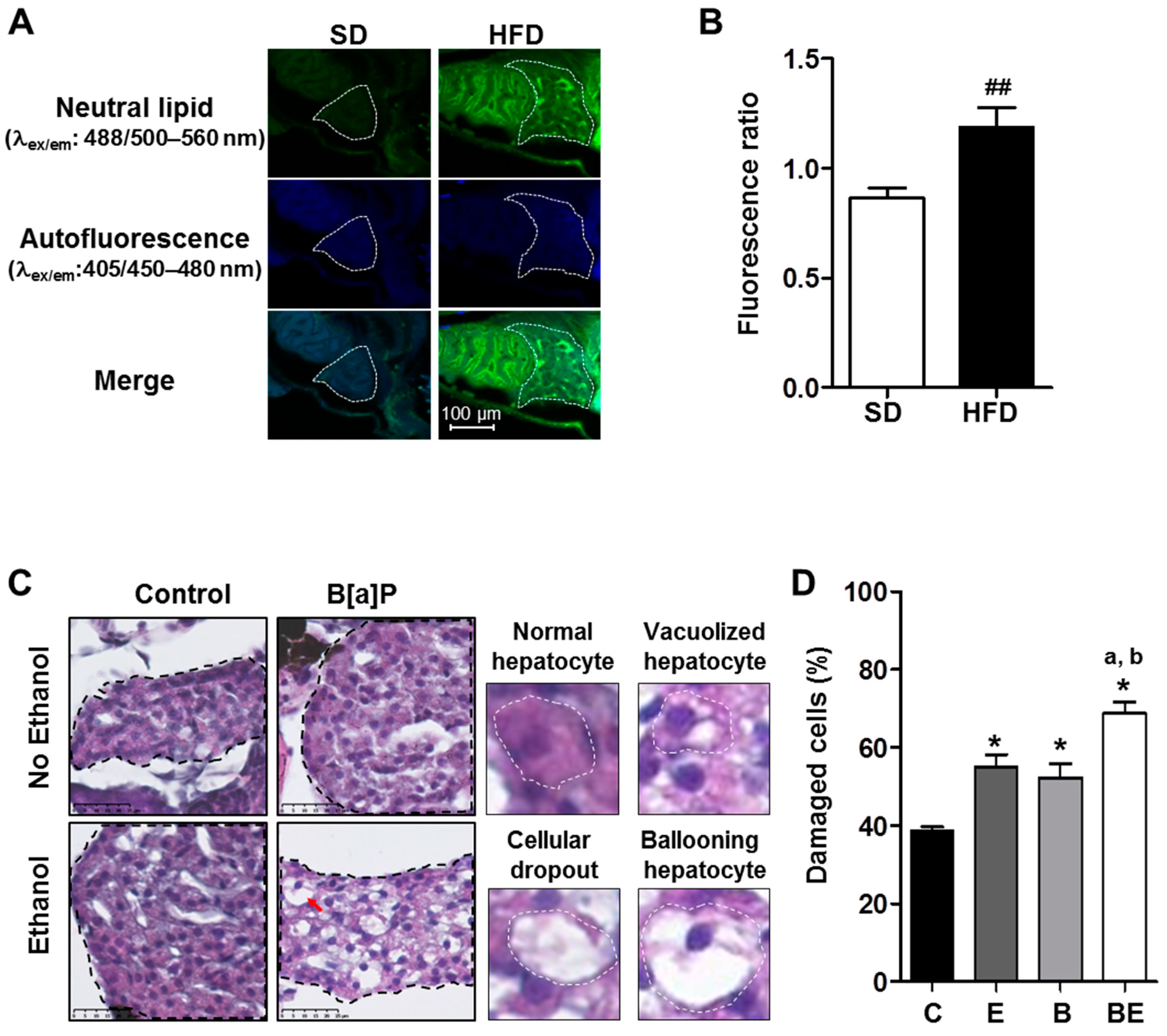 Figure 1
This is an open access article distributed under the
Creative Commons Attribution License
which permits unrestricted use, distribution, and reproduction in any medium, provided the original work is properly cited (CC BY 4.0).

Share & Cite This Article
MDPI and ACS Style
Imran, M.; Sergent, O.; Tête, A.; Gallais, I.; Chevanne, M.; Lagadic-Gossmann, D.; Podechard, N. Membrane Remodeling as a Key Player of the Hepatotoxicity Induced by Co-Exposure to Benzo[a]pyrene and Ethanol of Obese Zebrafish Larvae. Biomolecules 2018, 8, 26.
Note that from the first issue of 2016, MDPI journals use article numbers instead of page numbers. See further details here.
Related Articles
Comments
[Return to top]