Iron X-ray Transmission at Temperature Near 150 eV Using the National Ignition Facility: First Measurements and Paths to Uncertainty Reduction
1
Lawrence Livermore National Laboratory (LLNL), 7000 East Avenue, Livermore, CA 94550, USA
2
Los Alamos National Laboratory (LANL), Bikini Atoll Road, Los Alamos, NM 87545, USA
3
Nevada National Security Site (NNSS), 161 S. Vasco Avenue, Livermore, CA 94550, USA
4
Sandia National Laboratories (Sandia), 1515 Eubank SE, Albuquerque, NM 87185, USA
*
Author to whom correspondence should be addressed.
Received: 29 August 2018 / Revised: 11 October 2018 / Accepted: 13 October 2018 / Published: 26 October 2018
Abstract
Discrepancies exist between theoretical and experimental opacity data for iron, at temperatures 180–195 eV and electron densities near 3 × 10
22
/cm
3
, relevant to the solar radiative-convective boundary. Another discrepancy, between theory and helioseismic measurements of the boundary's location, would be ameliorated if the experimental opacity is correct. To address these issues, this paper details the first results from new experiments under development at the National Ignition Facility (NIF), using a different method to replicate the prior experimental conditions. In the NIF experiments, 64 laser beams indirectly heat a plastic-tamped rectangular iron-magnesium sample inside a gold cavity. Another 64 beams implode a spherical plastic shell to produce a continuum X-ray flash which backlights the hot sample. An X-ray spectrometer records the transmitted X-rays, the unattenuated X-rays passing around the sample, and the sample's self-emission. From these data, X-ray transmission spectra are inferred, showing Mg K-shell and Fe L-shell X-ray transitions from plasma at a temperature of ~150 eV and electron density of ~8 × 10
21
/cm
3
. These conditions are similar to prior Z measurements which agree better with theory. The NIF transmission data show statistical uncertainties of 2–10%, but various systematic uncertainties must be addressed before pursuing quantitative comparisons. The paths to reduction of the largest uncertainties are discussed. Once the uncertainty is reduced, future NIF experiments will probe higher temperatures (170–200 eV) to address the ongoing disagreement between theory and Z data.
View Full-Text
►

▼

Figures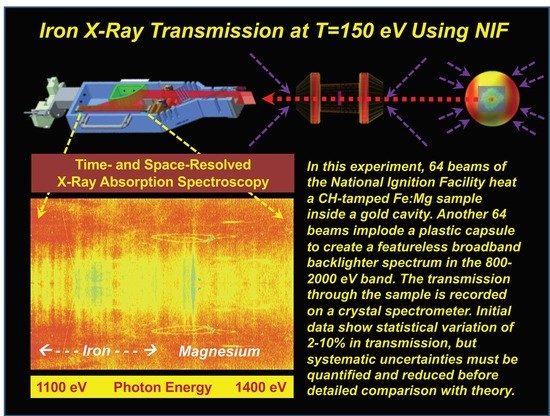 Graphical abstract
This is an open access article distributed under the
Creative Commons Attribution License
which permits unrestricted use, distribution, and reproduction in any medium, provided the original work is properly cited (CC BY 4.0).

Share & Cite This Article
MDPI and ACS Style
Heeter, R.; Perry, T.; Johns, H.; Opachich, K.; Ahmed, M.; Emig, J.; Holder, J.; Iglesias, C.; Liedahl, D.; London, R.; Martin, M.; Thompson, N.; Wilson, B.; Archuleta, T.; Cardenas, T.; Dodd, E.; Douglas, M.; Flippo, K.; Fontes, C.; Kline, J.; Kot, L.; Krasheninnikova, N.; Sherrill, M.; Urbatsch, T.; Huffman, E.; King, J.; Knight, R.; Bailey, J.; Rochau, G. Iron X-ray Transmission at Temperature Near 150 eV Using the National Ignition Facility: First Measurements and Paths to Uncertainty Reduction. Atoms 2018, 6, 57.
Note that from the first issue of 2016, MDPI journals use article numbers instead of page numbers. See further details here.
Related Articles
Comments
[Return to top]