Open Access This article is
freely available
re-usable
Article
Herbal Cosmetics Knowledge of Arab-Choa and Kotoko Ethnic Groups in the Semi-Arid Areas of Far North Cameroon: Ethnobotanical Assessment and Phytochemical Review
1
Advanced Teacher's Training School for Technical Education, University of Douala, Douala 1872, Cameroon
2
Institute of Medical Research and Medicinal Plant Studies, Yaounde 6163, Cameroon
*
Author to whom correspondence should be addressed.
Received: 31 March 2018 / Accepted: 23 April 2018 / Published: 2 May 2018
Abstract
:
The plant-based traditional knowledge of many Cameroonian populations concerning beauty and skin care is still poorly documented, yet they are real resources of innovation and economic development. The aim of this study is to document the indigenous knowledge of Choa Arab and Kotoko ethnic group in Kousséri (Far North Region of Cameroon) about plants used for cosmetics. Ethnobotanical data collected among key informants revealed a total of 13 plants species belonging to 12 families used by local people.
Canarium schweinfurthii
Engl and
Santalum album
L. obtained the highest frequency of citation. Trees are the most abundant life forms, while barks and seeds are the most frequently used parts. More than 40% of recorded plants are used for skin care. The cosmetic allegations of recorded plants include: dermatology, anti-cancers, antioxidant agent, perfume, anti-inflammatory, antimicrobial, wounds healing activity, skin lightening, dental caries, astringent and hair care. They all contain various phytochemicals that are of interest in cosmetics. Despite the strong relationship between the Choa Arab and Kotoko people and herbal cosmetic ingredients, these plants are still less investigated for their cosmetic application. The authors urge for the development of sustainable supply chain for plants with potentials as cosmetics, involving local communities in the planning, implementation and monitoring process, following principles of Nagoya protocol on Access and Benefit Sharing.
Keywords:
Choa Arab; Kotoko; indigenous knowledge; phytochemicals; cosmetics
1. Introduction
This ethnobotanical survey for herbal cosmetics was carried out to document the indigenous knowledge of Choa Arab and Kotoko ethnic group about plants used for cosmetics.
2. Materials and Methods
2.1. Description of the Study Site
The far North region of Cameroon is part of the Sudano-Zambesian Region in Africa. The climate is semi arid, characterized by a long dry season (October to May) and a short rainy season (June to September). Annual rainfall varies between 850 and 1100 mm per year [
18
], with an average of 529 mm. The temperature varies from 21.7 to 35.7 °C, with an average of 28.4 °C. The hydrology distribution is characterized by river flow in two main drainage basins associated with the river Niger and Lake Chad. The Logone river is the major one. The surrounding vegetation corresponds to a typical Sudano-sahelian type, comprising thorn-bush steppe and savanna dominated by Acacia species, with variations depending upon groundwater supply. Continuous vegetative cover is largely restricted to the margins of watercourses [
19
]. Major ethnic groups populating the far North Cameroon include Arab-choa, Bornoa, Kotoko, Mandara from Cameroon and Kaninsou people who came from Chad. They practice agriculture, livestock farming, and fishing.
Data were collected in Kousseri neighborhood (
Figure 1
), located at 12.0871° N, 15.0148° E.
2.2. Research Method
Ethnobotanical data collection was done through interviews conducted with key knowledgeable native informants. A total of 24 key informants including 13 Kotokos and 11 Choa arabs participated in the survey. Information regarding plants, parts used, usage, mode of preparation and administration were documented. Plant species were identified using reference floras of drylands areas [
20
]. Voucher specimens of unknown species were collected and preserved using standard herbarium techniques, and their identification was confirmed at the National Herbarium of Cameroon.
5. Conclusions
In the Far North Region of Cameroon, there is a strong relationship between the Arab Choa and Kotoko people and plant resources. They have good knowledge of utilization of plants for cosmetic purposes. A total of 13 plant species have been reported in this study and their chemical evaluation based on available literature indicated they can be promising resources for cosmetic industry. Trees are the most frequent life forms of plants used as cosmetics; the barks and seeds are the most frequently used plant parts and skin care was the most frequent use of plants recorded.
This knowledge is however only transmitted orally and therefore, likely to be lost because of interference of modern and foreign cultural influence. Therefore, efforts are needed to understand and adequately document the indigenous knowledge about the use of herbal cosmetics. Despite their extensive traditional use in the study area and across semi-arid areas of tropical Africa, these plants have been investigated less for their cosmetic application. This study is an early investigation focusing on cosmetic utilization of local plants and there is further need of detailed and intensive investigations with particular reference to herbal cosmetics in the Far North Region of Cameroon. Indeed, traditional uses of plants are as real resources of innovation and economic development and it is therefore interesting for Cameroon to be familiar with their value and use. In addition, for a better valorization of local cosmetic plants, phytochemical and specific bioassay studies should be performed on promising species. For sustainable and long term conservation and promotion of plant resources of the area, there is a need to actively involve the local communities, planning, implementation and monitoring process following principles of Nagoya protocol on access to genetic resources and sharing of benefits derived from their utilization.
Author Contributions
E.F.F. and T.Z. conceived the experimental design of this study; E.F.F., T.Z. and S.B. performed the data collection; E.F.F. prepared the first draft of this paper; C.F.N.B. and A.N.B. adjusted the experiments and reviewed the first draft of the manuscript; N.T. revised the first draft of this manuscript.
Acknowledgments
The authors did not receive any funds for covering the costs to conduct this research or to publish in open access. We wish to express their gratitude to all the people of Kousseri locality for their cooperation and assistance.
Conflicts of Interest
The authors declare no conflict of interest.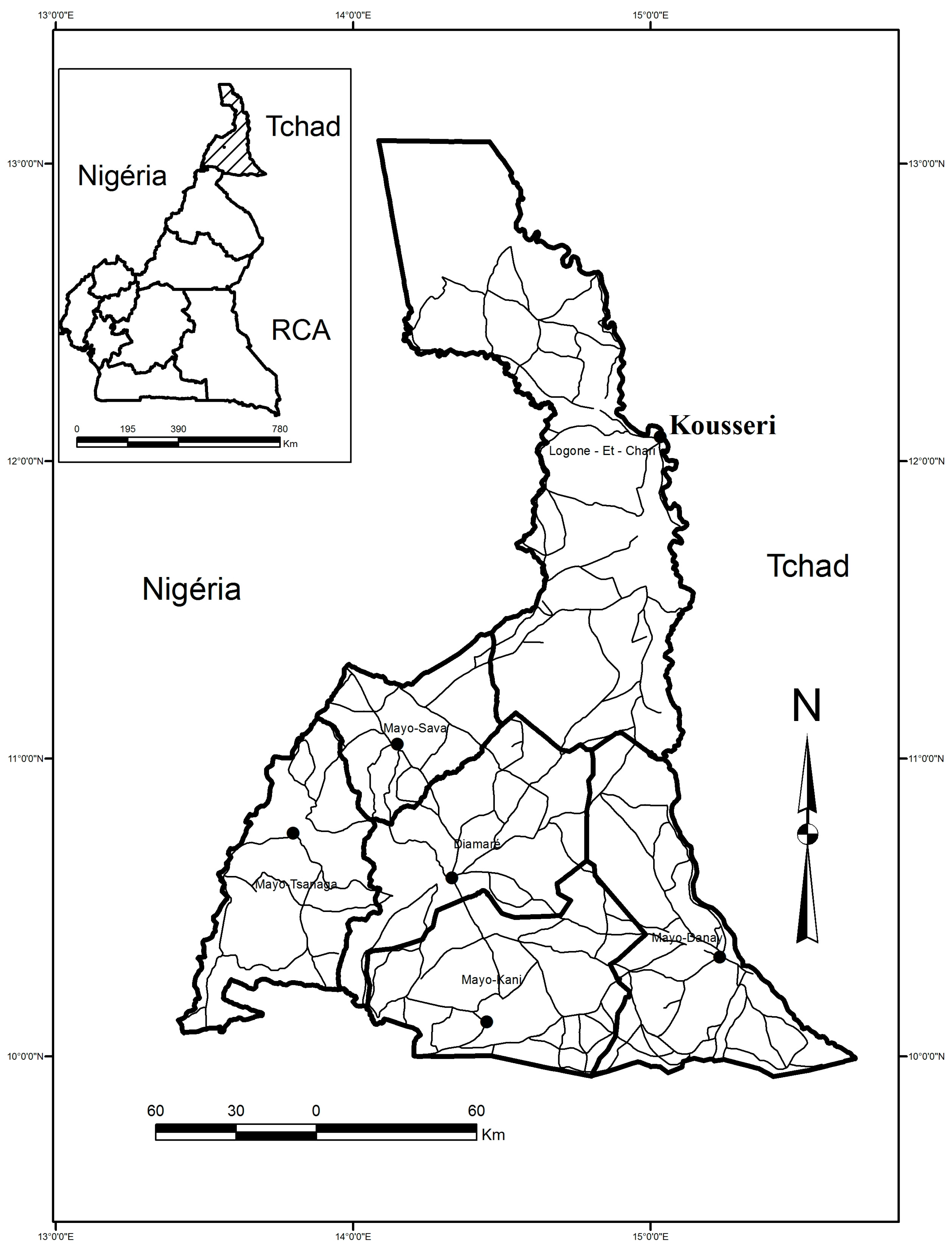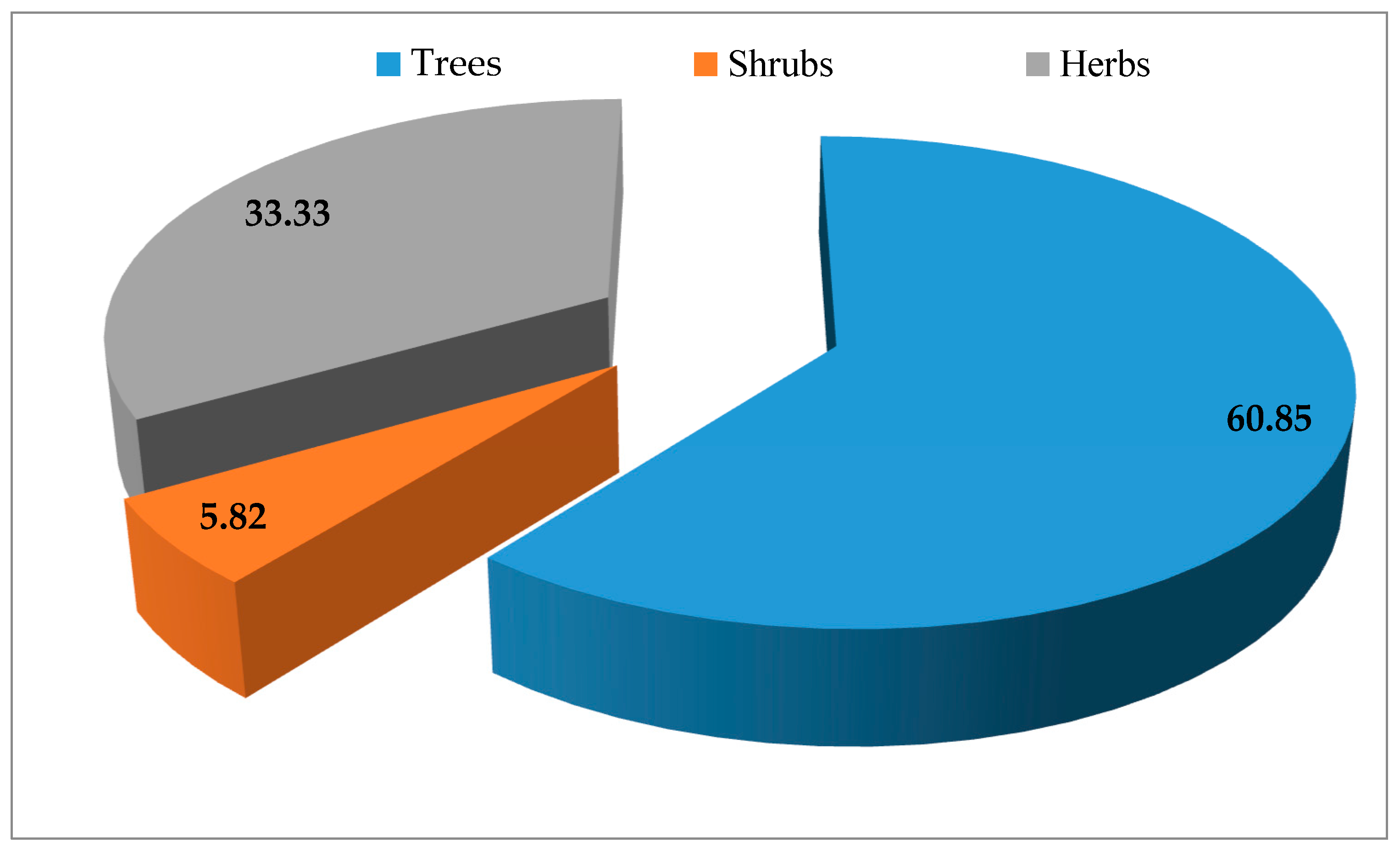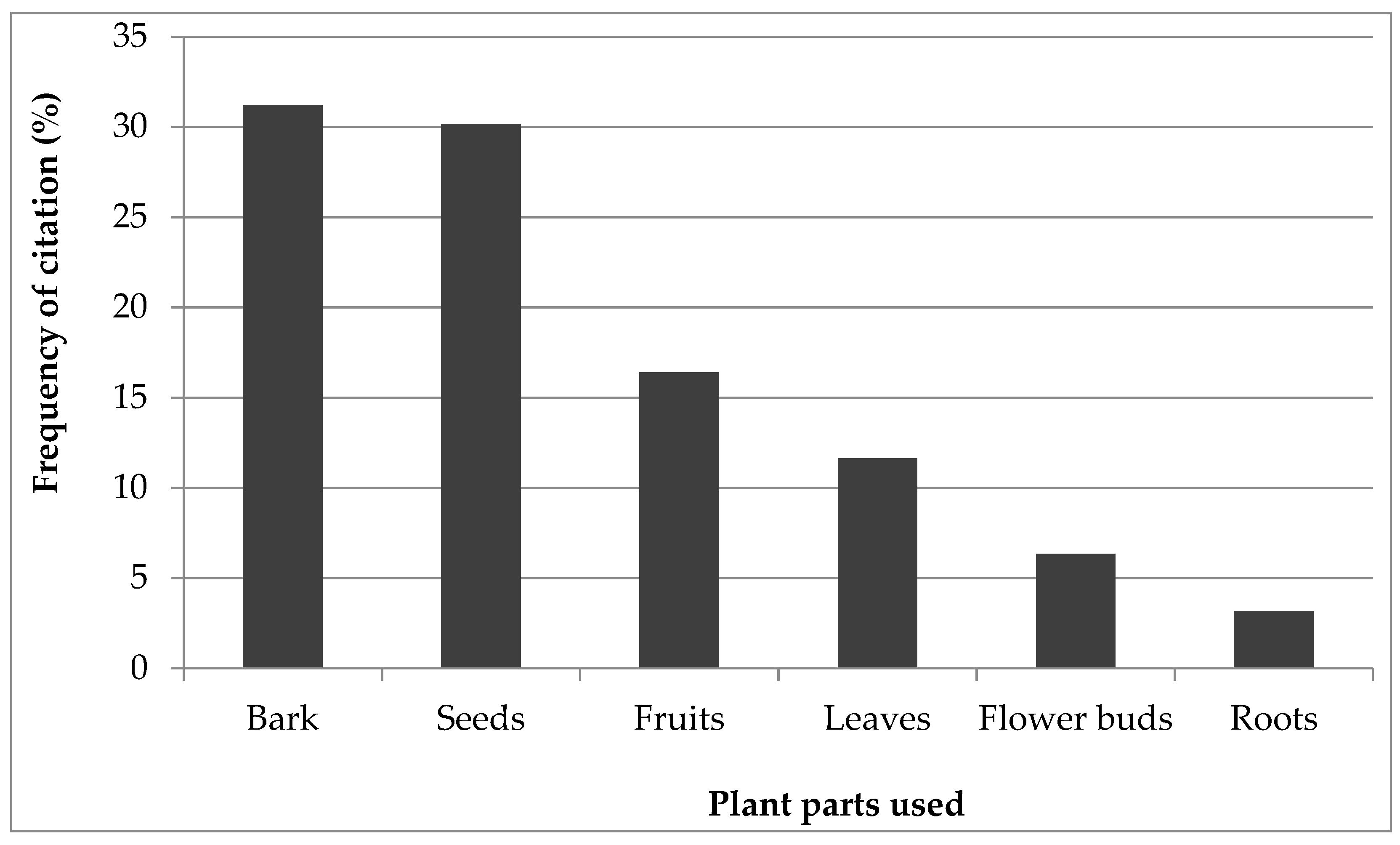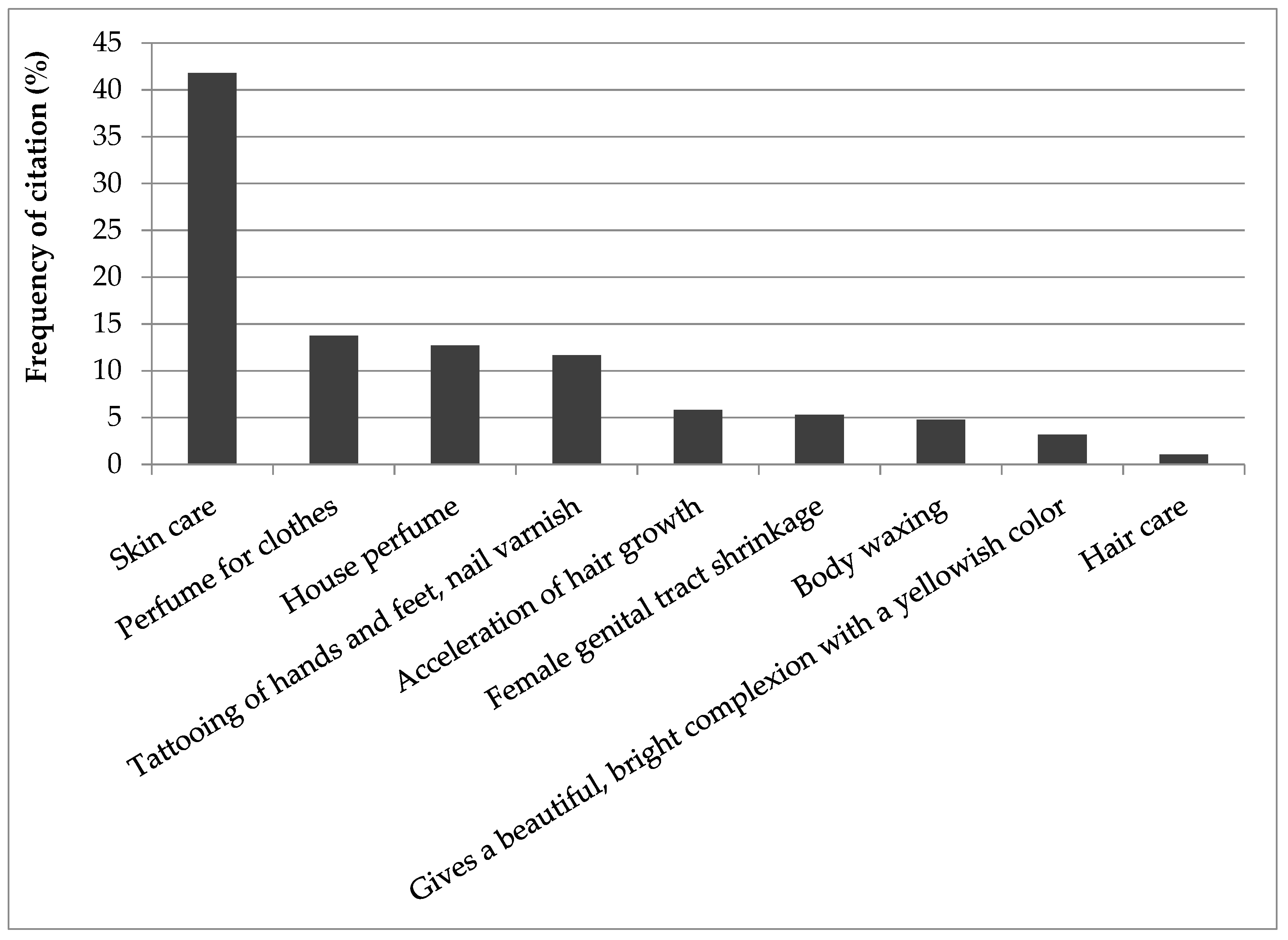 N°
Species
Local Name
Part Used *
Usage
Frequency (%)
1

Canarium schweinfurthii

Engl
Gamari
Bk, Fb, Rs
Barks, resins and flower buds are burned as incense to perfume the house
12.7
2

Santalum album

L.
Sandal
Bk
Perfume for cloths
12.17
3

Lawsonia inermis

L.
Hinna
Lv
Tattooing of hands and feet, nail varnish
11.64
4

Elaeis guineensis

Jacq
Hamra
Fr
Gumming product for skin care
10.58
5

Arachis hypogae

L.
Foul
S
Gumming product for skin care
10.05
6

Panicum miliaceum

L.
Dourra amar
S
Gumming product for skin care
10.05
7

Zea mays

L.
Massara
S
Gumming product for skin care
10.05
8

Terminalia avicennioides

Guill. & Perr
Dorot
Bk
Perfume for clothes, Female genital tract shrinkage
6.88
9

Croton Zambesicus

Müell. Arg.
Chébé
Acceleration of hair growth
5.82
10

Citrus limon

(L.) Burm.f.
Lemon
Fr
Used for body waxing
4.76
11

Crocus sativus

L.
Courcoum
Rt
Gives a beautiful, bright complexion with a yellowish color
3.17
12

Syzigium aromaticum

(L.) Merr. & L.M.Perry
Grounfal
Fr
Skin care
1.06
13

Vitellaria paradoxa

C.F. Gaertn.
Oum kouroum
S
Hair care
1.06
* Bk = bark; Fb = Flower bud; Rs = resin; Lv = leaves; Fr = fruits; S = seeds; Rt = roots.
Species
Part Used
Phytochemical Constituents
Properties/Activities
References

Canarium schweinfurthii

Engl
Seed
Seed kernel oil extract
chemoprevention of cancers and other oxidative damage-induced diseases
[21]
Resin
Essential oil
natural antioxidant agent
[22,23]
Barks
Polyphenols, triterpenes and steroids
antibacterial and antifungal activities

Santalum album

L.
wood
Tannins, terpenes, resins and waxes
Sandalwood oil useful in perfume industry
[24]
wood
Essential oils
Antibacterial and antifungal activity
wood
Α-Santalumol
skin cancer preventive effect

Lawsonia inermis

L.
Leaves
Lawsone, flavonoids, coumarins, triterpenoids, steroids, xanthones
anti-inflammatory, antibacterial, antimicrobial, antifungal, antiviral, antidermatophytic, antioxidant
[25,26]

Elaeis guineensis

Jacq
oil
Phenolic, tannin and flavonoid compounds, vitamine E isomers (Tocopherols and tocotrienols)
Antioxidant activity
[27,28]
Alkaloids, saponins, tannins, anthraquinones, steroids, flavonoids
Antimicrobial activity
Terpenoids and alkaloids
Wounds healing activity
[29]
Oil
Excipient in most cosmetic preparation like the production of soaps
[30]
Vitamine A
Slows the desquamation of the cells of the epidermis
[26]

Arachis hypogae

L.
Seeds
Resveratrol, Tannins, phlobatannins, saponins, flavonoids, quinones, terpenoids and cardiac glycosides
Melanolytic and skin lightening activity, reducing cancer risks, inhibiting dental caries, antioxidant capacity
[31,32,33]

Panicum miliaceum

Seeds
Carbohydrates, protein, oleic acid, linoleic acid, stearic acid and essential minerals like phosphorus, manganese, calcium and magnesium and rich in B-complex vitamins
Applied as a poultice for abscesses and sores
[34]

Zea mays

Carotenoids, Phenolic compounds, Phytosterols, Selenium, vitamins A, C, and K, Anthocyanins
has the potential to alleviate pain and possess analgesic activity, antimicrobial, and anti-inflammatory properties
[35]

Terminalia avicennioides

Guill. & Perr
Bark
Phenols, steroids, glycosides, flavonoids, tannins, ellagic acids, Anthraquinone, saponins, and terpenes
antimicrobial activity, Wound Healing Activity, Antioxidant activity, Antibacterial activity, Antifungal Activity
[36,37]

Croton zambesicus

Müell. Arg.
Flavonoids, Saponins, Alkaloid, Tannins, Phenols, Triterpene, sesquiterpenes, Phytosterol, Anthraquinones and Carbohydrates, Labdanes, Trachylobanes, isopimaranes, Volatile Oils
antioxidant property
[38]

Citrus limon

(L.) Burm.f.
Lemon peel
Astringent and good antimicrobial agent.
[39]
Phenolic compounds, sesamin, sesamol, sesamolin, and phytosterol
Antioxydant
[28,40]

Crocus sativus

L.
Phenolics flavonoids and Apocarotenoids, safranal, crocin
Antioxidant activity
[41,42]
Crocin, crocetin, diglucosylcrocetin, and dimethylcrocetin
Anti-carcinogenic effects
[43]

Syzigium aromaticum

(L.) Merr. & L.M.Perry
oil
Monoterpenes, sesquiterpenes, phenolics and hydrocarbon compounds, eugenol, eugenyl acetate and β-caryophyllene
antibacterial, antifungal, insecticidal, antioxidant, anticarcinogenic capacities
[44,45,46]
topical analgesic in dentistry

Vitellaria paradoxa

C.F. Gaertn.
Seed oil
Provitamine A, allantoine, tocopherols
Antioxydant, antimicrobial, treatment of scars, burns and erythemas, skin lightening, dryness of the hair and produces a good lubrication of the hair
[47]
Triglycerides phospholipides palmitic, stearic, oleic, linoleique and linolenic acids

© 2018 by the authors. Licensee MDPI, Basel, Switzerland. This article is an open access article distributed under the terms and conditions of the Creative Commons Attribution (CC BY) license (http://creativecommons.org/licenses/by/4.0/).