Equol's Anti-Aging Effects Protect against Environmental Assaults by Increasing Skin Antioxidant Defense and ECM Proteins While Decreasing Oxidative Stress and Inflammation
Department of Physiology and Developmental Biology and The Neuroscience Center, LSB 4005, College of Life Sciences, Brigham Young University, Provo, UT 84602, USA
Received: 30 November 2017 / Revised: 16 January 2018 / Accepted: 22 January 2018 / Published: 29 January 2018
Abstract
Environmental pollutants represent a major problem worldwide that cannot be passively avoided. It is known that skin sensitivities can result from environmental assaults, such as toxins and pollutants in air and water. Additionally, dermal assaults from wind and exposure to seasonal cold temperatures are known. All of these environmental assaults are associated with oxidative stress and the intracellular generation of reactive oxygen species (ROS), which damage DNA, lipids, proteins and mitochondrial function. Additionally, the influence of diet on dermal health and, especially, antioxidant defense in skin function are well established. In this regard, environmental pollution worldwide has generated a high demand for anti-pollution personal care products to protect the skin against the daily exposure of airborne toxins and various other assaults. Major cosmetic companies have anti-pollution personal care products but, in general, the products are formulated with commonly used active ingredients that have been retooled with market strategies to address current environmental pollution treatments. Equol is a new botanical active ingredient compound for skin applications. It has a polyphenolic chemical structure found in plant and food products, and is also classified as an isoflavonoid. Moreover, equol appears to address the need for an active ingredient in personal care products to protect against pollution assaults by increasing antioxidant defense, while inhibiting oxidative stress and inflammation. Separate sections covering equol's enhanced (a) delivery mechanism into human skin; (b) antioxidant effects via
Nrf2
activation; (c) effects on extracellular matrix proteins like collagen and elastin and; (d) protection against oxidative stress and inflammation are presented.
View Full-Text
►

▼

Figures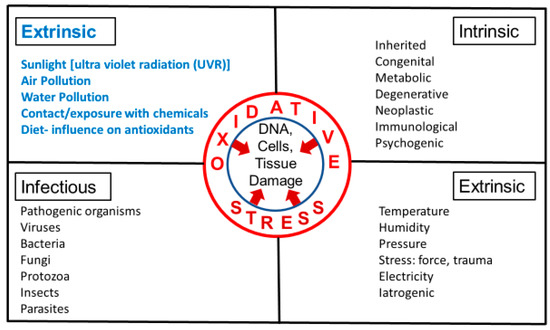 Figure 1
This is an open access article distributed under the
Creative Commons Attribution License
which permits unrestricted use, distribution, and reproduction in any medium, provided the original work is properly cited (CC BY 4.0).

Share & Cite This Article
MDPI and ACS Style
Lephart, E.D. Equol's Anti-Aging Effects Protect against Environmental Assaults by Increasing Skin Antioxidant Defense and ECM Proteins While Decreasing Oxidative Stress and Inflammation. Cosmetics 2018, 5, 16.
Note that from the first issue of 2016, MDPI journals use article numbers instead of page numbers. See further details here.
Comments
[Return to top]