Liquid Phase Selective Hydrogenation of Phenol to Cyclohexanone over Electrospun Pd/PVDF-HFP Catalyst
1
Department of Chemical Engineering, Jazan University, Jazan 45142, Saudi Arabia
2
Biosciences and Water Filtration Division, Parker-Hannifin Corporation, Oxnard, CA 93030, USA
3
Department of Chemical Engineering, Royal Commission Yanbu Industrial College, Yanbu 46452, Saudi Arabia
4
Exhaust Emission Engineering Team, Hyundai Motor Company, Gyeonggi-do 100NN, Korea
5
Department of Mathematics and Physics Engineering, Faculty of Engineering in Matteria, Helwan University, Cairo 11718, Egypt
6
Department of Chemical and Biomolecular Engineering, The University of Akron, Akron, OH 44325, USA
*
Author to whom correspondence should be addressed.
Received: 9 February 2019 / Revised: 17 March 2019 / Accepted: 25 March 2019 / Published: 3 April 2019
Abstract
Cyclohexanone is an important industrial intermediate in the synthesis of materials such as nylons, but preparing it efficiently through one-step hydrogenation of phenol is hindered by over-reduction to cyclohexanol. Using an efficient catalyst can enhance the selectivity of cyclohexanone at high phenol conversion. In this study, catalysts comprised of palladium nanoparticles supported on electrospun PVDF-HFP (polyvinylidene fluoride-co-hexafluoropropylene) nanofibers were prepared using the electrospinning technique. The catalysts were characterized using thermogravimetric analyzer (TGA), scanning electron microscopy (SEM), transmission electron microscope (TEM), and drop shape analyzer (DSA). The prepared catalysts were used to hydrogenate phenol into cyclohexanone in a batch reactor. The Pd/PVDF-HFP catalyst showed a very high product selectivity and high phenol conversion. The conversion of phenol achieved was 98% with 97% cyclohexanone selectivity in 7 h using 15 wt% of palladium (0.0021 moles) relative to phenol (0.0159 moles). The turnover number (TON) and turnover frequency (TOF) values calculated were 7.38 and 1.05 h
−1
, respectively. This paper presents original research in heterogeneous catalysis using novel electrospun nanofibers. Multiphase hydrogenation of phenol to cyclohexanone over electrospun Pd/PVDF-HFP catalyst has not been reported by any researcher in the literature. This work will also provide a research window for the application of electrospun polymeric nanofibers in multiphase reactions.
View Full-Text
►

▼

Figures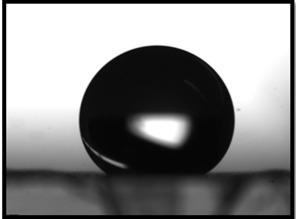 Graphical abstract
This is an open access article distributed under the
Creative Commons Attribution License
which permits unrestricted use, distribution, and reproduction in any medium, provided the original work is properly cited (CC BY 4.0).

Share & Cite This Article
MDPI and ACS Style
Abutaleb, A.; Lolla, D.; Aljuhani, A.; Shin, H.U.; Ali, M.A.; Yousef Hassan, A.A.; Maafa, I.M.H.; Chase, G.G. Liquid Phase Selective Hydrogenation of Phenol to Cyclohexanone over Electrospun Pd/PVDF-HFP Catalyst. Fibers 2019, 7, 28.
Note that from the first issue of 2016, MDPI journals use article numbers instead of page numbers. See further details here.
Related Articles
Comments
[Return to top]