Non-Canonical Activation of the Epidermal Growth Factor Receptor by Carbon Nanoparticles
1
IUF—Leibniz-Institut für Umweltmedizinische Forschung, Auf'm Hennekamp 50, 40225 Düsseldorf, Germany
2
INM—Leibniz-Institut für Neue Materialien, Campus D2 2, 66123 Saarbrücken, Germany
3
Medizinische Fakultät, Heinrich-Heine-Universität Düsseldorf, 40225 Düsseldorf, Germany
*
Author to whom correspondence should be addressed.
†
Those authors contributed equally to this work.
Received: 25 February 2018 / Revised: 13 April 2018 / Accepted: 16 April 2018 / Published: 23 April 2018
Abstract
The epidermal growth factor receptor (EGFR) is an abundant membrane protein, which is essential for regulating many cellular processes including cell proliferation. In our earlier studies, we observed an activation of the EGFR and subsequent signaling events after the exposure of epithelial cells to carbon nanoparticles. In the current study, we describe molecular mechanisms that allow for discriminating carbon nanoparticle-specific from ligand-dependent receptor activation. Caveolin-1 is a key player that co-localizes with the EGFR upon receptor activation by carbon nanoparticles. This specific process mediated by nanoparticle-induced reactive oxygen species and the accumulation of ceramides in the plasma membrane is not triggered when cells are exposed to non-nano carbon particles or the physiological ligand EGF. The role of caveolae formation was demonstrated by the induction of higher order structures of caveolin-1 and by the inhibition of caveolae formation. Using an in vivo model with genetically modified mice lacking caveolin-1, it was possible to demonstrate that carbon nanoparticles in vivo trigger EGFR downstream signaling cascades via caveolin-1. The identified molecular mechanisms are, therefore, of toxicological relevance for inhaled nanoparticles. However, nanoparticles that are intentionally applied to humans might cause side effects depending on this phenomenon.
View Full-Text
►

▼

Figures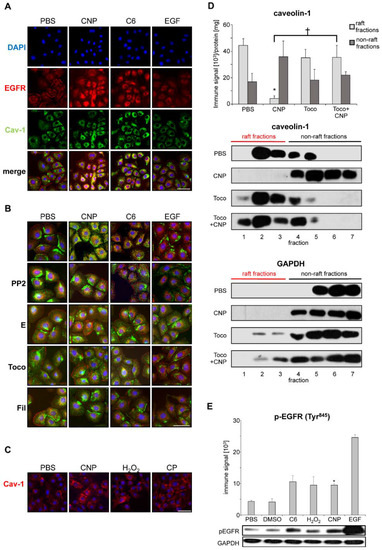 Figure 1
This is an open access article distributed under the
Creative Commons Attribution License
which permits unrestricted use, distribution, and reproduction in any medium, provided the original work is properly cited (CC BY 4.0).

Share & Cite This Article
MDPI and ACS Style
Stöckmann, D.; Spannbrucker, T.; Ale-Agha, N.; Jakobs, P.; Goy, C.; Dyballa-Rukes, N.; Hornstein, T.; Kümper, A.; Kraegeloh, A.; Haendeler, J.; Unfried, K. Non-Canonical Activation of the Epidermal Growth Factor Receptor by Carbon Nanoparticles. Nanomaterials 2018, 8, 267.
Note that from the first issue of 2016, MDPI journals use article numbers instead of page numbers. See further details here.
Related Articles
Comments
[Return to top]