Celiac Disease Prevalence Is Increased in Primary Sjögren's Syndrome and Diffuse Systemic Sclerosis: Lessons from a Large Multi-Center Study
1
Rheumatology Unit, Department of Medicine, University of Perugia, 06128 Perugia, Italy
2
Department of Rheumatology, University and IRCCS Foundation Policlinico S. Matteo, 27100 Pavia, Italy
3
Division of Rheumatology, Department of Medicine, University of Padua, 35128 Padova, Italy
4
Rheumatology Unit, Department of Clinical and Experimental Medicine, University of Pisa, 56126 Pisa, Italy
5
Department of Internal Medicine and Medical Specialties, Rheumatology, Sapienza University of Rome, 00185 Rome, Italy
6
Clinical Medicine, Department of Internal Medicine, Ospedali Riuniti University Hospital, 60030 Ancona, Italy
7
Department of Rheumatology and Clinical Immunology, ASST Spedali Civili, 25133 Brescia, Italy
8
Department of Medical and Biological Sciences, Rheumatology Clinic, Santa Maria della Misericordia University Hospital, 33100 Udine, Italy
9
Rheumatology Unit, Department of Biotechnological and Applied Clinical Sciences, University of L'Aquila, 67100 L'Aquila, Italy
10
Internal Medicine, Endocrine and Metabolic Science Section, University of Perugia, 06128 Perugia, Italy
11
Department of Pediatrics, Marche Polytechnic University, 60121 Ancona, Italy
*
Author to whom correspondence should be addressed.
Received: 29 March 2019 / Revised: 9 April 2019 / Accepted: 16 April 2019 / Published: 19 April 2019
Abstract
Association of celiac disease (CD) with systemic autoimmune diseases (ADs) remains controversial. Awareness of CD in these patients is important to prevent complications, including lymphoproliferative disorders. We evaluated previously diagnosed CD prevalence in systemic lupus erythematosus (SLE), primary Sjögren's syndrome (pSS) and systemic sclerosis (SSc) patients in comparison to 14,298 matched controls. All patients were screened for subclinical CD. Data from 1458 unselected consecutive SLE (580), pSS (354) and SSc (524) patients were collected. Previously biopsy-proven CD diagnosis and both CD- and AD-specific features were registered. All patients without previous CD were tested for IgA transglutaminase (TG). Anti-endomysium were tested in positive/borderline IgA TG. Duodenal biopsy was performed in IgA TG/endomysium+ to confirm CD. CD prevalence in AD was compared to that observed in 14,298 unselected sex- and age-matched adults who acted as controls. CD was more prevalent in pSS vs controls (6.78% vs 0.64%,
p
< 0.0001). A trend towards higher prevalence was observed in SLE (1.38%,
p
= 0.058) and SSc (1.34%,
p
= 0.096). Higher CD prevalence was observed in diffuse cutaneous SSc (4.5%,
p
≤ 0.002 vs controls). Subclinical CD was found in two SLE patients and one pSS patient. CD diagnosis usually preceded that of AD. Primary SS and SSc–CD patients were younger at AD diagnosis in comparison to non-celiac patients. Autoimmune thyroiditis was associated with pSS and CD. CD prevalence is clearly increased in pSS and diffuse SSc in comparison to the general population. The association of CD with diffuse but not limited SSc may suggest different immunopathogenic mechanisms characterizing the two subsets. CD screening may be considered in pSS and diffuse SSc in young patients, particularly at the time of diagnosis.
View Full-Text
►

▼

Figures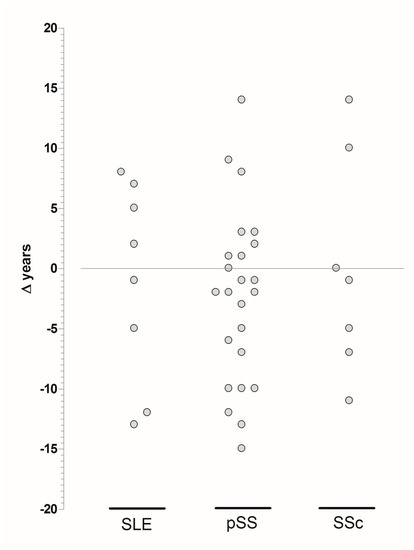 Figure 1
This is an open access article distributed under the
Creative Commons Attribution License
which permits unrestricted use, distribution, and reproduction in any medium, provided the original work is properly cited (CC BY 4.0).

Share & Cite This Article
MDPI and ACS Style
Bartoloni, E.; Bistoni, O.; Alunno, A.; Cavagna, L.; Nalotto, L.; Baldini, C.; Priori, R.; Fischetti, C.; Fredi, M.; Quartuccio, L.; Carubbi, F.; Montecucco, C.; Doria, A.; Mosca, M.; Valesini, G.; Franceschini, F.; De Vita, S.; Giacomelli, R.; Mirabelli, G.; Bini, V.; Gabrielli, A.; Catassi, C.; Gerli, R. Celiac Disease Prevalence Is Increased in Primary Sjögren's Syndrome and Diffuse Systemic Sclerosis: Lessons from a Large Multi-Center Study. J. Clin. Med. 2019, 8, 540.
Note that from the first issue of 2016, MDPI journals use article numbers instead of page numbers. See further details here.
Related Articles
Comments
[Return to top]