Antioxidant, Anti-Inflammatory, and Multidrug Resistance Modulation Activity of Silychristin Derivatives
1
Department of Biochemistry and Microbiology, University of Chemistry and Technology Prague, Technická 5, CZ 166 28 Prague, Czech Republic
2
Laboratory of Biotransformation, Institute of Microbiology, Czech Academy of Sciences, Vídeňská 1083, CZ 142 20 Prague, Czech Republic
3
Toxicogenomics Unit, National Institute of Public Health, Šrobárova 49, CZ 100 00 Prague, Czech Republic
4
Laboratory of Pharmacogenomics, Biomedical Center, Faculty of Medicine in Pilsen, Charles University, alej Svobody 1655, CZ 323 00 Pilsen, Czech Republic
*
Author to whom correspondence should be addressed.
Received: 27 June 2019 / Revised: 8 August 2019 / Accepted: 12 August 2019 / Published: 14 August 2019
Abstract
Silychristin A is the second most abundant compound of silymarin. Silymarin complex was previously described as an antioxidant with multidrug resistance modulation activity. Here, the results of a classical biochemical antioxidant assay (ORAC) were compared with a cellular assay evaluating the antioxidant capacity of pure silychristin A and its derivatives (anhydrosilychristin, isosilychristin and 2,3-dehydrosilychristin A). All the tested compounds acted as antioxidants within the cells, but 2,3-dehydro- and anhydro derivatives were almost twice as potent as the other tested compounds. Similar results were obtained in LPS-stimulated macrophages, where 2,3-dehydro- and anhydrosilychristin inhibited NO production nearly twice as efficiently as silychristin A. The inhibition of P-glycoprotein (P-gp) was determined in vitro, and the respective sensitization of doxorubicin-resistant ovarian carcinoma overproducing P-gp was detected. Despite the fact that the inhibition of P-gp was demonstrated in a concentration-dependent manner for each tested compound, the sensitization of the resistant cell line was observed predominantly for silychristin A and 2,3-dehydrosilychristin A. However, anhydrosilychristin and isosilychristin affected the expression of both the P-gp (
ABCB1
) and
ABCG2
genes. This is the first report showing that silychristin A and its 2,3-dehydro-derivative modulate multidrug resistance by the direct inhibition of P-gp, in contrast to anhydrosilychristin and isosilychristin modulating multidrug resistance by downregulating the expression of the dominant transmembrane efflux pumps.
View Full-Text
►

▼

Figures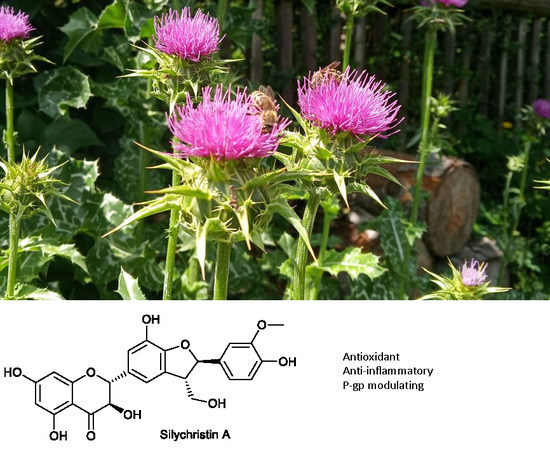 Graphical abstract
This is an open access article distributed under the
Creative Commons Attribution License
which permits unrestricted use, distribution, and reproduction in any medium, provided the original work is properly cited (CC BY 4.0).

Share & Cite This Article
MDPI and ACS Style
Viktorová, J.; Dobiasová, S.; Řehořová, K.; Biedermann, D.; Káňová, K.; Šeborová, K.; Václavíková, R.; Valentová, K.; Ruml, T.; Křen, V.; Macek, T. Antioxidant, Anti-Inflammatory, and Multidrug Resistance Modulation Activity of Silychristin Derivatives. Antioxidants 2019, 8, 303.
Note that from the first issue of 2016, MDPI journals use article numbers instead of page numbers. See further details here.
Related Articles
Comments
[Return to top]