Viburnum opulus

Fruit Phenolic Compounds as Cytoprotective Agents Able to Decrease Free Fatty Acids and Glucose Uptake by Caco-2 Cells

1

Institute of Technical Biochemistry, Faculty of Biotechnology and Food Sciences, Lodz University of Technology, Stefanowskiego 4/10, 90-924 Lodz, Poland

2

Institute of Fermentation Technology and Microbiology, Faculty of Biotechnology and Food Sciences, Lodz University of Technology, Wólczańska 171/173, 90-924 Lodz, Poland

*

Author to whom correspondence should be addressed.

Received: 28 June 2019 / Revised: 24 July 2019 / Accepted: 29 July 2019 / Published: 1 August 2019
Abstract
In recent years, there has been increasing interest in studying food-originated phytocompounds with beneficial influences for humans. Amongst the most active natural substances are polyphenols, for which high content has been identified in the
Viburnum opulus
berry, and which are unused in Western Europe. Due to its strong antioxidant activity we explored the potential of
V. opulus
as a preventive agent against diet-related chronic diseases, such as obesity and type 2 diabetes. Among the causes of these ailments is oxidative stress, as well as impaired glucose and free fatty acids (FFA) uptake. Thus, the purpose of this study was to determine biological activity of
V. opulus
phenolic extracts as cytoprotective agents able to decrease induced oxidative stress, lower lipid accumulation and attenuate glucose and FFA uptake by Caco-2 cells via GLUT2 and CD36/FAT transporters. To determine the source of the most biologically active phenolic compounds, we obtained four phenolic compounds extracts as crude juice, phenolics isolated from juice and two preparations of phenolics obtained with different extraction agents from fruit pomace. Among the studied extracts, the phenolic rich fraction obtained from fruit juice revealed the strongest activity to decrease uptake of glucose, FFA and accumulation of lipid droplets in Caco-2 cells without affecting their viability (IC
0
50 μg/mL). Observed uptake attenuation was followed by decrease of the
CD36/FAT
gene expression, without influence on the
GLUT2
and
PPARα
levels. We suspect that
V. opulus
phenolics were able to modulate the cellular membrane dynamic, although that hypothesis requires further, more detailed studies. Extracts revealed strong chemo-preventive activity against oxidative stress induced chemically by tert-butylhydroperoxide (t-BOOH), as well as against DNA damage through the induction of DNA repair after cell exposition to methylnitronitrosoguanidine (MNNG) and H
2
O
2
. Our findings suggest
Viburnum opulus
fruit as a dietary source of phytocompounds, which could be considered as a tailored design food supplement components for the prevention and treatment of postprandial elevation of glucose and fatty acids through delaying the rate of glucose and fatty acid absorption by intestinal cells.
View Full-Text
►

▼

Figures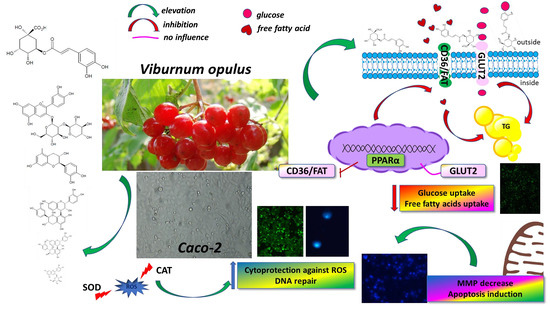 Graphical abstract
This is an open access article distributed under the
Creative Commons Attribution License
which permits unrestricted use, distribution, and reproduction in any medium, provided the original work is properly cited (CC BY 4.0).

Share & Cite This Article
MDPI and ACS Style
Zakłos-Szyda, M.; Pawlik, N.; Polka, D.; Nowak, A.; Koziołkiewicz, M.; Podsędek, A. Viburnum opulus Fruit Phenolic Compounds as Cytoprotective Agents Able to Decrease Free Fatty Acids and Glucose Uptake by Caco-2 Cells. Antioxidants 2019, 8, 262.
Note that from the first issue of 2016, MDPI journals use article numbers instead of page numbers. See further details here.
Related Articles
Comments
[Return to top]