Nutritional Value, Chemical Composition and Cytotoxic Properties of Common Purslane (
Portulaca oleracea

L.) in Relation to Harvesting Stage and Plant Part

1

Department of Agriculture Crop Production and Rural Environment, University of Thessaly, 38446 N. Ionia, Magnissia, Greece

2

Centro de Investigação de Montanha (CIMO), Instituto Politécnico de Bragança, Campus de Santa Apolónia, 5300-253 Bragança, Portugal

3

Department of Crop Production-Agrotechnology, University of Thessaly, 41110 Larissa, Greece

*

Authors to whom correspondence should be addressed.

Received: 21 July 2019 / Revised: 3 August 2019 / Accepted: 6 August 2019 / Published: 8 August 2019
Abstract
Purslane (
Portulaca oleraceae
L.) is a widespread weed, which is highly appreciated for its high nutritional value with particular reference to the content in omega-3 fatty acids. In the present study, the nutritional value and chemical composition of purslane plants in relation to plant part and harvesting stage were evaluated. Plants were harvested at three growth stages (29, 43 and 52 days after sowing (DAS)), while the edible aerial parts were separated into stems and leaves. Leaves contained higher amounts of macronutrients than stems, especially at 52 DAS. α-tocopherol was the main isoform, which increased at 52 DAS, as well total tocopherols (values were in the ranges of 197–327 μg/100 g fresh weight (fw) and 302–481 μg/100 g fw, for α-tocopherol and total tocopherols, respectively). Glucose and fructose were the main free sugars in stems and leaves, respectively, whereas stems contained higher amounts of total sugars (values were ranged between 0.83 g and 1.28 g/100 g fw). Oxalic and total organic acid content was higher in leaves, especially at the last harvesting stage (52 DAS; 8.6 g and 30.3 g/100 g fw for oxalic acid and total organic acids, respectively). Regarding the fatty acid content, stems contained mainly palmitic (20.2–21.8%) and linoleic acid (23.02–27.11%), while leaves were abundant in α-linolenic acid (35.4–54.92%). Oleracein A and C were the major oleracein derivatives in leaves, regardless of the harvesting stage (values were in the ranges of 8.2–103.0 mg and 21.2–143 mg/100 g dried weight (dw) for oleraceins A and C, respectively). Cytotoxicity assays showed no hepatotoxicity, with GI
50
values being higher than 400 μg/mL for all the harvesting stages and plant parts. In conclusion, early harvesting and the separation of plant parts could increase the nutritional value of the final product through increasing the content of valuable compounds, such as omega-3 fatty acids, phenolic compounds and oleracein derivatives, while at the same time, the contents of anti-nutritional compounds such as oxalic acid are reduced.
View Full-Text
►

▼

Figures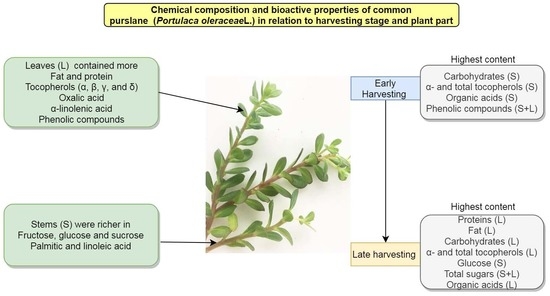 Graphical abstract
This is an open access article distributed under the
Creative Commons Attribution License
which permits unrestricted use, distribution, and reproduction in any medium, provided the original work is properly cited (CC BY 4.0).

Share & Cite This Article
MDPI and ACS Style
Petropoulos, S.A.; Fernandes, Â.; Dias, M.I.; Vasilakoglou, I.B.; Petrotos, K.; Barros, L.; Ferreira, I.C.F.R. Nutritional Value, Chemical Composition and Cytotoxic Properties of Common Purslane (Portulaca oleracea L.) in Relation to Harvesting Stage and Plant Part. Antioxidants 2019, 8, 293.
Note that from the first issue of 2016, MDPI journals use article numbers instead of page numbers. See further details here.
Related Articles
Comments
[Return to top]