Changes in the Antioxidant Properties of Extra Virgin Olive Oil after Cooking Typical Mediterranean Vegetables
1
Department of Nutrition and Bromatology, Pharmacy Faculty UGR, Campus Cartuja s/n, C.P. 10871 Granada, Spain
2
Department of Nature Sciences, Centro Universitario del Sur (UdeG), Av. Enrique Arreola Silva 883, Ciudad Guzmán C.P. 49000, Jalisco, Mexico
3
Department of Computational Sciences and Technological Innovation, Centro Universitario del Sur (UdeG), Av. Enrique Arreola Silva 883, Ciudad Guzmán C.P. 49000, Jalisco, México
*
Author to whom correspondence should be addressed.
Received: 27 June 2019 / Revised: 18 July 2019 / Accepted: 22 July 2019 / Published: 26 July 2019
Abstract
Extra virgin olive oil (EVOO), water, and a water/oil mixture (W/O) were used for frying, boiling and sautéeing Mediterranean vegetables (potato, pumpkin, tomato and eggplant). Differences in antioxidant capacity (AC) (2,2-diphenyl-1-picrylhydrazyl (DPPH), ferric iron (FRAP), 2,2-azinobis-(3-ethylbensothiazoline)-6-sulphonic acid (ABTS)), total phenolic content (TPC) and individual phenols (high-performance liquid chromatography (HPLC)) in unused and used EVOO and water were determined. The water used to boil tomatoes showed the highest TPC value, whilst the lowest was found in the EVOO from the W/O used for boiling potatoes. After processing, the concentrations of phenols exclusive to EVOO diminished to different extents. There was a greater transfer of phenols from the vegetable to the oil when eggplant, tomato and pumpkin were cooked. W/O boiling enriched the water for most of the phenols analysed, such as chlorogenic acid and phenols exclusive to EVOO. The values of AC decreased or were maintained when fresh oil was used to cook the vegetables (raw > frying > sautéing > boiling). The water fraction was enriched in 6-hydroxy-2,5,7,8–tetramethyl-chroman-2-carboxylic acid (Trolox) equivalents following boiling, though to a greater extent when EVOO was added. Phenolic content and AC of EVOO decreased after cooking Mediterranean diet vegetables. Further, water was enriched after the boiling processes, particularly when oil was included.
View Full-Text
►

▼

Figures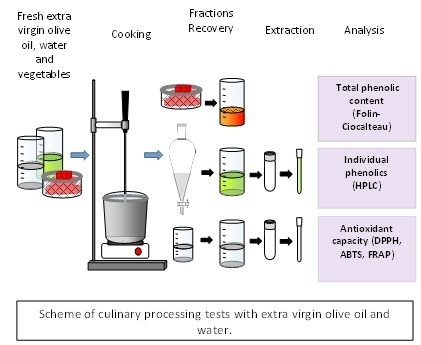 Graphical abstract
This is an open access article distributed under the
Creative Commons Attribution License
which permits unrestricted use, distribution, and reproduction in any medium, provided the original work is properly cited (CC BY 4.0).

Share & Cite This Article
MDPI and ACS Style
Ramírez-Anaya, J.P.; Castañeda-Saucedo, M.C.; Olalla-Herrera, M.; Villalón-Mir, M.; Serrana, H. .-G.; Samaniego-Sánchez, C. Changes in the Antioxidant Properties of Extra Virgin Olive Oil after Cooking Typical Mediterranean Vegetables. Antioxidants 2019, 8, 246.
Note that from the first issue of 2016, MDPI journals use article numbers instead of page numbers. See further details here.
Related Articles
Comments
[Return to top]