Sex-dependent Differences in the Bioenergetics of Liver and Muscle Mitochondria from Mice Containing a Deletion for
glutaredoxin-2
Department of Biochemistry, Memorial University of Newfoundland, St. John's, NL A1B 3X7, Canada
*
Author to whom correspondence should be addressed.
†
These two authors contributed equally to this work.
Received: 17 June 2019 / Revised: 18 July 2019 / Accepted: 24 July 2019 / Published: 26 July 2019
Abstract
Our group recently published a study demonstrating that deleting the gene encoding the matrix thiol oxidoreductase, glutaredoxin-2 (GRX2), alters the bioenergetics of mitochondria isolated from male C57BL/6N mice. Here, we conducted a similar study, examining H
2
O
2
production and respiration in mitochondria isolated from female mice heterozygous (GRX2+/−) or homozygous (GRX2−/−) for glutaredoxin-2. First, we observed that deleting the
Grx2
gene does not alter the rate of H
2
O
2
production in liver and muscle mitochondria oxidizing pyruvate, α-ketoglutarate, or succinate. Examination of the rates of H
2
O
2
release from liver mitochondria isolated from male and female mice revealed that (1) sex has an impact on the rate of ROS production by liver and muscle mitochondria and (2) loss of GRX2 only altered ROS release in mitochondria collected from male mice. Assessment of the bioenergetics of these mitochondria revealed that loss of GRX2 increased proton leak-dependent and phosphorylating respiration in liver mitochondria isolated from female mice but did not alter rates of respiration in liver mitochondria from male mice. Furthermore, we found that deleting the
Grx2
gene did not alter rates of respiration in muscle mitochondria collected from female mice. This contrasts with male mice where loss of GRX2 substantially augmented proton leaks and ADP-stimulated respiration. Our findings indicate that some fundamental sexual dimorphisms exist between GRX2-deficient male and female rodents.
View Full-Text
►

▼

Figures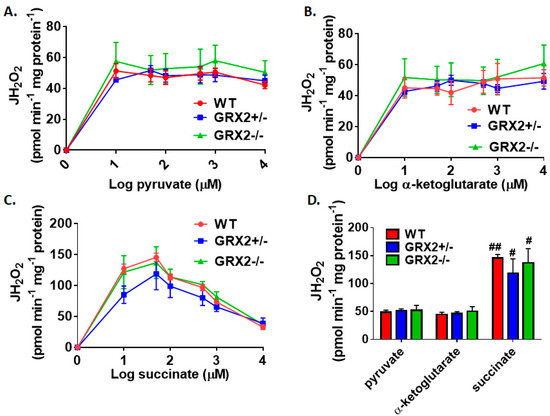 Figure 1
This is an open access article distributed under the
Creative Commons Attribution License
which permits unrestricted use, distribution, and reproduction in any medium, provided the original work is properly cited (CC BY 4.0).

Share & Cite This Article
MDPI and ACS Style
Mallay, S.; Gill, R.; Young, A.; Mailloux, R.J. Sex-dependent Differences in the Bioenergetics of Liver and Muscle Mitochondria from Mice Containing a Deletion for glutaredoxin-2. Antioxidants 2019, 8, 245.
Note that from the first issue of 2016, MDPI journals use article numbers instead of page numbers. See further details here.
Related Articles
Comments
[Return to top]