Antioxidants and Male Fertility: From Molecular Studies to Clinical Evidence
1
Unit for Multidisciplinary Research in Biomedicine (UMIB), Laboratory of Cell Biology, Department of Microscopy, Institute of Biomedical Sciences Abel Salazar (ICBAS), University of Porto, 4050-313 Porto, Portugal
2
Research Group of Intracellular Signaling and Technology of Reproduction (SINTREP), Institute of Biotechnology in Agriculture and Livestock (INBIO G+C), University of Extremadura, 10004 Cáceres, Spain
3
Merck S.A., 1495-190 Algés, Portugal
4
i3S-Instituto de Investigação e Inovação em Saúde, University of Porto, 4200-135 Porto, Portugal
5
Faculty of Medicine, University of Porto, 4200-319 Porto, Portugal
*
Authors to whom correspondence should be addressed.
Received: 14 March 2019 / Revised: 1 April 2019 / Accepted: 3 April 2019 / Published: 5 April 2019
Abstract
Spermatozoa are physiologically exposed to reactive oxygen species (ROS) that play a pivotal role on several sperm functions through activation of different intracellular mechanisms involved in physiological functions such as sperm capacitation associated-events. However, ROS overproduction depletes sperm antioxidant system, which leads to a condition of oxidative stress (OS). Subfertile and infertile men are known to present higher amount of ROS in the reproductive tract which causes sperm DNA damage and results in lower fertility and pregnancy rates. Thus, there is a growing number of couples seeking fertility treatment and assisted reproductive technologies (ART) due to OS-related problems in the male partner. Interestingly, although ART can be successfully used, it is also related with an increase in ROS production. This has led to a debate if antioxidants should be proposed as part of a fertility treatment in an attempt to decrease non-physiological elevated levels of ROS. However, the rationale behind oral antioxidants intake and positive effects on male reproduction outcome is only supported by few studies. In addition, it is unclear whether negative effects may arise from oral antioxidants intake. Although there are some contrasting reports, oral consumption of compounds with antioxidant activity appears to improve sperm parameters, such as motility and concentration, and decrease DNA damage, but there is not sufficient evidence that fertility rates and live birth really improve after antioxidants intake. Moreover, it depends on the type of antioxidants, treatment duration, and even the diagnostics of the man's fertility, among other factors. Literature also suggests that the main advantage of antioxidant therapy is to extend sperm preservation to be used during ART. Herein, we discuss ROS production and its relevance in male fertility and antioxidant therapy with focus on molecular mechanisms and clinical evidence.
View Full-Text
►

▼

Figures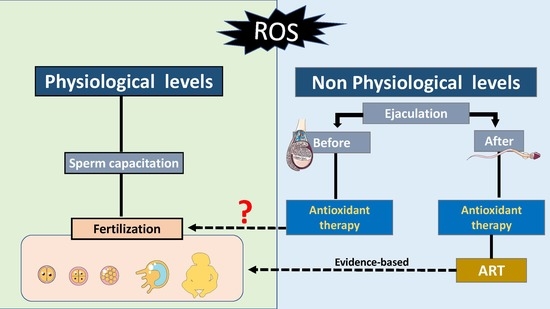 Graphical abstract
This is an open access article distributed under the
Creative Commons Attribution License
which permits unrestricted use, distribution, and reproduction in any medium, provided the original work is properly cited (CC BY 4.0).

Share & Cite This Article
MDPI and ACS Style
Martin-Hidalgo, D.; Bragado, M.J.; Batista, A.R.; Oliveira, P.F.; Alves, M.G. Antioxidants and Male Fertility: From Molecular Studies to Clinical Evidence. Antioxidants 2019, 8, 89.
Note that from the first issue of 2016, MDPI journals use article numbers instead of page numbers. See further details here.
Related Articles
Comments
[Return to top]