Open Access This article is
freely available
re-usable
Review
Role of Melatonin to Enhance Phytoremediation Capacity
Department of Plant Biology (Plant Physiology), Faculty of Biology, University of Murcia, 30100-Murcia, Spain
*
Author to whom correspondence should be addressed.
Received: 4 November 2019 / Accepted: 2 December 2019 / Published: 4 December 2019
Abstract
:
Phytoremediation is a green technology that aims to take up pollutants from soil or water. Metals are one of the targets of these techniques due to their high toxicity in biological systems, including plants and animals. Their elimination or, at least, decrease will help keep them from being incorporated in the trophic chain and thus reaching animal and human food. The metal removal efficiency of plants is closely related to their growth rate, tolerance, and their adaptability to different environments. Melatonin (
N
-acetyl-5-methoxytryptamine) is a ubiquitous molecule present in animals, plants, fungi, and bacteria. In plants, it plays an important role related to antioxidant activity, but also as an important redox network regulator. Thus, melatonin has been defined as a biostimulator of plant growth, especially under environmental stress conditions, whether abiotic (water deficit and waterlogging, extreme temperature, UV radiation, salinity, alkalinity, specific mineral deficit/excess, metals and other toxic compounds, etc.) or biotic (bacteria, fungi, and viruses). Exogenous melatonin treated plants have been seen to have a high tolerance to stressors, minimizing possible harmful effects through the control of reactive oxygen species (ROS) levels and activating antioxidative responses. Furthermore, important gene expression changes in stress specific transcription factors have been demonstrated. Melatonin is capable of mobilizing toxic metals, through phytochelatins, transporting this, while sequestration adds to the biostimulator effect of melatonin on plants, improving plant tolerance against toxic pollutants. Furthermore, melatonin improves the uptake of nitrogen (N), phosphorus (P), and sulfur (S) in stress situations, enhancing cell metabolism. In light of the above, the application of melatonin seems to be a useful option for clearing toxic pollutants from the environment by improving phytoremediation. Interestingly, a variety of stressors induce melatonin biosynthesis in plants, and the study of this endogenous response in hyperaccumulator plants may be even more interesting as a natural response of the phytoremediation of diverse plants.
Keywords:
abiotic stress; biostimulators; cadmium; cobalt; copper; heavy metals; lead; nickel; plant growth promoters; zinc
2. How Can Melatonin Contribute in a More Efficient Phytoremediation?
Decarboxylation of aromatic amino acids by specific decarboxylases leads to the production of starter compounds for the biosynthesis of secondary metabolites involved in stress resilience mechanisms [
28
]. More in particular, plant tryptophan decarboxylase (TDC) converts tryptophan into tryptamine [
28
], the precursor of N-acetyl-5-methoxytryptamine, known commonly as melatonin [
29
]. The protective effect of melatonin against abiotic stress situations in plants has been widely studied. Melatonin acts as an effective free radical scavenger against harmful reactive molecules, both reactive oxygen (ROS) and reactive nitrogen (RNS) species, such as hydroxyl radical, superoxide anion, singlet oxygen, hydrogen peroxide, hypochlorous acid, nitric oxide, peroxynitrite anion, peroxynitrous acid, and lipid peroxyl radicals, among others. The excellent properties of melatonin as an in vivo antioxidant against ROS/RNS, the absence of pro-oxidant effects, and the cascade antioxidant effect of melatonin related compounds have been the objective of a great number of researchers [
30
]. Melatonin is a more effective antioxidant than vitamin C and E, with a scavenging activity 4–6 fold higher [
31
]. Furthermore, the amphipathic properties of melatonin permit it to scavenge free radicals in both hydrophilic and lipophilic media [
30
,
32
,
33
,
34
,
35
,
36
,
37
,
38
]. This direct chemical action of melatonin with ROS and RNS has been referred to as a receptor independent action [
39
].
In addition to this direct action, melatonin is capable of inducing many changes in gene expression. Melatonin changes the expression of a great number of gene elements in different physiological situations both in plant and animal cells [
40
,
41
,
42
]. Among the most studied melatonin mediated aspects in plants are the responses to abiotic stress (heat, cold, drought, salinity, alkalinity, heavy metals, and other toxic agents such as herbicides, fungicides, diverse contaminants) and biotic stress (fungi, virus, and bacteria). Furthermore, processes such as foliar senescence, growth and development, germination, rooting induction, flowering, parthenocarpy, fruit set, and fruit ripening were studied. Others aspects, such as photosynthesis and its regulation, primary and secondary metabolism, including osmoregulation, and the regulation of plant hormones (auxin, gibberellins, cytokinins, abscisic acid, ethylene, jasmonates, salicylic acid, polyamines, brassinosteroids, strigolactones) have been also analyzed [
41
,
43
,
44
,
45
,
46
,
47
,
48
,
49
].
In general, melatonin induces several gene expression changes in plants that result in a biostimulating response [
41
]. Due to the diversity of its actions, melatonin has been proposed as a plant master regulator, but also as a new plant hormone since its receptor (PMTR1) has been identified in
Arabidopsis
[
41
,
50
]. Melatonin acts as a main regulator of the redox network in plants, controlling directly and indirectly the ROS/RNS levels and the gene expression of many factors through the nitric oxide signaling cascade, among other pathways [
51
]. As a result, melatonin regulates redox network homeostasis, balancing several ROS and RNS and related key enzyme expressions (NOS-like, NR, RbOHs, ASA-GSH cycle, antioxidant enzymes). It is also one of the main intermediates in many cellular and physiological responses, as is depicted in the integrative model of
Figure 1
.
3. Metals as a Severe Abiotic Stress and Effects Induced by Melatonin in Plants
4. Abiotic Stressors Induce a Melatonin Burst that Activates Anti-Stress Responses
Endogenous melatonin levels change with environmental conditions of plant growth. Melatonin is accumulated as a protective molecule in response to different environmental abiotic stressors, such as water deficit and waterlogging, cold and heat, UV radiation, soil heavy chemicals and related, among others [
41
,
48
,
99
].
Table 2
shows some studies on the increase of endogenous melatonin levels by the presence of different abiotic stressors. Thus, the expression of the biosynthesis enzyme transcripts (TDC, SNAT, ASMT, and COMT genes) occurs in stress situations, producing a burst in the levels of endogenous melatonin. The global influence of environmental factors on the melatonin levels of plant organs was clearly demonstrated in barley, tomato, and lupin plants by Arnao and co-workers [
99
,
100
,
101
]. This effect was previously suggested in water hyacinth plants [
52
], and later corroborated in grape berry skin [
102
] and cherry fruits [
103
]. Salinity, cold, drought, and heavy metals have been the abiotic environmental agents most frequently studied as inducers of melatonin biosynthesis in plants, although attack by pathogens also induces the biosynthesis of melatonin (
Table 2
). This interesting response of stressed tissues clearly induces tolerance, fortifying the redox network against ROS and RNS and upregulating the expression of stress specific response genes. All this relieves the inhibitory processes due to stress and reinforces plant growth and critical processes such as photosynthesis, water economy, metabolism, etc. [
41
,
51
,
104
,
105
]. The remediation efficiency is directly correlated to higher biomass and an improved tolerance of plants to toxic pollutants. Studies made with melatonin suggested that the stimulatory effects of melatonin on biomass and antioxidative defense machinery are reinforced by a strong primary and secondary metabolism and also by plant hormone stress responses. Melatonin acts as a biostimulator and/or protector of photosynthesis and the stomatal apparatus, upregulating many elements of photosystems, thylakoid electron transporters, and ATP-ase genes. Melatonin also optimizes stomata functionality (e.g., by causing increased stomata opening) in adverse conditions through the regulation of guard cell anion channel proteins and dehydrins, all of which increase CO
2
availability. In the Calvin cycle, melatonin regulates the expression of RuBisCO elements, glyceraldehyde-3-phosphate dehydrogenases, and interconversion carbohydrate enzymes. In addition, elements of the ASC-GSH cycle, TCA cycle, and myo-inositol and fatty acid biosynthesis pathways are also regulated by melatonin. As regards osmoregulation, higher levels of proline, carbohydrates (glucose, maltose, fructose, sucrose, and trehalose), and a multitude of amino acids and organic acids in melatonin treated plants had beneficial effects under abiotic stress conditions. Thus, relevant changes in carbohydrate, lipid, amino acid, nitrogen, phosphorus, and sulfur metabolism indicate the beneficial physiological processes that occur in melatonin treated plants during abiotic stress [
86
,
87
,
106
,
107
,
108
,
109
]. Melatonin is also involved in secondary metabolism, where it induces anthocyanin biosynthesis and flavonoids [
110
,
111
] and also regulates steps in the carotenoid biosynthesis [
76
,
112
]. Finally, melatonin regulates the expression of multiple elements (enzymes, receptors, and transcription factors) in the biosynthesis, catabolism, and signaling of auxin, gibberellins, cytokinins, ABA, ethylene, jasmonic acid, SA, brassinosteroid, strigolactones, and polyamines [
41
,
46
,
48
] (
Figure 1
).
5. Conclusions and Expectations
The application of melatonin on plants seems to be a useful option for cleaning toxic pollutants from the environment by improving phytoremediation processes. In this capacity, three aspects should be taken into account: (i) the inhibitory effect of metals or toxic agents on growth and other basic functions such as metabolism and photosynthesis, (ii) the ability of cells to mobilize, absorb, and sequester the said agents, and (iii) other adverse elements that usually accompany the presence of contaminants such as drought, salinity, extreme temperatures, etc. The beneficial effects of melatonin described above were seen to cover all three cases. The potential of melatonin to mobilize toxic metals, through phytochelatins, their transport, and sequestration adds to the general biostimulatory effect of melatonin on plants, resulting in a high degree of plant tolerance against toxic substances (
Figure 2
). Furthermore, the improvement in the absorption and metabolism of elements such as N, P, and S helps the process. Although data are still limited, it seems that the presence of several stressors (e.g., metals and drought) synergistically induces the response of melatonin biosynthesis, which reinforces the overall response of the system. Beyond the use of transgenic plants that overaccumulate melatonin, the application of exogenous melatonin or the induction of its biosynthesis through environmental elicitors can be excellent strategies for phytoremediation purposes. There are clear benefits to be had from further studying the applicability of melatonin for phytoremediation purposes. As regards plant species, more research into the biochemical and physiological aspects of melatonin in hyperaccumulator plants is indispensable, furthering our knowledge of the synergistic effect of abiotic stressors on endogenous melatonin levels and its phytoremediation capacity. Furthermore, the modes of application of exogenous melatonin through the roots and/or through the leaves should be studied, although its amphipathic nature already means that we know that it is well absorbed at both sites (rhizosphere and leaves) without the need for adjuvants and that it is easily transported throughout the plant. Sufficient data are available to suggest the potential of melatonin to improve phytoremediation, but the last decisive step needs to be taken: testing in real field situations.
Author Contributions
The manuscript was conceived by M.B.A. and written by M.B.A. and J.H.-R.
Funding
No external financial support available for this review.
Conflicts of Interest
The authors declare no conflicts of interest.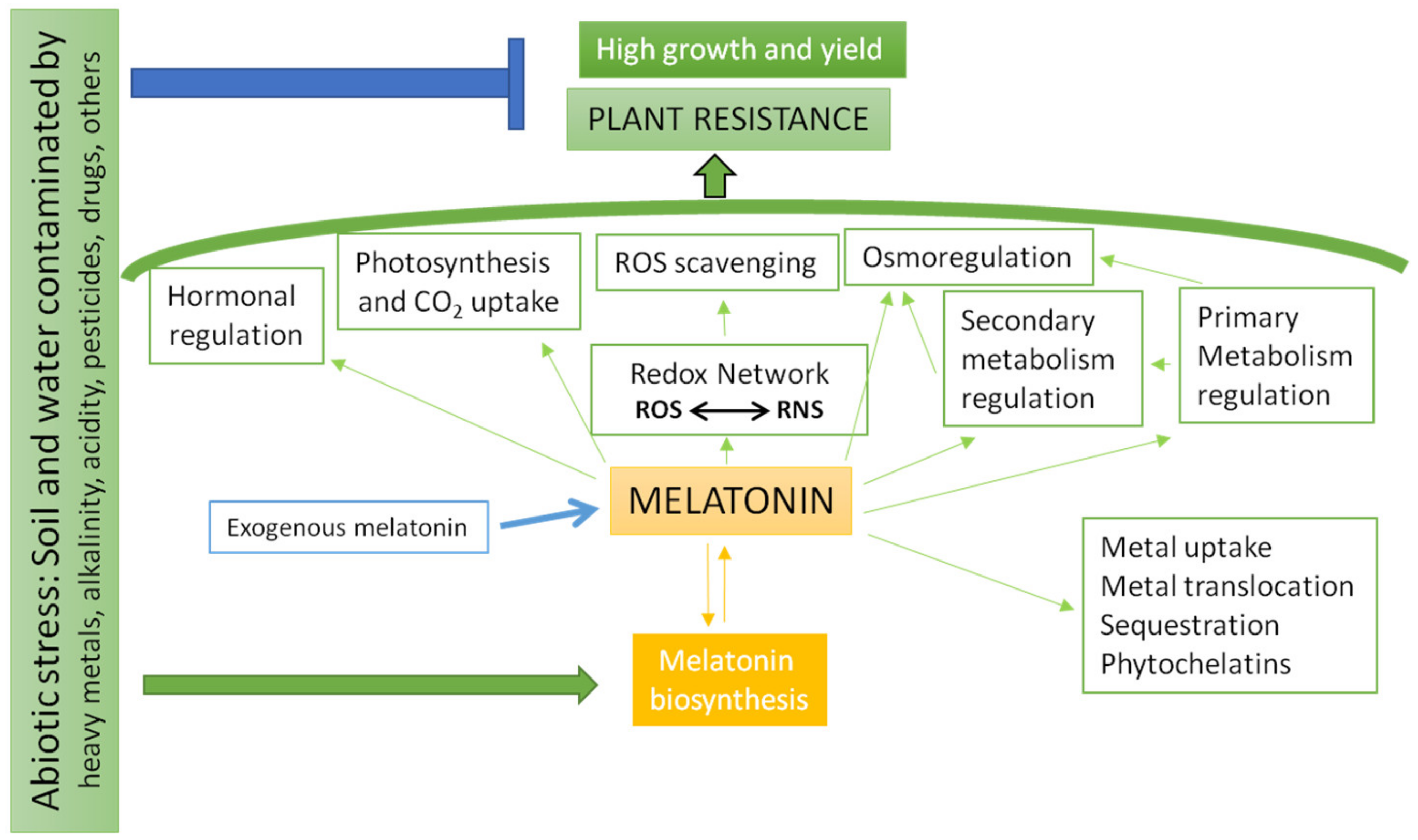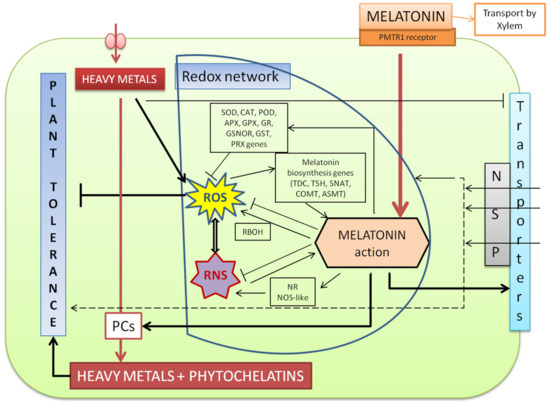 Figure 2. Integrated model of melatonin, the redox network, and phytochelatin (PCs) action focused on plant tolerance against heavy metal contaminants in plant cells.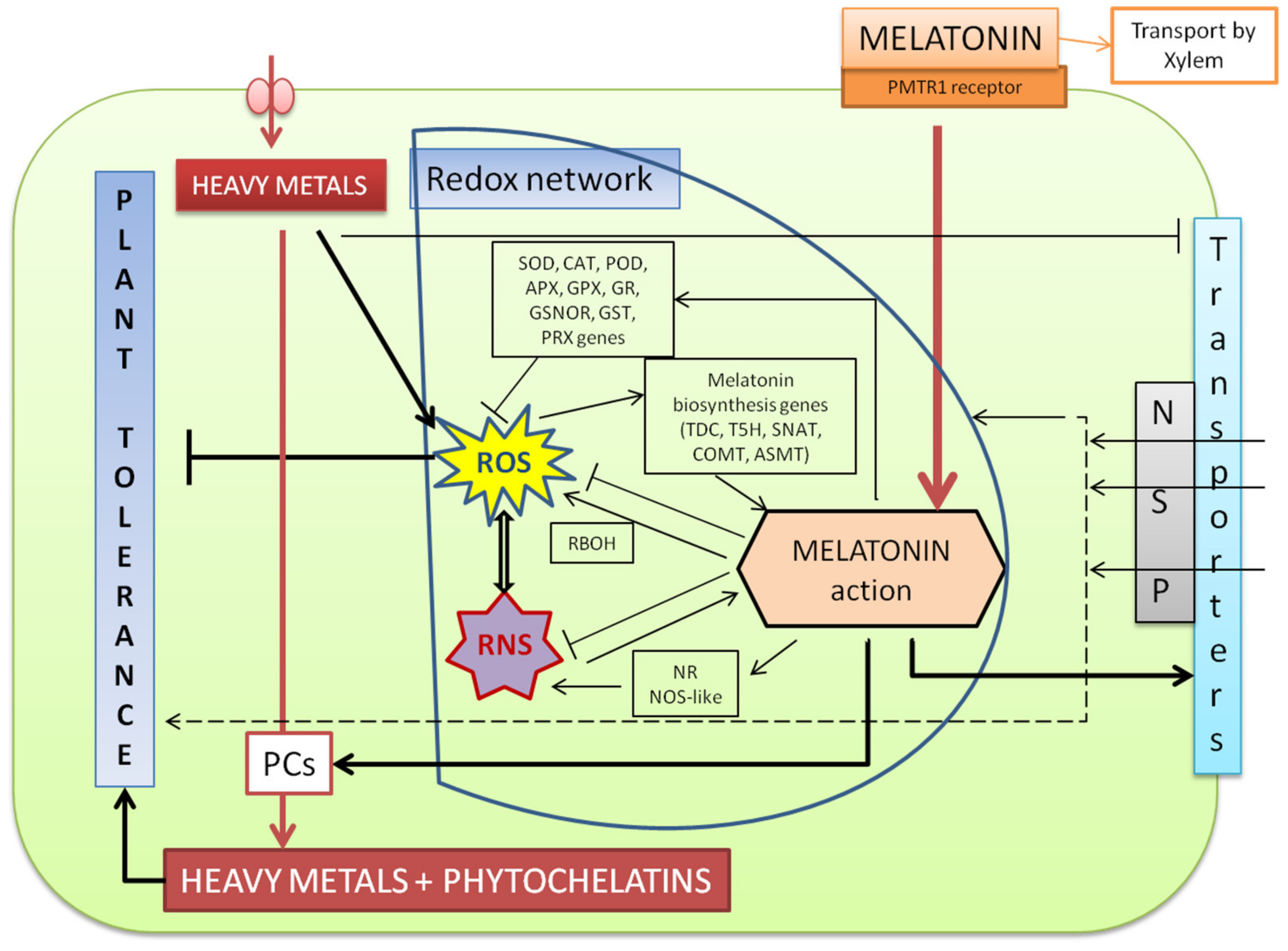 Table 1. Studies of responses to melatonin treatments in the presence of several metals (or others) by different plant species.
Stress Type
Plant Species
Melatonin Treatment (µM)
Effects Observed
Reference
Cd
Alfalfa
10–200
↑ tolerance, growth, Cd transporters, ↓ Cd roots, ROS
[57]
Cd
Rice
MOE *
↑ tolerance, growth, photosynthesis, redox balance, panicle number, grain yield
[58,59]
Cd
Tomato
25–500
↑ Cd tolerance, phytochelatins, ATPase activity
[60]
Cd
Tomato
MOE
↑ Cd tolerance, heat-shock factor A1a, induced by melatonin
[61]
Cd
Tomato
25
↑ Cd tolerance, melatonin biosynthesis, ↓ Cd leaf
[62]
Cd
Tomato
100
↑ Cd tolerance, melatonin biosynthesis, S uptake, S assimilation, antioxidant enzymes, PCs, GSH
[63]
Cd
Wheat
100
↑ tolerance, antioxidant enzymes, ASA, GSH, ↓ ROS
[64]
Cd
Wheat
50–100
↑ tolerance, plant growth, Chls, PSII maximum efficiency, RWC, K+, Ca2+, ↓ ROS, Cd, MDA, NO
[65]
Cd

Malachium aquaticum

and

Galinsoga parviflora

100–200
↑ tolerance, biomass, Chls, antioxidant enzymes, Cd shoots concentration dependent
[54]
Cd

Cyphomandra betacea

50–150
↑ plant growth, Cd leaves, shoots, stems, antioxidant enzymes
[55]

Perilla frutescens

100–200
↑ root and shoot biomass, Chls, antioxidant enzymes, soluble protein, Cd root and shoot
[66]
Cd/Se
Tomato
MOE
↑ growth, photosynthesis, electrolyte leakage, phytochelatins, GSH, ↓ ROS, Cd leaf
[56]
Cd/Zn
Valerian and
1000
↑ tolerance, plant growth, antioxidant enzymes
[67]
Lemon balm
Cu
Red cabbage
1–100
↑ germination, growth, ↓ membrane peroxidation
[68]
Cu
Cucumber
0.01
↑ tolerance, growth, Cu-sequestration, TCA, ATP, GSH, ↓ ROS
[69]
Cu
Pea
5
↑ plant survival
[53]
Zn
Wheat
1000
↑ tolerance, Chls, photosynthesis, Rubisco, ATPase
[70]
Al
Soybean
0.1–1
↑ tolerance, root growth, antioxidant enzymes, osmoregulation, ↓ ROS
[71]
Al

Arabidopsis

1–10
↑ tolerance, root growth, cell division
[72]
Pb
Maize
50–100
↑ tolerance, growth, photosynthesis, Chls, RWC, K, Ca levels, ↓ ROS, MDA
[73]
Pb
Bermudagrass
20–100
↑ tolerance, biomass, Chls, RWC, ASA, GSH, antioxidant enzymes, ↓ ROS, lipid peroxidation
[74]
V
Watermelon
0.1
↑ tolerance, growth, photosynthesis, antioxidant enzymes, ↓ V level, V transport, ROS, MDA
[75]
Boron
Pepper
1
↑↑ tolerance, growth, photosynthesis, antioxidant enzymes, carotenoids, ↓ B in leaf and fruit, toxicity, ROS, MDA
[76]
Boron
Spinach
100–300
↑ tolerance, growth, photosynthesis, RWC, CO2 uptake, sugars, carotenoids, redox balance, ↓ ROS, MDA
[77]
Fluoride
Pigeon pea
100
↑ tolerance, growth, antioxidant capacity, protein, proline, ASA, GSH, antioxidant enzymes, genomic template stability, ↓ ROS, cell death, lipid peroxidation, lipase activity, DNA polymorphism
[78]
Alkalinity
Apple
5
↑ tolerance, root system, redox balance, polyamines
[79]
Alkalinity
Tomato
0.25–1
↑ seedling growth, photosynthesis, ion homeostasis, Na+ detoxification, dehydration resistance, ROS homeostasis,

DREB1α

and

IAA3

transcription factors
[80,81]
Acid rain
Tomato
100
↑ tolerance, growth, chloroplast integrity, photosynthesis, antioxidant enzymes, ↓ ROS, MDA
[82]
Salinity, Fe-low
Pepper
100
↑ growth, Chls, photosynthesis, fruit yield, Fe, K uptake, antioxidant enzymes
[83]
Fe-low

Arabidopsis

5
↑ melatonin, Fe shoots and roots, Fe mobilization, NO, polyamines, ↓ chlorosis, Fe root cell walls, ROS
[84]
S-low
Tomato
100
↑ S uptake, assimilation, transport and metabolism, peroxiredoxins, redox homeostasis, ↓ ROS, DNA damage
[85]
N-low
Wheat
1
↑ N and nitrate, N absorption, N metabolism, growth, yield, in shoots and roots
[86]
N-excess
Cucumber
100
↑ tolerance, growth, NPK balance, Ca, ↓ damage, nitrate, ammonium
[87]
Cinnamic acid
Cucumber
100
↑ tolerance, growth, water and nutrient balance, hormonal balance
[88]
Butafenacil
Rice
MOE
↑ herbicide tolerance, Chls, antioxidant enzymes, ↓ ROS, MDA
[89]
Fluopicolide
Potato
1–10
↑ fungicide tolerance, ↓ ROS, potato late blight, mycelial growth of

P. infestans

[90]
Paraquat
Pea
50–200
↑ Chls, porphyrin synthesis pathway, ↓ herbicide damage, Chl breakdown
[91]
Carbendazim
Tomato
0.5/MOE
↑ fungicide tolerance, antioxidant enzymes, ASA-GSH cycle, ↓ ROS, MDA
[92]
↑, Increased content or increased action. ↓, Decreased content or decreased action. * MOE, melatonin biosynthesis enzymes overexpressed in plants.
Plant Species
Abiotic Stressor
Increased Level of
Melatonin vs. Control
Reference
Alfalfa
Waterlogging
2–4.5-fold
[113]

Arabidopsis

Cold
2-fold
[114]
Heat
2–5-fold
[115]
NaCl, drought, cold
3–6-fold
[116]
Fe deficiency
6-fold
[84]
Drought
4-fold *
[117]
Barley
Zn, NaCl, H2O2
6-fold
[100]
Barley
Drought, cold
2-fold
[118]
Bermudagrass
NaCl, drought, cold
2–3-fold
[106,119]
Cassava
Bacterial blight
1.2–4-fold *
[120]
Cherry
Field growth conditions
10-fold
[103]
Grape
Field growth conditions
15-fold
[102]
Lupin
Zn, NaCl, H2O2
Cold, drought
1.5–12-fold
[99]

Malus

Drought
1.5–6-fold *
[121]
Rice
Cd
6-fold
[122]
Cold, salt, drought, pathogen
1.5–4.5-fold *
[123]
Ryegrass
Darkness
2-fold
[124]
Sunflower
NaCl
2–6-fold
[125]
Tomato
Field growth conditions
10-fold
[101]
Cd
1.6–4-fold
[62]
Cd
2-fold
[60]
Cd
2–15-fold *
[63]
High temperature
2–15-fold *
[126]

Vitis

NaCl
Osmotic
5.5-fold
1.5-fold
[127]
Water hyacinth
Field growth conditions
2-fold
[52]
Watermelon
V
4-fold *
[75]
* Number of increments of one or more transcripts of melatonin biosynthesis enzymes due to stressor presence.

© 2019 by the authors. Licensee MDPI, Basel, Switzerland. This article is an open access article distributed under the terms and conditions of the Creative Commons Attribution (CC BY) license (http://creativecommons.org/licenses/by/4.0/).