AR Displays: Next-Generation Technologies to Solve the Vergence–Accommodation Conflict
1
LightSpace Technologies, 1 Ziedleju, LV-2167 Marupe, Latvia
2
Hansamatrix Innovation, 1 Ziedleju, LV-2167 Marupe, Latvia
3
EuroLCDs, Ventspils Augsto tehnoloģiju parks 2, LV-3602 Ventspils, Latvia
4
Hansamatrix Ventspils, Ventspils Augsto tehnoloģiju parks 1, LV-3602 Ventspils, Latvia
*
Authors to whom correspondence should be addressed.
Received: 1 July 2019 / Revised: 25 July 2019 / Accepted: 31 July 2019 / Published: 2 August 2019
Abstract
Augmenting reality (AR) holds many benefits in how people perceive information and use it in their workflow or leisure activities. A cohesive AR experience has many components; nevertheless, the key is display technologies. The current industry standard for the core solution is still conventional stereoscopy, which has proven to be inadequate for near-work due to the caused vergence–accommodation conflict and the inability to precisely overlay the 3D content on the real world. To overcome this, next-generation technologies have been proposed. While the holographic method holds the highest potential of being the ultimate solution, its current level of maturity is not sufficient to yield a practical product. Consequently, the next solution for near-work-capable AR displays will be of another type. LightSpace Technologies have developed a static multifocal display architecture based on stacked liquid crystal-based optical diffuser elements and a synchronized high-refresh rate image projector. A stream of 2D image depth planes comprising a 3D scene is projected onto respective physically-separated diffuser elements, causing the viewer to perceive a scene as continuous and having all relevant physical as well as psychological depth cues. A system with six image depth planes yielding 6 cpd resolution and 72° horizontal field-of-view has been demonstrated to provide perceptually continuous accommodation over 3.2 Diopter range. A further optimization by using a conventional image combiner resulted in the compact and practical design of the AR display.
View Full-Text
►

▼

Figures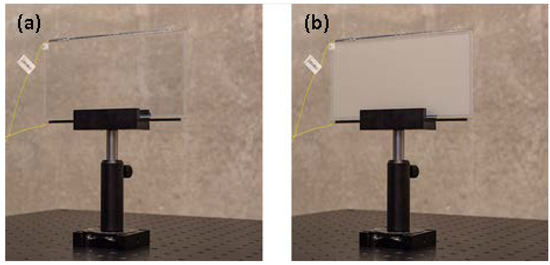 Figure 1
This is an open access article distributed under the
Creative Commons Attribution License
which permits unrestricted use, distribution, and reproduction in any medium, provided the original work is properly cited (CC BY 4.0).

Share & Cite This Article
MDPI and ACS Style
Zabels, R.; Osmanis, K.; Narels, M.; Gertners, U.; Ozols, A.; Rūtenbergs, K.; Osmanis, I. AR Displays: Next-Generation Technologies to Solve the Vergence–Accommodation Conflict. Appl. Sci. 2019, 9, 3147.
Note that from the first issue of 2016, MDPI journals use article numbers instead of page numbers. See further details here.
Related Articles
Comments
[Return to top]