Late Pleistocene Post-Glacial Sea Level Rise and Differential Preservation of Transgressive "Sand Ridge" Deposits in the Adriatic Sea
Istituto di Geologia Ambientale e Geoingegneria (CNR-IGAG), UOS Sapienza Università di Roma, Piazzale Aldo Moro 5, 00185 Rome, Italy
Received: 7 December 2017 / Revised: 31 January 2018 / Accepted: 6 February 2018 / Published: 8 February 2018
Abstract
Linear sand bodies with ridged or mounded morphology are commonly referred to as "sand ridges". Their origin may reflect a great variety of depositional processes and environments, although many examples from modern shelves include near-shore transgressive deposits formed during the last post-glacial sea level rise. These transgressive sand ridges, however, are not present on all the margins drowned during this interval, indicating that local environmental factors contribute to their formation and preservation. Transgressive sand ridges are recognized on the South Adriatic shelf in water depths between 90 and 120 m, where they overlay a major unconformity originated during the last glacial sea level fall and lowstand. In contrast, they are absent on the Central Adriatic shelf, where transgressive deposits above the glacial unconformity fill erosional scours without forming relief on the seafloor. The transgressive sand ridges on the South Adriatic shelf appear roughly elongated parallel to the bathymetric contour and are locally as thick as 15–20 m. Core data indicate an overall coarse-grained composition, with a relevant bioclastic component. Their limited distribution reflects the importance of local variation in shelf morphology and sediment sourcing at the onset of sea level rise. In particular, their deposition and preservation are favored in less subsiding shelf sectors characterized by higher gradients and tectonic relief, where transgressive erosion and reworking of pre-existing lowstand deposits is also more efficient.
View Full-Text
►

▼

Figures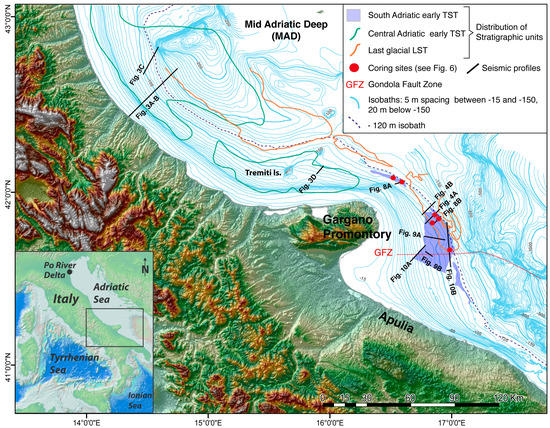 Figure 1
This is an open access article distributed under the
Creative Commons Attribution License
which permits unrestricted use, distribution, and reproduction in any medium, provided the original work is properly cited (CC BY 4.0).

Share & Cite This Article
MDPI and ACS Style
Ridente, D. Late Pleistocene Post-Glacial Sea Level Rise and Differential Preservation of Transgressive "Sand Ridge" Deposits in the Adriatic Sea. Geosciences 2018, 8, 61.
Note that from the first issue of 2016, MDPI journals use article numbers instead of page numbers. See further details here.
Related Articles
Comments
[Return to top]