Evaluation of Performance, Nitrogen Metabolism and Tissue Composition in Barrows Fed an n-3 PUFA-Rich Diet
National Research Development Institute for Animal Biology and Nutrition, IBNA Balotesti, Calea Bucuresti nr. 1, Ilfov 077015, Romania
*
Author to whom correspondence should be addressed.
Received: 19 March 2019 / Revised: 6 May 2019 / Accepted: 9 May 2019 / Published: 13 May 2019
Simple Summary
The metabolic response of pigs to nutritional treatment was highlighted in a variety of ways. Since the literature related to the effects of an n-3-rich diet on product quality have shown a number of health advantages, one of the next steps could be the consideration of the relation between an n-3 polyunsaturated fatty acid (PUFA)-rich diet and nutrient metabolism with a focus on nitrogen as an important indicator of protein synthesis and degradation. It is important to understand how unconventional diets affect the environment with respect to consumer demand regarding the quality of products and the health status of animals. Therefore, novel compound feed formulas to improve feeding efficiency by decreasing the n-6:n-3 fatty acid ratio are needed. However, it is assumed that by changing the fatty acid profile, certain plasma or tissue parameters could be directly affected as well. In our study, we modified the n-6:n-3 ratio in different barrow tissues by the dietary addition of extruded linseed associated with walnut meal employing a mixture of 50:50 (wt/wt) n-3 fatty acids as dietary enrichment. This paper also gives information about the influence of extruded linseed/walnut meal mixture on performance and nitrogen metabolism in barrows.
We investigated changes in nitrogen metabolism and chemical, fatty acid (FA) and amino acid (AA) composition in tissues (longissimus dorsi (LD) and semitendinosus (ST) muscles, heart, spleen, liver and cecum) following the dietary addition of extruded linseed and walnut meal (50:50 mix). Plasma creatinine and urea nitrogen were determined as well. Two trials were designed using barrows (five replicates) allotted in two groups [(control, (SM) and experimental, (LEW))] in metabolic cages. The experimental diet rich in n-3 FA led to a significant increase of retained nitrogen (>8.09% in the LEW group). The biological value of feed protein was 14.8% higher in the LEW group than in the SM group. LD muscles from the SM group and liver from the LEW group had greater nitrogen contents, whereas the heart and spleen had lower concentrations of nitrogen in the LEW group. Diet had a pronounced effect on n-3 FA, particularly on α-linolenic fatty acid (ALA) (
p
< 0.0001). The highest levels of ALA were recorded in the cecum (>6.06 times in LEW) and heart (>5.44 times in LEW). The highest level of lysine was noticed in the LD muscle (>2.1% in SM). An n-3-rich diet significantly reduced the amount of nitrogen excreted; greater than 40% nitrogen was retained, thus improving the meat composition.
View Full-Text
►

▼

Show Figures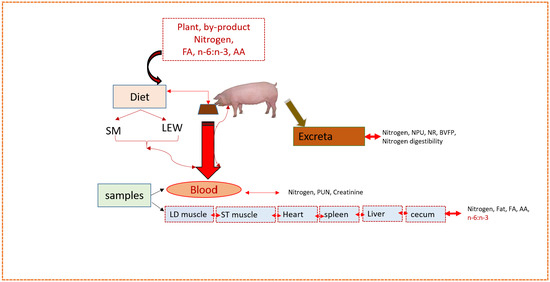 Graphical abstract
This is an open access article distributed under the
Creative Commons Attribution License
which permits unrestricted use, distribution, and reproduction in any medium, provided the original work is properly cited

MDPI and ACS Style
Hăbeanu, M.; Lefter, N.A.; Gheorghe, A.; Untea, A.; Ropotă, M.; Grigore, D.-M.; Varzaru, I.; Toma, S.M. Evaluation of Performance, Nitrogen Metabolism and Tissue Composition in Barrows Fed an n-3 PUFA-Rich Diet. Animals 2019, 9, 234.
Show more citation formats
Show less citations formats
Note that from the first issue of 2016, MDPI journals use article numbers instead of page numbers. See further details
here
.