The Effects of Environmental Enrichment on the Physiology, Behaviour, Productivity and Meat Quality of Pigs Raised in a Hot Climate
1
Animal Welfare Program, IRTA, Veïnat de Sies s/n, 17121 Monells, Spain
2
Physiological and Behavioural Mechanisms of Adaptation Department, IRSEA (Research Institute in Semiochemistry and Applied Ethology), Quartier Salignan, 84400 Apt, France
3
Interdisciplinary Laboratory of Clinical Analysis (Interlab-UMU), Regional Campus of International Excellence 'Campus Mare Nostrum', University of Murcia, Campus de Espinardo s/n, Espinardo, 30100 Murcia, Spain
4
Department of Animal and Food Science, School of Veterinary Science, Autonomous University of Barcelona, 08193 Bellaterra (Barcelona), Spain
*
Author to whom correspondence should be addressed.
Received: 26 March 2019 / Revised: 3 May 2019 / Accepted: 9 May 2019 / Published: 13 May 2019
Simple Summary
European Union (EU) legislation states that the routine tail docking of pigs should not be carried out and that manipulable materials should be made available to all pigs to prevent tail biting and allow them to behave naturally. However, between 90 and 95% of pigs within the EU still have their tails docked to avoid the risk of tail biting. Farmers say they require information tailored to their particular production systems before they abandon this practice. In this study, four types of enrichment materials used in Spanish pig fattening production systems are compared. Most of these systems have fully slatted floors and high external temperatures for considerable periods of the year. The effects of chains (the control group), wood, paper or straw in a rack on the behaviour, health/physiology, performance and meat and carcass quality are evaluated. Straw in a rack was found to be the best material to meet the behavioural needs of pigs, whereas paper met the criteria of being manipulable, but only for a short period. To avoid the risk of blockages in the slurry system, there are some practical issues to consider and improvements to be made to the design of the rack for providing straw used in this study.
Abstract
Some positive effects regarding the use of enrichment material on the stimulation of pig exploration and a reduction in redirected behaviour was reported. This study aims to evaluate the effects of four enrichment materials on the behaviour, physiology/health, performance and carcass and meat quality in pigs kept in Spanish production conditions. Ninety-six male pigs (six pigs/pen) ranging from 70 to 170 days old were used. Chains were used for the control group (CH), and wooden logs (W), straw in a rack (S) or paper (P) were also used. The pigs were subjected to two pre-slaughter treatments: 0 or 12 h of fasting. Their behaviour was observed for 12 weeks using scan and focal sampling. Samples of the Neutrophil: Lymphocyte (N:L) ratio and lactate were obtained from the pigs at 66 and 170 days old. Saliva samples for Chromogranin-A (CgA) were obtained at 67, 128, 164 and 170 days old. The weight, skin lesions and feed intake of the pigs were recorded. S triggered more exploratory behaviour than W and CH (
P
< 0.001). Skin lesions and redirected behaviour were lower for pigs with S (
P
< 0.01 and P < 0.05, respectively). The pigs offered S presented lower CgA after no fasting than pigs with P or CH (
P
= 0.055). Lactate was higher in pigs with W and CH treatments, regardless of fasting (
P
< 0.05). The N:L ratio increased over time (
P
< 0.05). No other significant effects were found. Overall, straw in a rack was the enrichment material that enhanced pig inherent behaviour.
View Full-Text
►

▼

Figures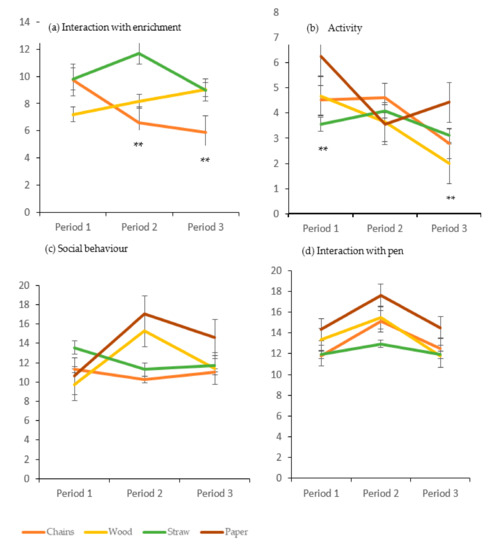 Figure 1
This is an open access article distributed under the
Creative Commons Attribution License
which permits unrestricted use, distribution, and reproduction in any medium, provided the original work is properly cited (CC BY 4.0).

Share & Cite This Article
MDPI and ACS Style
Fàbrega, E.; Marcet-Rius, M.; Vidal, R.; Escribano, D.; Cerón, J.J.; Manteca, X.; Velarde, A. The Effects of Environmental Enrichment on the Physiology, Behaviour, Productivity and Meat Quality of Pigs Raised in a Hot Climate. Animals 2019, 9, 235.
Note that from the first issue of 2016, MDPI journals use article numbers instead of page numbers. See further details here.
Related Articles
Comments
[Return to top]