Betaine and Antioxidants Improve Growth Performance, Breast Muscle Development and Ameliorate Thermoregulatory Responses to Cyclic Heat Exposure in Broiler Chickens
1
Faculty of Veterinary and Agricultural Sciences, The University of Melbourne, Parkville, Victoria 3010, Australia
2
Feedworks Pty Ltd., Romsey, Victoria 3434, Australia
*
Author to whom correspondence should be addressed.
Received: 17 August 2018 / Revised: 14 September 2018 / Accepted: 23 September 2018 / Published: 25 September 2018
Simple Summary
The physiological and metabolic responses of broiler chickens to control thermoregulation during heat stress divert energy from efficient production in addition to increasing morbidity and mortality. Therefore, heat stress amelioration strategies may improve the productivity of poultry meat production over the summer months and in tropical regions. Increasingly, low-cost feed additives are being investigated as potential amelioration strategies against heat stress. Scholars have investigated the effects of betaine alone on growth performance and gut physiology, while a small number of studies have been made regarding the impacts of the combination of betaine and antioxidants. Therefore, this study was conducted to investigate the effects of the osmolyte betaine and selenium and vitamin E supplementation on growth performance, physiological responses, and gut physiology in broiler chickens exposed to cyclic heat stress.
Abstract
Heat stress (HS) is an environmental stressor challenging poultry production and requires a strategy to cope with it. A total of 288-day-old male broiler chicks were fed with one of the following diets: basal diet, basal with betaine (BET), or with selenium and vitamin E (AOX), or with a combination of BET and AOX, under thermoneutral and cyclic HS. Results showed that HS reduced average daily feed intake (ADFI) (
p
= 0.01) and average daily gain (ADG) (
p
< 0.001), and impaired feed conversion ratio (FCR) (
p
= 0.03) during rearing period (0–42 day). BET increased ADG (
p
= 0.001) and decreased FCR (
p
= 0.02), whereas AOX had no effects. Breast muscle weight was decreased by HS (
p
< 0.001) and increased by BET (
p
< 0.001). Rectal temperature was increased by HS (
p
< 0.001) and improved by BET overall. Respiration rate was increased by HS (
p
< 0.001), but BET decreased it during HS (
p
= 0.04). Jejunum transepithelial resistance was reduced by HS and had no effect on permeability whereas BET increased jejunum permeability (
p
= 0.013). Overall, the reductions in ADG of broiler chickens during HS were ameliorated by supplementation with BET, with much of the increase in ADG being breast muscle.
View Full-Text
►

▼

Figures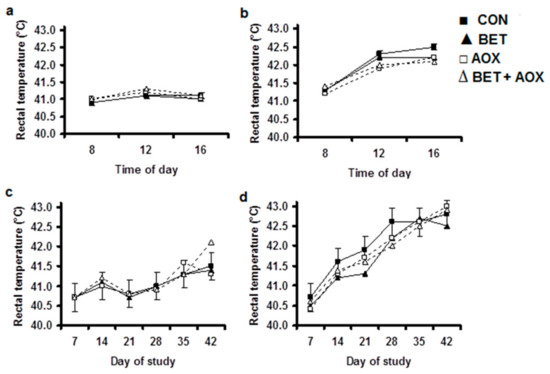 Figure 1
This is an open access article distributed under the
Creative Commons Attribution License
which permits unrestricted use, distribution, and reproduction in any medium, provided the original work is properly cited (CC BY 4.0).

Share & Cite This Article
MDPI and ACS Style
Shakeri, M.; Cottrell, J.J.; Wilkinson, S.; Ringuet, M.; Furness, J.B.; Dunshea, F.R. Betaine and Antioxidants Improve Growth Performance, Breast Muscle Development and Ameliorate Thermoregulatory Responses to Cyclic Heat Exposure in Broiler Chickens. Animals 2018, 8, 162.
Note that from the first issue of 2016, MDPI journals use article numbers instead of page numbers. See further details here.
Related Articles
Comments
[Return to top]