Effects of Supplementing Grape Pomace to Broilers Fed Polyunsaturated Fatty Acids Enriched Diets on Meat Quality
1
Chemistry and Nutrition Physiology Department, National Research and Development Institute for Biology and Animal Nutrition, 077015 Balotesti, Romania
2
Faculty of Food Engineering, Ştefan cel Mare University, 720229 Suceava, Romania
*
Author to whom correspondence should be addressed.
Received: 9 April 2020 / Revised: 25 May 2020 / Accepted: 26 May 2020 / Published: 29 May 2020
Simple Summary
Chicken meat and its products are among the first-choice foods in most countries, due to the health benefits they provide and the relatively low price. However, polyunsaturated fatty acids (PUFA) are highly susceptible to peroxidation, affecting nutritional, sensory characteristics and meat shelf life. A reasonable way and a good tactic to delay their lipid peroxidation would be using a natural antioxidant in feed formulation. Grape pomace (GP) is an agro-industrial by-product with high nutritional value as it is a rich source of polyphenols. The supplementation of broiler diets with grape pomace indicated an intensified color, improved texture and a decrease of lipid peroxidation parameters of broilers' meat that had been fed with PUFA enriched diets.
The effects of using grape pomace as natural antioxidant in polyunsaturated fatty acids enriched broiler diets (4% flaxseed meal) on color, texture and lipid peroxidation of meat were evaluated. The 4-week feeding trial was conducted on 200, Cobb 500 broilers, assigned to 5 groups and housed in an experimental hall with floored pens. Compared to the control group, the diet for the experimental groups included 3% or 6% of two grape pomace varieties, white and red. Diet formulation enrichment with red grape pomace influenced the meat color parameters, underlining an accentuated total color difference (ΔE) for both breast and thigh as compared to the control. The dietary supplementation with grape pomace led to the increase of meat hardness regardless of the amount and variety added. The grape pomace inclusion in broiler diets positively influenced meat color and texture. Regarding the lipid oxidation parameters, there was a decrease of the value of thiobarbituric acid-reactive substances (TBARS) in thigh meat in all experimental groups. Additionally, significant differences were highlighted for breast in 3% white grape pomace and 6% red grape pomace supplemented groups when compared to the control group. In conclusion, the supplementation of broiler diets enriched in PUFA with grape pomace improved meat color and texture, which are essential parameters for consumer's choice. Also, the grape pomace supplementation indicated an improvement of thigh meat oxidative stability, especially regarding the TBARS value.
View Full-Text
►

▼

Show Figures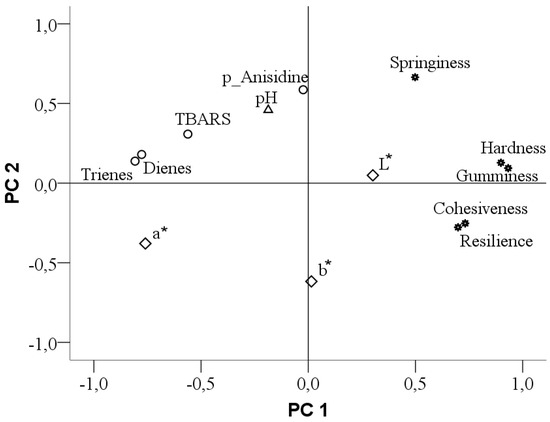 Figure 1
This is an open access article distributed under the
Creative Commons Attribution License
which permits unrestricted use, distribution, and reproduction in any medium, provided the original work is properly cited

MDPI and ACS Style
Turcu, R.P.; Panaite, T.D.; Untea, A.E.; Șoica, C.; Iuga, M.; Mironeasa, S. Effects of Supplementing Grape Pomace to Broilers Fed Polyunsaturated Fatty Acids Enriched Diets on Meat Quality. Animals 2020, 10, 947.
Show more citation formats
Show less citations formats
Note that from the first issue of 2016, MDPI journals use article numbers instead of page numbers. See further details
here
.