Hirsutellin A: A Paradigmatic Example of the Insecticidal Function of Fungal Ribotoxins
Departamento de Bioquímica y Biología Molecular I, Universidad Complutense, 28040 Madrid, Spain
*
Author to whom correspondence should be addressed.
†
Present address: Departamento de Estructura de Macromoléculas, Centro Nacional de Biotecnología, (CSIC) 28049 Madrid, Spain
Received: 8 May 2013 / Revised: 21 June 2013 / Accepted: 24 June 2013 / Published: 9 July 2013
Abstract
The fungal pathogen
Hirsutella thompsonii
produces an insecticidal protein named hirsutellin A (HtA), which has been described to be toxic to several species of mites, insect larvae, and cells. On the other hand, on the basis of an extensive biochemical and structural characterization, HtA has been considered to be a member of the ribotoxins family. Ribotoxins are fungal extracellular ribonucleases, which inactivate ribosomes by specifically cleaving a single phosphodiester bond located at the large rRNA. Although ribotoxins were brought to light in the 1960s as antitumor agents, their biological function has remained elusive. Thus, the consideration of hirsutellin A, an insecticidal protein, as a singular ribotoxin recalled the idea of the biological activity of these toxins as insecticidal agents. Further studies have demonstrated that the most representative member of the ribotoxin family, α-sarcin, also shows strong toxic action against insect cells. The determination of high resolution structures, the characterization of a large number of mutants, and the toxicity assays against different cell lines have been the tools used for the study of the mechanism of action of ribotoxins at the molecular level. The aim of this review is to serve as a compilation of the facts that allow identification of HtA as a paradigmatic example of the insecticidal function of fungal ribotoxins.
View Full-Text
►

▼

Figures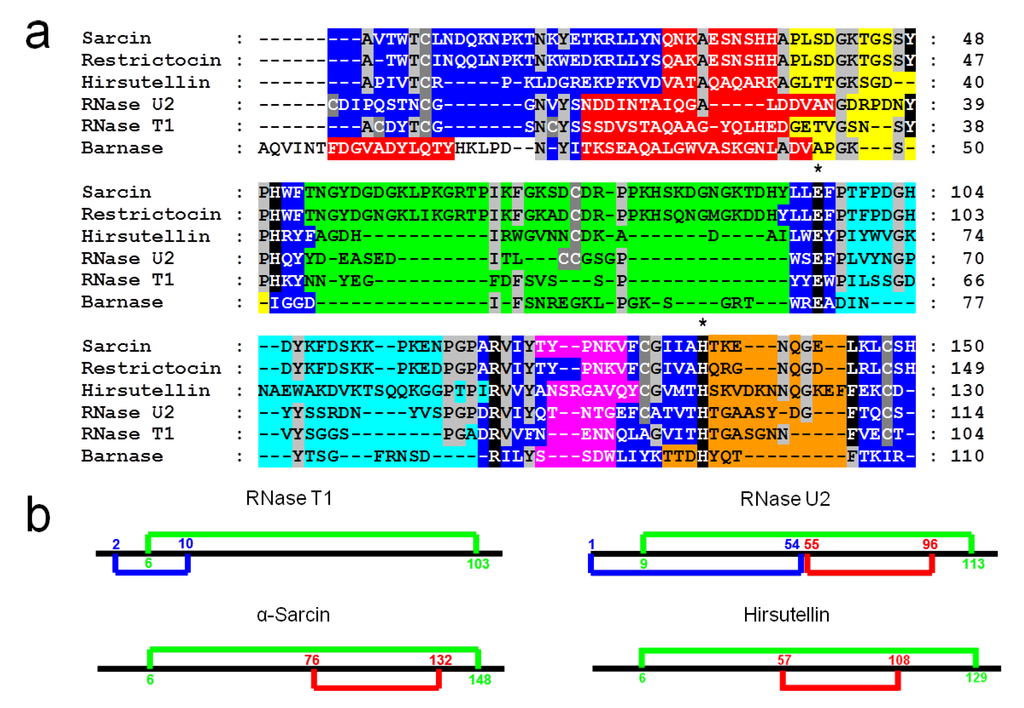 Figure 1

Share & Cite This Article
MDPI and ACS Style
Herrero-Galán, E.; García-Ortega, L.; Olombrada, M.; Lacadena, J.; Del Pozo, Á.M.; Gavilanes, J.G.; Oñaderra, M. Hirsutellin A: A Paradigmatic Example of the Insecticidal Function of Fungal Ribotoxins. Insects 2013, 4, 339-356.
Related Articles
Comments
[Return to top]