Local and Landscape Drivers of Carabid Activity, Species Richness, and Traits in Urban Gardens in Coastal California
1
Environmental Studies Department, University of California, Santa Cruz, CA 95062, USA
2
Ecology and Evolutionary Biology Department, University of California, Santa Cruz, CA 95062, USA
3
Entomology Department, University of California, Riverside, CA 92521, USA
4
Essig Museum of Entomology, University of California, Berkeley, CA 94720, USA
*
Author to whom correspondence should be addressed.
Received: 22 March 2019 / Revised: 12 April 2019 / Accepted: 17 April 2019 / Published: 19 April 2019
Abstract
Urban ecosystems, as mosaics of residential, industrial, commercial, and agricultural land, present challenges for species survival due to impervious surface, degradation, fragmentation, and modification of natural habitat, pollution, and introduced species. Some urban habitats, such as community gardens, support biodiversity and promote ecosystem services. In gardens, local factors (e.g., vegetation, groundcover) and landscape surroundings (e.g., agriculture, built or impervious cover) may influence species abundance, richness, and functional traits that are present. We examined which local and landscape factors within 19 community gardens in the California central coast influence ground beetle (Carabidae) activity density, species richness, functional group richness, and functional traits—body size, wing morphology, and dispersal ability. Gardens with higher crop richness and that are surrounded by agricultural land had greater carabid activity density, while species and functional group richness did not respond to any local or landscape factor. Gardens with more leaf litter had lower carabid activity, and gardens with more leaf litter tended to have more larger carabids. Changes in local (floral abundance, ground cover) and landscape (urban land cover) factors also influenced the distribution of individuals with certain wing morphology and body size traits. Thus, both local and landscape factors influence the taxonomic and functional traits of carabid communities, with potential implications for pest control services that are provided by carabids.
View Full-Text
►

▼

Figures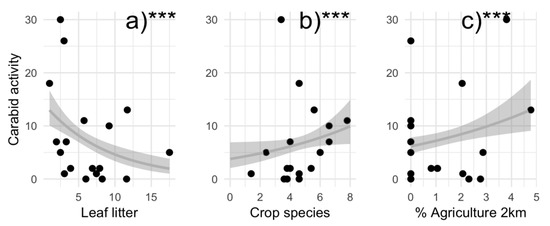 Figure 1
This is an open access article distributed under the
Creative Commons Attribution License
which permits unrestricted use, distribution, and reproduction in any medium, provided the original work is properly cited (CC BY 4.0).

Share & Cite This Article
MDPI and ACS Style
Philpott, S.M.; Albuquerque, S.; Bichier, P.; Cohen, H.; Egerer, M.H.; Kirk, C.; Will, K.W. Local and Landscape Drivers of Carabid Activity, Species Richness, and Traits in Urban Gardens in Coastal California. Insects 2019, 10, 112.
Note that from the first issue of 2016, MDPI journals use article numbers instead of page numbers. See further details here.
Related Articles
Comments
[Return to top]