Noise–Seeded Developmental Pattern Formation in Filamentous Cyanobacteria
1
Department of Physics of Complex Systems, Weizmann Institute of Science, Rehovot 7610001, Israel
2
Consorzio Interuniversitario Nazionale per la Scienza e Tecnologia dei Materiali, Dip. di Chimica, Università degli Studi di Firenze, Via della Lastruccia 3-13, 50019 Sesto Fiorentino, Firenze, Italy
3
Istituto Nazionale di Fisica Nucleare, Sezione di Firenze, via G. Sansone 1, 50019 Sesto Fiorentino, Firenze, Italy
4
Centro Interdipartimentale per lo Studio delle Dinamiche Complesse, via G. Sansone 1, 50019 Sesto Fiorentino, Firenze, Italy
5
Dipartimento di Fisica e Astronomia, Università degli Studi di Firenze, 50019 Sesto Fiorentino, Firenze, Italy
*
Author to whom correspondence should be addressed.
†
These authors contributed equally to this work.
Received: 26 September 2018 / Revised: 24 October 2018 / Accepted: 5 November 2018 / Published: 9 November 2018
Abstract
Under nitrogen-poor conditions, multicellular cyanobacteria such as
Anabaena
sp. PCC 7120 undergo a process of differentiation, forming nearly regular, developmental patterns of individual nitrogen-fixing cells, called heterocysts, interspersed between intervals of vegetative cells that carry out photosynthesis. Developmental pattern formation is mediated by morphogen species that can act as activators and inhibitors, some of which can diffuse along filaments. We survey the limitations of the classical, deterministic Turing mechanism that has been often invoked to explain pattern formation in these systems, and then, focusing on a simpler system governed by birth-death processes, we illustrate pedagogically a recently proposed paradigm that provides a much more robust description of pattern formation: stochastic Turing patterns. We emphasize the essential role that cell-to-cell differences in molecular numbers—caused by inevitable fluctuations in gene expression—play, the so called demographic noise, in seeding the formation of stochastic Turing patterns over a much larger region of parameter space, compared to their deterministic counterparts.
View Full-Text
►

▼

Figures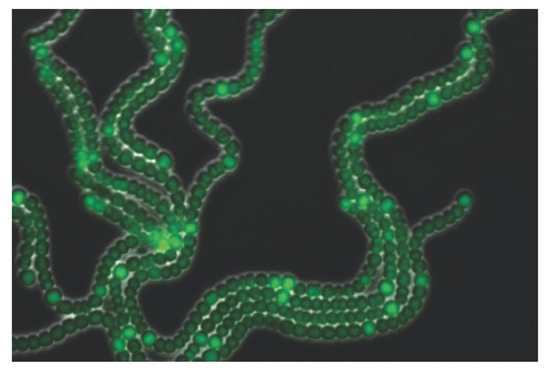 Figure 1
This is an open access article distributed under the
Creative Commons Attribution License
which permits unrestricted use, distribution, and reproduction in any medium, provided the original work is properly cited (CC BY 4.0).

Share & Cite This Article
MDPI and ACS Style
Arbel-Goren, R.; Di Patti, F.; Fanelli, D.; Stavans, J. Noise–Seeded Developmental Pattern Formation in Filamentous Cyanobacteria. Life 2018, 8, 58.
Note that from the first issue of 2016, MDPI journals use article numbers instead of page numbers. See further details here.
Related Articles
Comments
[Return to top]