Platiniferous Tetra-Auricupride: A Case Study from the Bolshoy Khailyk Placer Deposit, Western Sayans, Russia
1
Research Laboratory of Industrial and Ore Mineralogy, Cherepovets State University, 5 Lunacharsky Avenue, 162600 Cherepovets, Russia
2
Advanced Light Source, 1 Cyclotron Road, Lawrence Berkeley National Laboratory, Berkeley, CA 94720-8229, USA
3
Institute of Mining, Geology and Geotechnology, Siberian Federal University, 95 Avenue Prospekt im. gazety "Krasnoyarskiy Rabochiy", 660025 Krasnoyarsk, Russia
4
Division of Geological and Planetary Sciences, California Institute of Technology, 1200 East California Blvd., Caltech, 170-25 Pasadena, CA 91125, USA
5
Institut für Geowissenschaften, Universität Frankfurt, Altenhöferallee 1, DE-60438 Frankfurt am Main, Germany
6
Department of Earth and Planetary Sciences, McGill University, 3450 University Street, Montreal, QC H3A 0E8, Canada
*
Author to whom correspondence should be addressed.
Received: 12 February 2019 / Revised: 28 February 2019 / Accepted: 1 March 2019 / Published: 7 March 2019
Abstract
Tetra-auricupride, ideally AuCu, represents the only species showing the coexistence of Au with an elevated level of Pt, as in the case of a detrital grain studied structurally for the first time, from an ophiolite-associated placer at Bolshoy Khailyk, western Sayans, Russia. We infer that tetra-auricupride can incorporate as much as ~30 mol. % of a "PtCu" component, apparently without significant modification of the unit cell. The unit-cell parameters of platiniferous tetra-auricupride are:
a
2.790(1) Å,
c
3.641(4) Å, with
c
/
a
= 1.305, which are close to those reported for ordered AuCu(I) in the system Au–Cu, and close also to the cell parameters of tetraferroplatinum (PtFe), which both appear to crystallize in the same space group,
P
4/
mmm
. These intermetallic compounds and natural alloys are thus isostructural. The closeness of their structures presumably allows Pt to replace Au atoms so readily. The high extent of Cu + Au enrichment is considered to be a reflection of geochemical evolution and buildup in levels of the incompatible Cu and Au with subordinate Pt in a remaining volume of melt at low levels of
f
O
2
and
f
S
2
in the system.
View Full-Text
►

▼

Figures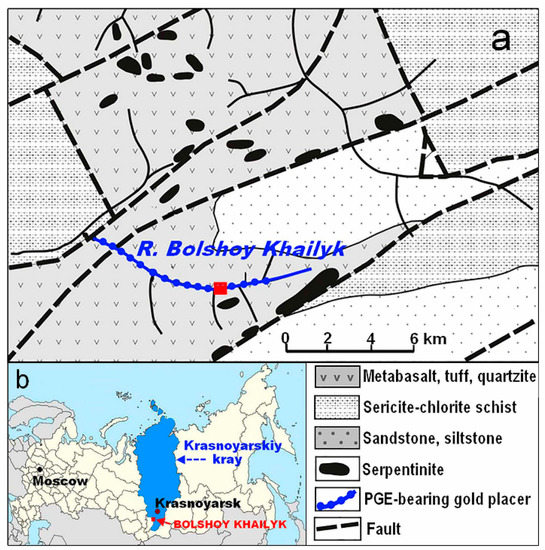 Figure 1
This is an open access article distributed under the
Creative Commons Attribution License
which permits unrestricted use, distribution, and reproduction in any medium, provided the original work is properly cited (CC BY 4.0).

Share & Cite This Article
MDPI and ACS Style
Barkov, A.Y.; Tamura, N.; Shvedov, G.I.; Stan, C.V.; Ma, C.; Winkler, B.; Martin, R.F. Platiniferous Tetra-Auricupride: A Case Study from the Bolshoy Khailyk Placer Deposit, Western Sayans, Russia. Minerals 2019, 9, 160.
Note that from the first issue of 2016, MDPI journals use article numbers instead of page numbers. See further details here.
Related Articles
Comments
[Return to top]